7 minute read
Cannabis Delivery Software: Fast Routes, Secure Delivery & More
What should cannabis delivery software do for your delivery service? Here, we look at proof of delivery, route optimization, and driver tracking features.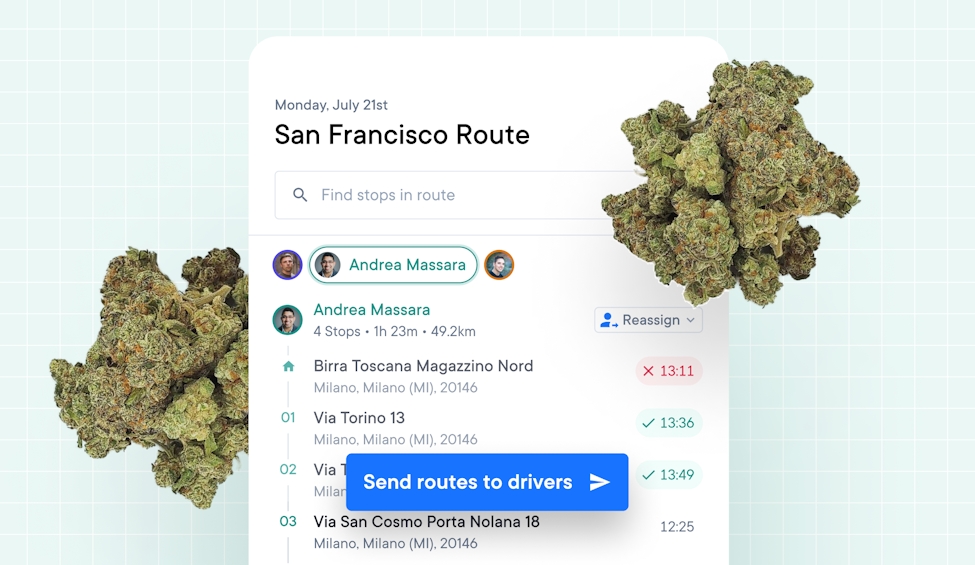 Are you looking for cannabis delivery software?
Sometimes delivery companies — especially small to midsize delivery teams — will try to handle their last-mile delivery operations without using any delivery software solution. This is inefficient and really time-consuming.
For example, one non-profit in England was spending 12+ hrs a week manually planning routes alone.
That kind of approach is completely incompatible with the demands of your cannabis delivery service. This is because a well-run cannabis delivery service needs:
Fast and efficient routes to maintain profitability and remain competitive. The longer it takes to make a delivery, the more it costs your business because you're spending more on fuel, vehicle maintenance, and labor. Plus, the cannabis industry is quickly growing. If you're so backed up with orders that you can't deliver your product in a timely manner, then you're going to lose business to a competing delivery team or another local dispensary.
A way to monitor routes in progress so you know where your drivers are at all times. Cannabis is highly regulated — and a controlled substance — so you need to be aware of where your orders are as your drivers work. Without delivery software, the moment your drivers start their routes you lose sight of them.
Proof of delivery so you can confidently say when your items were delivered (and show who signed for them). Similarly, you can't just have your delivery driver drop off several ounces of cannabis to a customer's home without collecting proof of delivery to confirm that the right order was delivered to the right customer.
In short, you need cannabis delivery software that lets you tailor your last mile operations (which is simply how your product gets to your customer) for your unique industry.
Using Circuit for Teams as your cannabis delivery software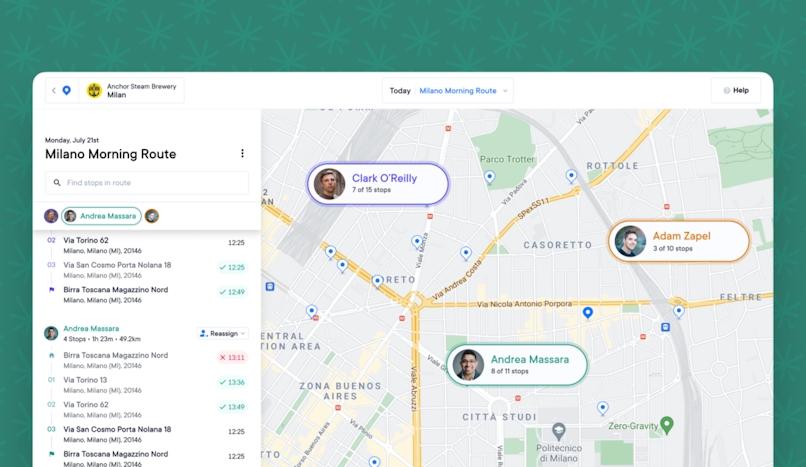 Circuit for Teams is used by hundreds of delivery teams to securely and quickly deliver their products to their customers. Our clients range from breweries to bakeries to pharmacy delivery services and medical equipment couriers. (You can find their success stories here.)
The features that work so well for those teams are the same features that will help you optimize the operations of your cannabis delivery team.
Optimizing and Customizing routes for speed and efficiency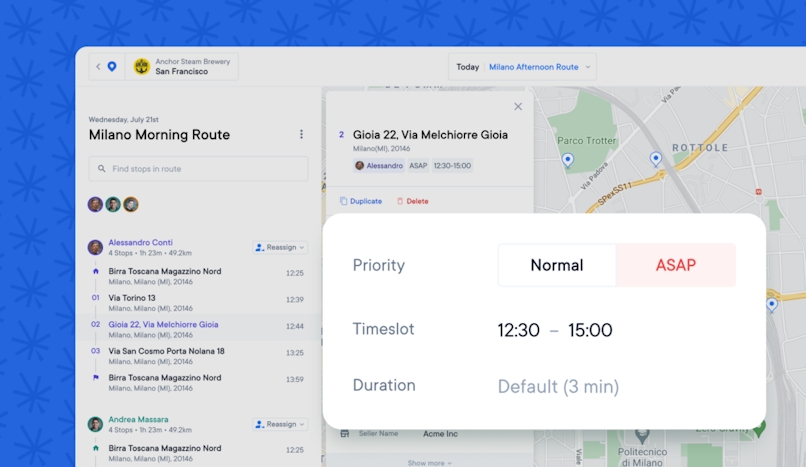 There are two major costs associated with making deliveries: labor costs and vehicle costs. The longer your driver is on the road, the more you're paying them and the more it costs for them to make a delivery. This includes fuel and vehicle maintenance.
By cutting back on how long it takes to make a delivery, you're increasing your profits. You can also make more deliveries on a given day. For example, one of our customers doubled his delivery output after using Circuit's route optimization software.
That's because you can quickly use Circuit for Teams to create the fastest route possible.
You can either add stops manually to your free mobile app, or do it through your web browser. Or you can use our spreadsheet important feature, which lets you upload hundreds of delivery stops at once.
When your stops are loaded into Circuit, you can click a button and Circuit will optimize your stops to create the fastest route possible.
But there's another factor to consider when building fast routes for your cannabis delivery service: your customers' needs.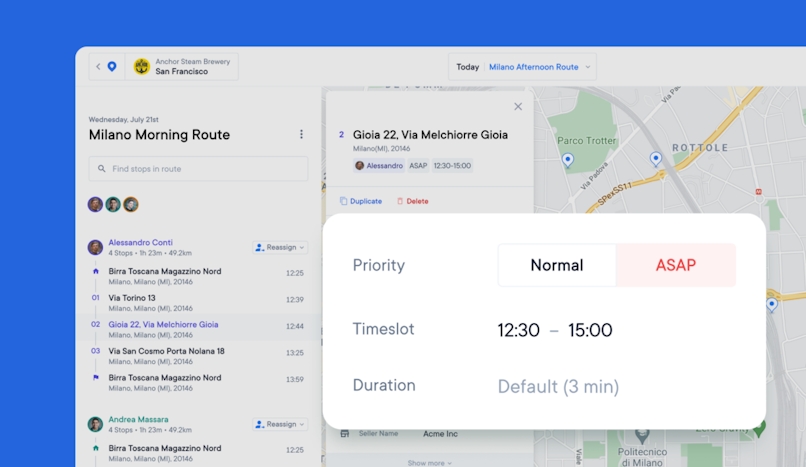 With Circuit for Teams, you can customize your routes in two key ways that will help your cannabis delivery service:
Priority stops. You can tell Circuit to prioritize specific stops. Prioritized stops will get their delivery ASAP. For example, you can do this for medical marijuana orders, or for customers who paid extra to get their orders earlier in the day.
Time windows. Setting time windows lets you determine when in the day a delivery will get made. For example, if you're delivering to customers who are only home after 2pm, then you can set their delivery window to be from 2pm to 5pm (or whenever you stop making deliveries).
With route optimization and route customization, you can create fast and efficient routes tailored towards your clients' cannabis orders.
Monitor routes in progress (never lose line of sight)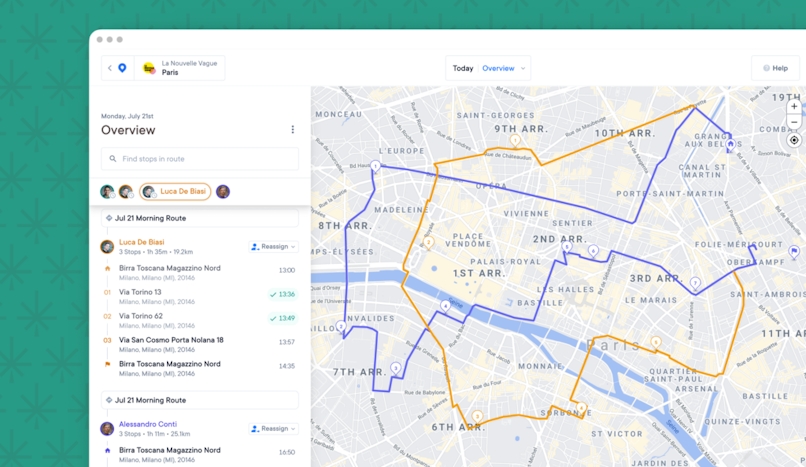 Monitoring routes that are in progress lets you see where your drivers are at, which helps you make changes as and when they crop up. For example, if a customer adds a last-minute order, you can look at your route and see which driver can handle the new order.
Your cannabis delivery business will also benefit from route monitoring because cannabis products are expensive and heavily-regulated. With route monitoring in place, you'll always know where your delivery drivers are, so you'll always know where your product is.
Plus, never losing line of sight can also be a major selling point for customers if they're trying to pick which cannabis dispensary to buy from. You can advertise that your delivery drivers are driving on monitored routes, so your customers know their order will be safely-tracked.
Go one step further: send delivery updates to your customers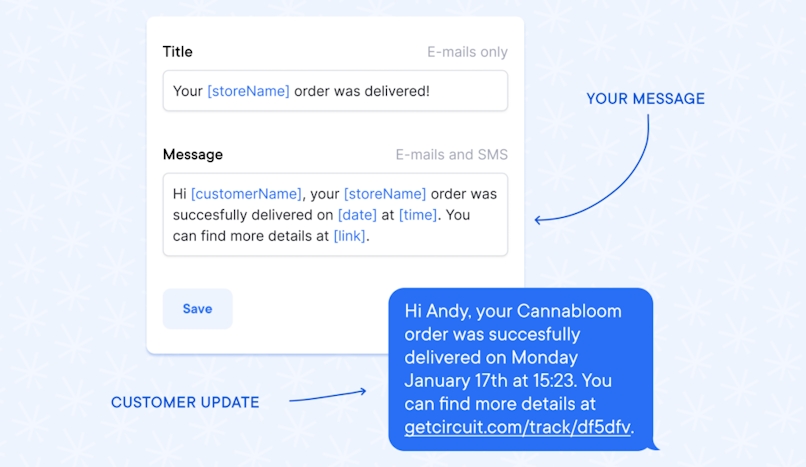 You can also use the Circuit for Teams route monitoring technology to power delivery updates for your customers. Receiving updates gives your customers added peace of mind, because they can track their cannabis orders in real-time.
Your customers can get updates sent to them either by email, SMS message, or both.
They get one message when your driver starts their route. This message gives your customer the ETA that you get from your optimized route. They also get a link that they can click to see the route while it's in progress.
When your driver gets closer to making a stop, your customer gets another update, letting them know their delivery is imminent.
Verify deliveries with proof of delivery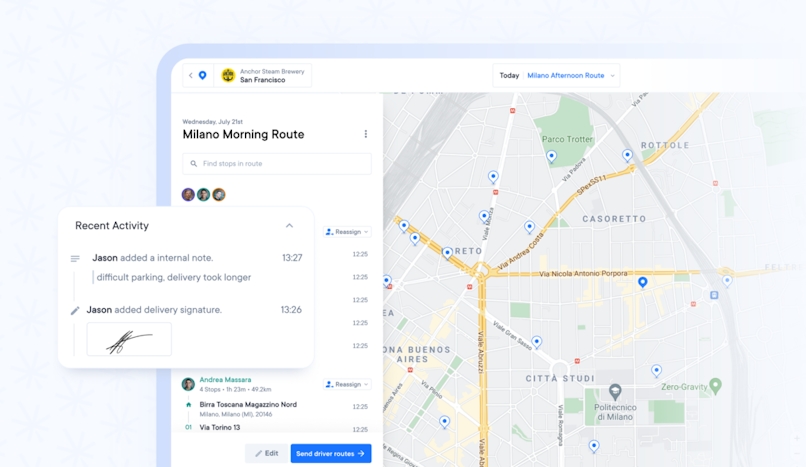 Once your delivery drivers complete their stop, they can use their free Circuit for Teams driver app to collect proof of delivery (POD).
With Circuit for Teams, you can collect proof of delivery by taking a photo or by getting a signature. As a cannabis delivery team, you will have stricter rules and regulations (which will vary from state to state) around how you deliver a cannabis order because it's a controlled substance.
Delivering cannabis is more like delivering alcohol than it is like delivering a pizza. At the very least, your drivers will need to verify a customer's identification and confirm it matches the name and info on the order.
With Circuit for Teams, you can have your driver take a photo of the customer's ID card and that photo itself would get stored within your account. That way if you're ever audited or need to show proof of identity, you can just pull up your customer's file and see that your driver delivered the order to the right person.
If you also want a signature — or maybe the law requires one in your area — then your customer just users their finger like a pen and signs their name on the driver's smartphone.
POD is critical for marijuana dispensaries because you don't want a situation to arise where a customer says they never received their order or that they received the wrong order. In some states (like California), a cannabis dispensary is under no obligation to accept a return unless the product was defective. POD gives your customer a record of what they received from your driver, so if there's an issue it can be resolved before the sale is final.

Next steps: Starting your free Circuit for Teams trial
Whether you're running a dispensary, an eCommerce store, or you're a delivery team catering specifically for cannabis retailers, you're going to want cannabis delivery software to help you with your last-mile delivery operations.
Cannabis delivery teams need specific things to help improve their delivery processes, including:
Fast and efficient routes to help cut down on the cost of delivery.
Routes they can customize towards their clients — like getting medicinal marijuana orders delivered ASAP.
Monitored routes so both you and your customer knows where your driver is at all times.
Proof of delivery so once a delivery is made everyone gets a notification.
All of this functionality — and more — is available when your cannabis delivery business uses Circuit for Teams to manage its deliveries.