4 minute read
Exposing the Fakers: What We Discovered in 33.5 Million Amazon Bestseller Reviews
We used Fakespot.com to check for fake reviews on Amazon's top products. Find out which types of products are most affected and shop smarter this holiday season.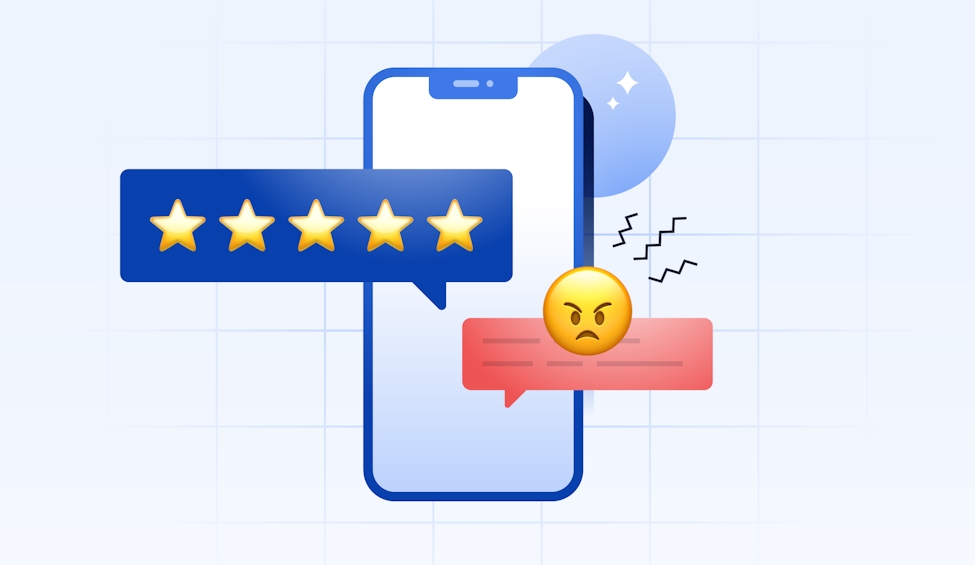 How much can you trust online product reviews? According to our new study, not very much.
Ever raised an eyebrow at a glowing online review and thought, "Is this for real?" That's the question our study aimed to answer.
We examined millions of reviews for some of Amazon's bestsellers, using AI-powered Fakespot.com to check the reliability of ratings across hundreds of products. We also surveyed 754 shoppers and 270 small-business owners to get their opinions on online reviews.
The results? They may surprise you.
Here's the scoop.
Key takeaways
43% of Amazon's bestselling products have unreliable reviews.
Amazon and Apple products have the most unreliable reviews on Amazon. 
88% of reviews for clothes, shoes, and jewelry on Amazon are unreliable. 
43% of consumers would not buy a product with less than a 4-star rating. 
23% of small-business owners ask friends and family to write positive reviews.
Uncovering fake reviews
Navigating Amazon's sea of reviews can be tricky because you don't know who to trust.
Below, we reveal the surprising truth about fake reviews among bestsellers and popular categories. Brace yourself for a reality check!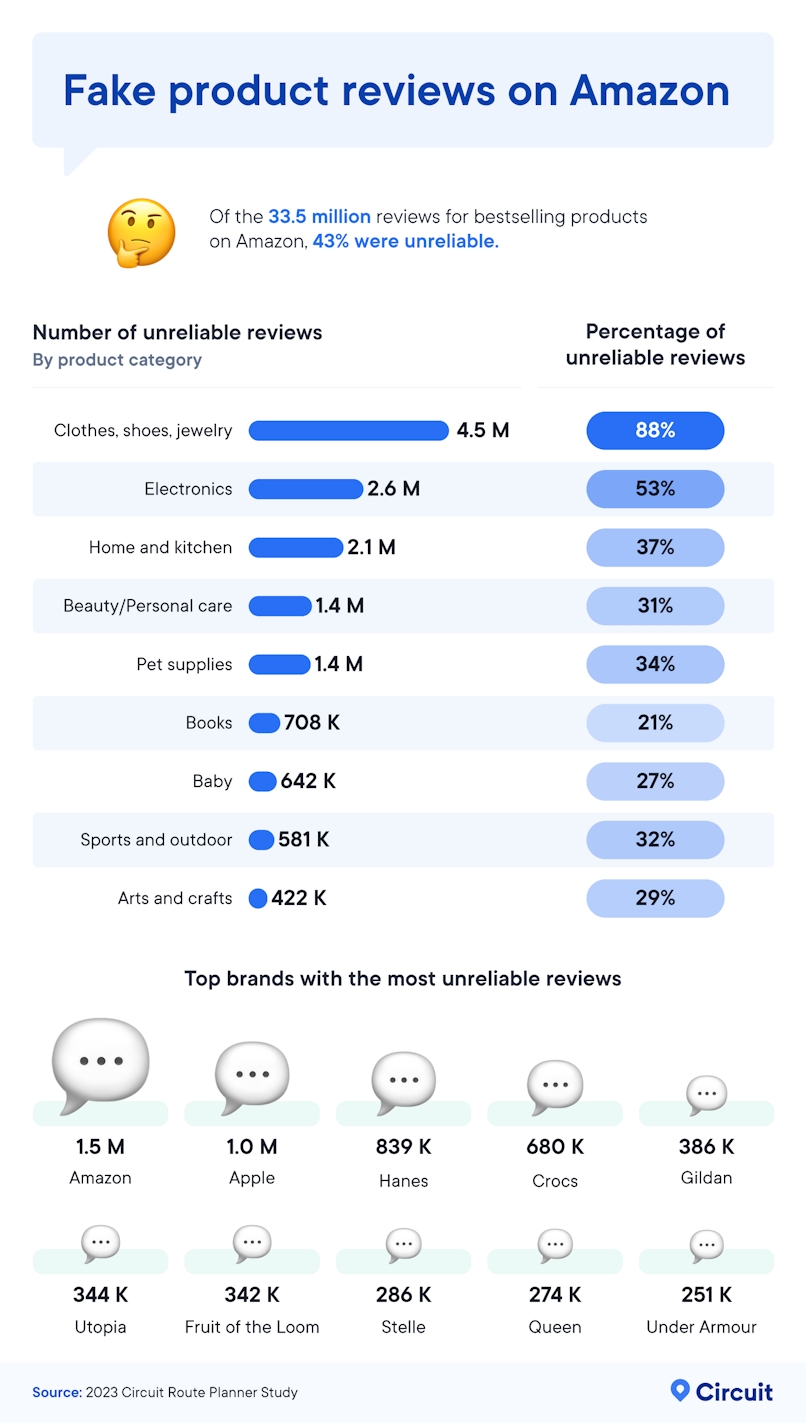 Fake consumer reviews on Amazon have become a big issue, confusing genuine shoppers and honest businesses.
Out of the 33.5 million reviews we studied, a surprising 43% of Amazon's bestselling products had unreliable feedback.
This problem has even caught the attention of the Federal Trade Commission, which recently announced a rule proposal to ban fake reviews.
Among all the unreliable reviews on Amazon, products in the clothes, shoes and jewelry category were the worst, with a staggering 88% of reviews being fake.
Electronics didn't fare much better, with 2.6 million dodgy reviews — that's a hefty 53% that might lead shoppers to make a poor purchase.
And here's the kicker. You'd think you could trust giants like Amazon and Apple, but they were the top brands with the most unreliable feedback.
So, next time you're about to buy the latest gadget with 2-day Amazon delivery, consider pausing and doing some more research.
Key takeaway: Amazon brand products often have unreliable reviews, especially for clothes, shoes, and jewelry.
The power of online reviews for consumers
Ever wondered how much online reviews influence the average person's shopping decisions? We asked consumers to find out.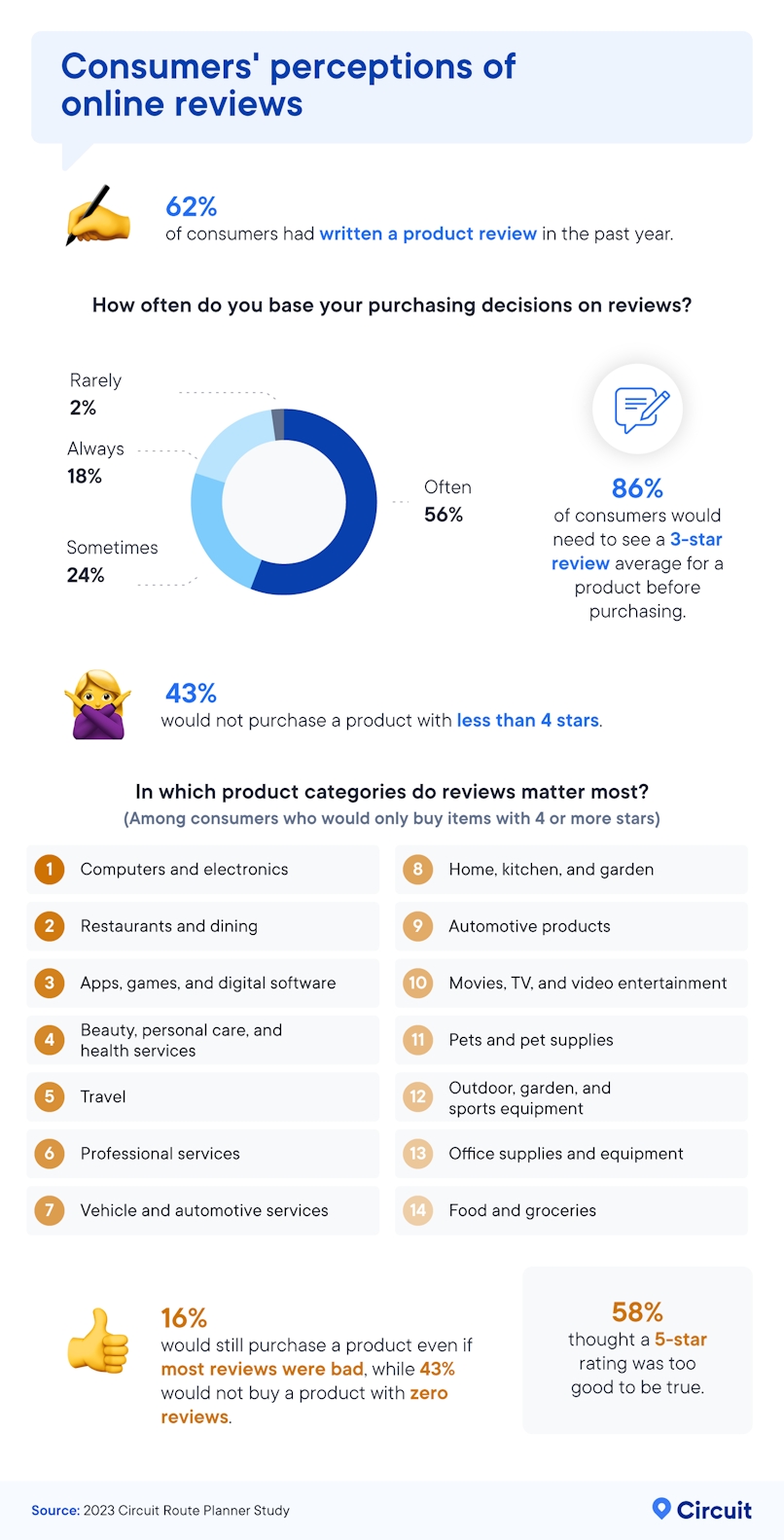 It's clear that online reviews weigh heavily on people's purchasing choices.
A significant 43% of shoppers would pump the brakes on buying a product if it had less than a 4-star rating, especially in the following categories:
Computers and electronics
Restaurants and dining
Apps, games, and digital software
Beauty, personal care, and health services
Travel
A whopping 86% also said a product would need to have at least three stars before they would be willing to part with their cash.
But here's a twist: 58% of shoppers would approach perfect 5-star ratings cautiously, thinking they might be too good to be true.
Businesses, take note: It's not just about racking up those stars; it's about finding the right balance that resonates with consumers.
Key takeaway: Consumers often rely on online reviews when deciding what to buy, with most looking for at least a 3-star rating.
Insights from small-business owners
Online reviews are like modern word-of-mouth, and small-business owners understand their power. Let's take a look at their experiences.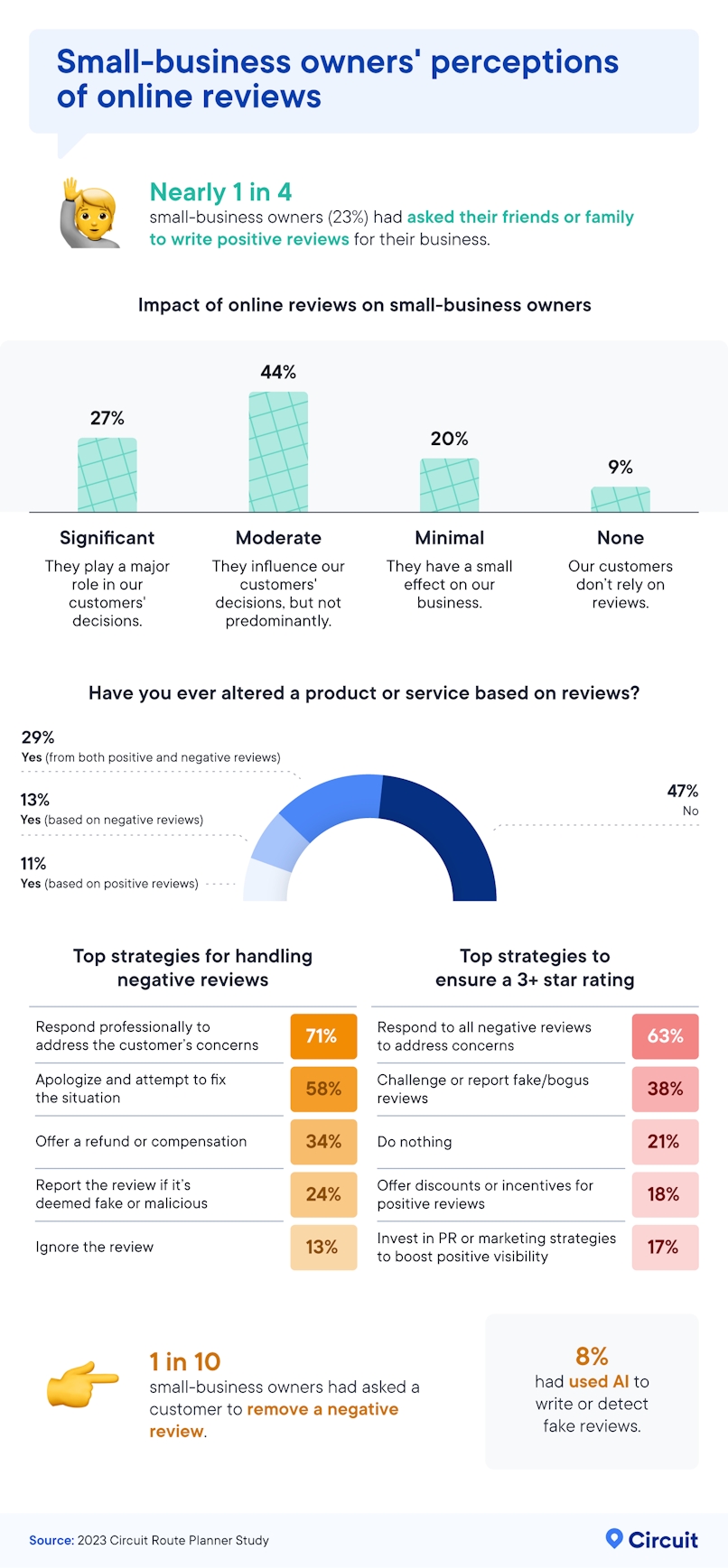 Over 1 in 4 small-business owners (27%) felt that online reviews could make or break their business. Another 44% believed they often influence customers' buying decisions.
Perhaps that's why almost a quarter of small-business owners (23%) had leaned on friends or family for help in boosting ratings, asking them to leave positive reviews.
Over half (53%) had also changed a product or service based on customers' positive and/or negative feedback.
Small-business owners were not just passive recipients: 24% had flagged fake or malicious reviews. Many also responded professionally to concerns (71%) and tried to make things right (58%) after receiving negative customer reviews.
For businesses today, managing online reviews is an art form.
Key takeaway: Online reviews can impact small businesses, and many owners take action based on feedback.
The future of online feedback
Our exploration of online reviews revealed a world of fakes and savvy decision-makers. Trust in the digital age is delicate.
As we move forward, there's a pressing need for better systems to verify feedback and ensure fairness in eCommerce.
Could more advanced review verification systems be developed? The stage is set for further exploration.
Methodology
For this study, we collected fake review data using Fakespot.com to check which of Amazon's bestsellers had unreliable reviews. We analyzed over 33 million across nine different product categories on the Amazon bestseller list; 75 products from each category were analyzed, for a total of 675 products.
To identify brands among the reviews, we extracted them from the "product" column. The brand name was assumed to be the first word in the product name; this was a simplistic approach and might not be 100% accurate for all products.
We also surveyed 754 consumers and 270 small-business owners for their perspectives on online reviews.
About Circuit Route Planner
Navigate the streets with ease and efficiency using Circuit Route Planner, the premier route optimization tool tailored for delivery drivers. Experience faster deliveries, reduced traffic hassles, and the satisfaction of wrapping up your workday ahead of schedule.
Fair use statement
If these insights into fake reviews have inspired you to share, feel free to do so for noncommercial purposes. We only ask for a link back to this page to access the full study.