5 minute read
More than 1,000 Americans shared their experiences with alcohol delivery services
How alcohol delivery services are being used in America today, and how many Americans have found their new favorite drink, all from the comfort of their home.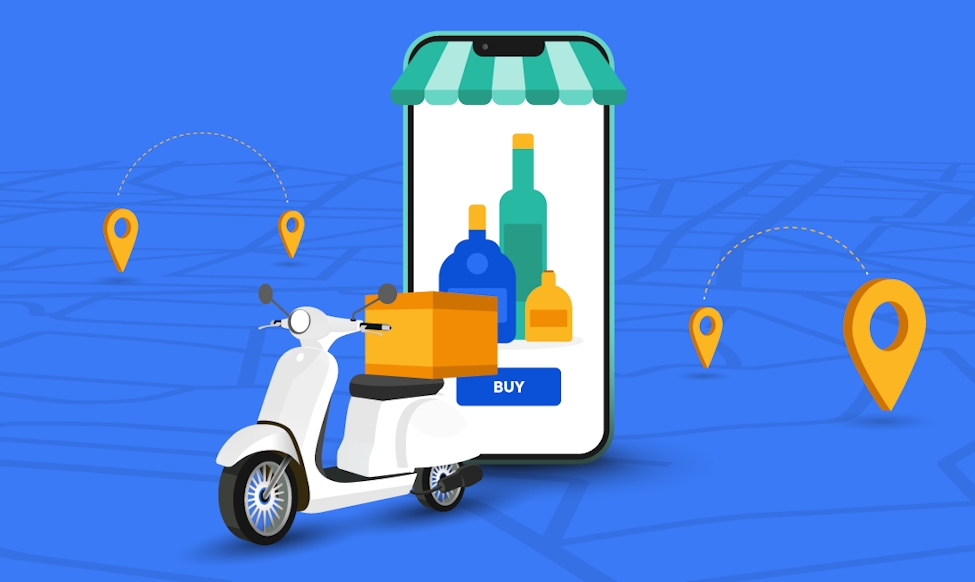 The COVID-19 pandemic changed many of the ways we do business. From stricter maximum capacity limits to restricted store hours, shopping became an entirely new—and dreaded—sport during lockdowns, so many Americans turned to food delivery services instead.
Key Takeaways
1 in 3 Americans tried alcohol delivery services since the pandemic started.
On average, respondents had spent $585 on alcohol deliveries since the pandemic started
Almost 4 out of 5 Americans had tried new alcohol types when using delivery services. 
The pandemic more than doubled business for food delivery apps. 
With stores tough to get to and restaurants forced to shut their doors for months on end, Americans found new ways to get their food and beverages, especially alcohol.
Alcohol delivery services are becoming a new consumer habit, one that some experts believe may hang on well after the pandemic has receded into the rearview mirror.
To help delivery drivers explore this thriving area of e-commerce, we surveyed more than 1,000 people in the U.S. about their experiences with alcohol delivery services. 
Here is what we learned and how it could help your delivery business.
The Rise of Alcohol Delivery
With restaurants forced to close during the height of the COVID-19 pandemic, delivery services got the chance to step into the limelight. 
Uber started transporting more food than people for revenue, and services like Grubhub, DoorDash, Instacart, and Amazon each saw demand for food delivery surge during the pandemic as well.
And it's not just food Americans are having delivered now: They're also loving alcohol delivery.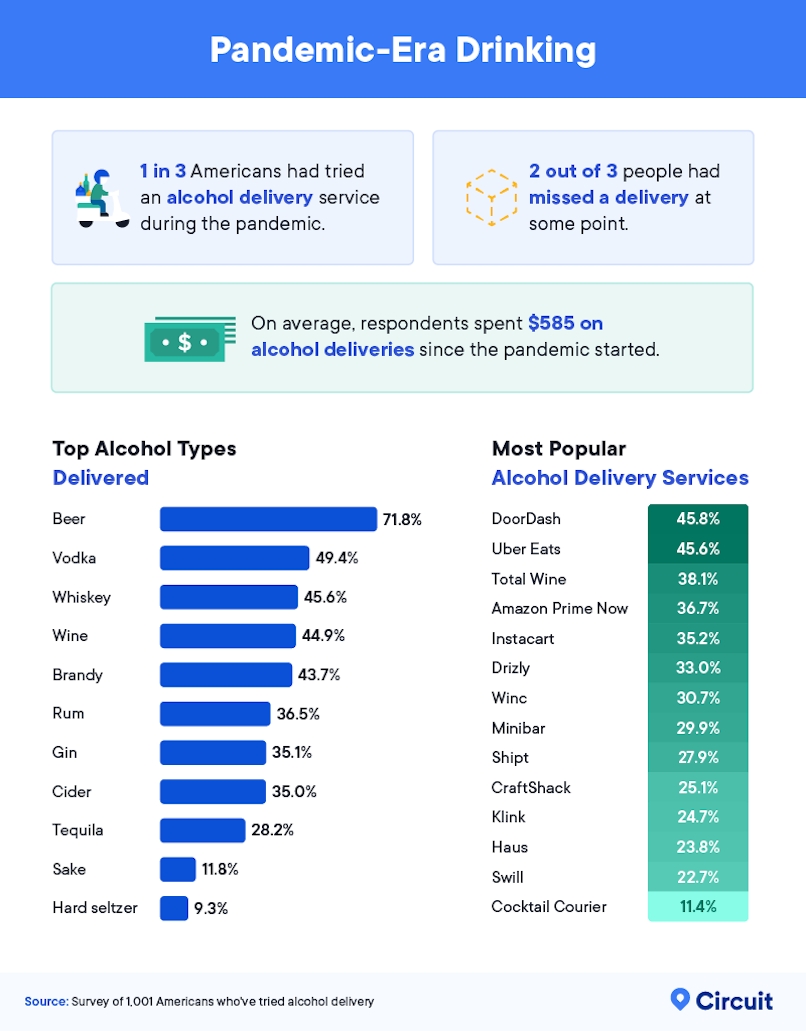 One in 3 Americans said they tried an alcohol delivery service during the pandemic, spending on average $585 through the service during that time.
The most popular beverage delivered by far was beer, but hard liquor deliveries were also common. Vodka was the second most popular drink to have delivered, followed closely by whiskey and wine, whereas people were less inclined to have sake and hard seltzer delivered.
When it comes to having your beverage of choice delivered, Americans were largely indifferent between DoorDash and Uber Eats—these two services represented 45.8% and 45.6% of alcohol delivery services, respectively. The next most popular service was Total Wine, accounting for just over 38% of deliveries.
Amazon Prime, despite its dominance of e-commerce in general, fell below all three of these as people's preferred alcohol delivery service.
Interestingly, people tend to prefer general food delivery services like DoorDash, Uber Eats, Amazon Prime Now, and Instacart over alcohol-specific services like Drizly, Winc, Minibar, and Cocktail Courier. The one exception to this was Total Wine, which outranked all but DoorDash and Uber Eats in popularity.
A delivery service is only as good as its reliability, as DoorDash realized when a tech glitch caused a widespread system crash, leaving drivers unable to make deliveries. While few things are more frustrating to the driver or customer when a delivery app fails, 2 out of 3 Americans said they had a missed alcohol delivery at some point.
Key Takeaway: 1 in 3 Americans had tried alcohol delivery since hte pandemic started. 
Why Alcohol Delivery Is Thriving
While convenience was the primary reason people tried alcohol delivery, it wasn't the only motivation. Alcohol delivery also encouraged people to be safer, ordering liquor instead of potentially drunk driving to go to the store.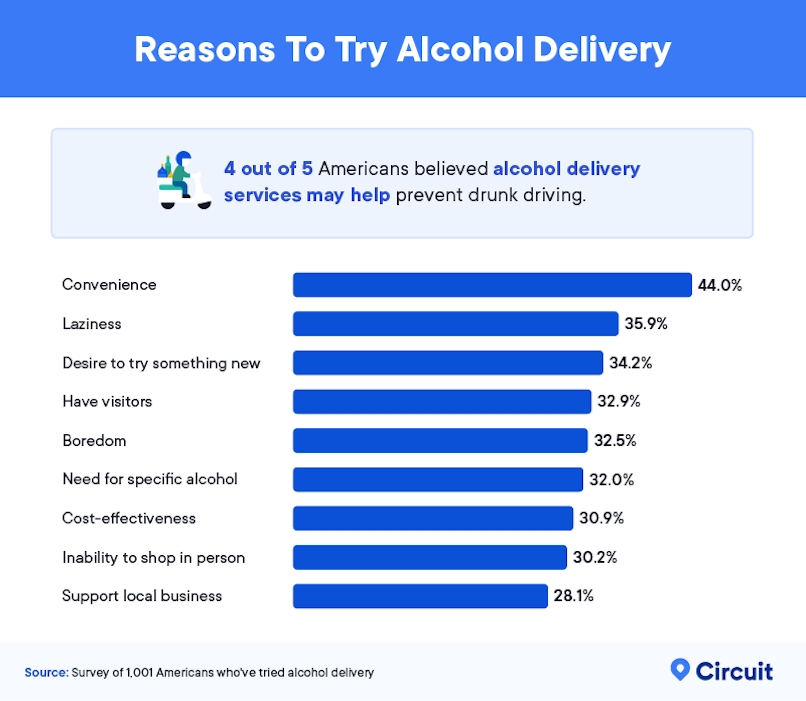 Sometimes people are just feeling lazy; many have likely been there after one too many runs to the store. Gen Zers were particularly prone to laziness-induced delivery service with 2 out of 5 Gen Zers citing this as the reason they tried alcohol delivery, compared to only 1 in 5 millennials.
More than 1 in 3 people said they used alcohol delivery for something new to try. Just under one-third of respondents used alcohol delivery for the first time while friends or family were visiting.
Alcohol delivery can also be the responsible or kind thing to do. For instance, 4 out of 5 Americans believed that alcohol delivery could help prevent drunk driving, while it could also be a nice way to support local businesses, according to just over 28% of respondents.
Key Takeaway: Convenience, laziness, and the desire to try something new were the top reasons to try alcohol delivery services. 
Delivery Meets Subscription Services
Delivery isn't the only service to flourish during the pandemic: Subscription services also boomed during COVID-19 lockdowns.
While subscriptions were on the rise even before the pandemic, experts say their new entrenchment in almost every industry may persist even after the pandemic. UBS Global expects the subscription model to grow to $1.5 trillion by 2025, more than double what it was at the end of 2020.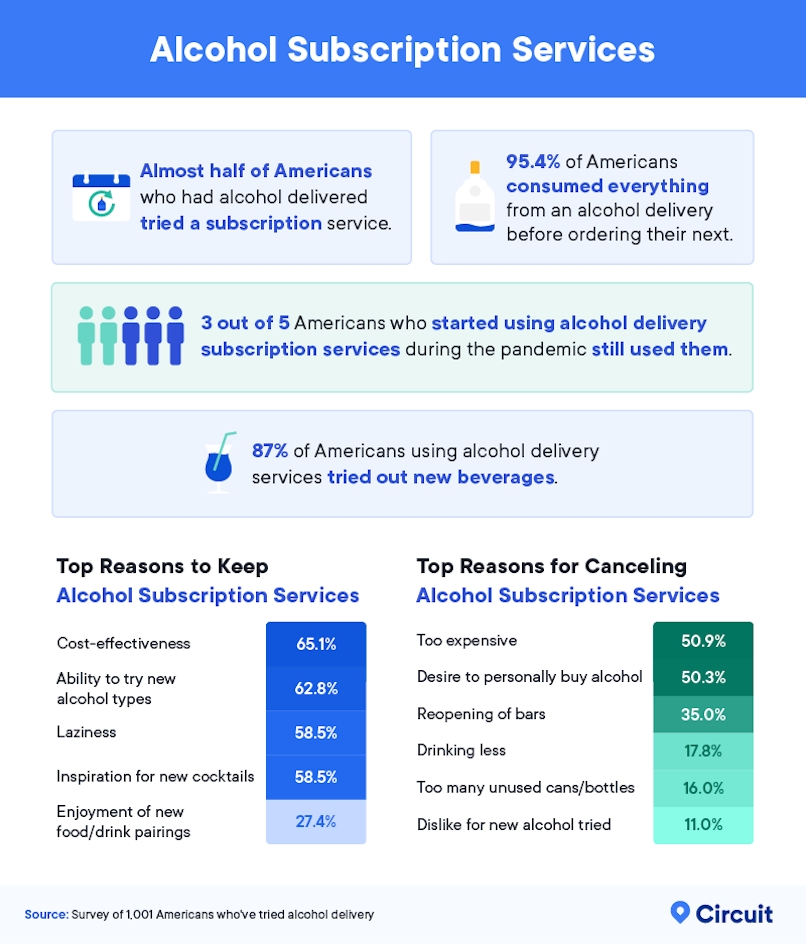 Alcohol delivery and subscription services go hand in hand for many Americans. Almost half of Americans who had alcohol delivered tried a subscription service, too.
Alcohol subscription services saw an influx of orders—much larger orders—during the pandemic, with customers ordering anywhere from 25% to 50% more than pre-pandemic levels. 
The main reason people choose a subscription service is its cost-effectiveness, but almost an equal number enjoyed it for the opportunity to try new drinks. Nearly 90% of Americans who tried an alcohol delivery service tried a new beverage through it, and 4 out of 5 walked away from the experience feeling more confident in their knowledge of what type of alcohol they like.
When people cancel their alcohol subscription services, it's usually because the service is too expensive or they prefer to buy their drinks themselves. Bars reopening may put a damper on alcohol subscription services, too.
However, there's little reason to think alcohol delivery subscription services will wane in popularity once the pandemic is over. Three out of 5 Americans who started using alcohol delivery subscription services during the COVID-19 pandemic still use them, and if there's anything America learned from Amazon and Uber, it's that convenience is not readily relinquished.
Key Takeaway: 3 out of 5 Americans are still using alcohol subscription services. 
A Delivery Driver Above the Rest
COVID-19 may have been what brought alcohol delivery into many American homes, but experts believe it's not going anywhere even after the pandemic is over.
With the growing demand for alcohol delivery, skilled drivers are a must-have. Delivery drivers need to be able to set themselves apart in what matters most to customers: timeliness and reliability. Don't let inadequate route planning apps keep you stuck in traffic or driving in circles. Circuit Route Planner makes delivery easy with optimized routes for multiple stops.
Methodology
This study uses data from a survey of 1,001 people who have tried alcohol delivery services in the United States. Respondents were aged between 19 and 72 years old with an average age of 33. 52.3% of respondents identified as men, while 47.7% identified as women. 
Survey data has some limitations due to self-reporting. 
Fair Use Statement
Excited to share the findings and your favorite drink? We ask only that if you do share, it's for noncommercial purposes and includes a link back to this page so our contributors can get credit for their work. Thank you.