6 minute read
Pothole Problems: Which US Cities Have It the Worst?
We identify the most pothole-ridden cities in the US and ask 1,127 American drivers about their run-ins with potholes, how they impact delivery, and more.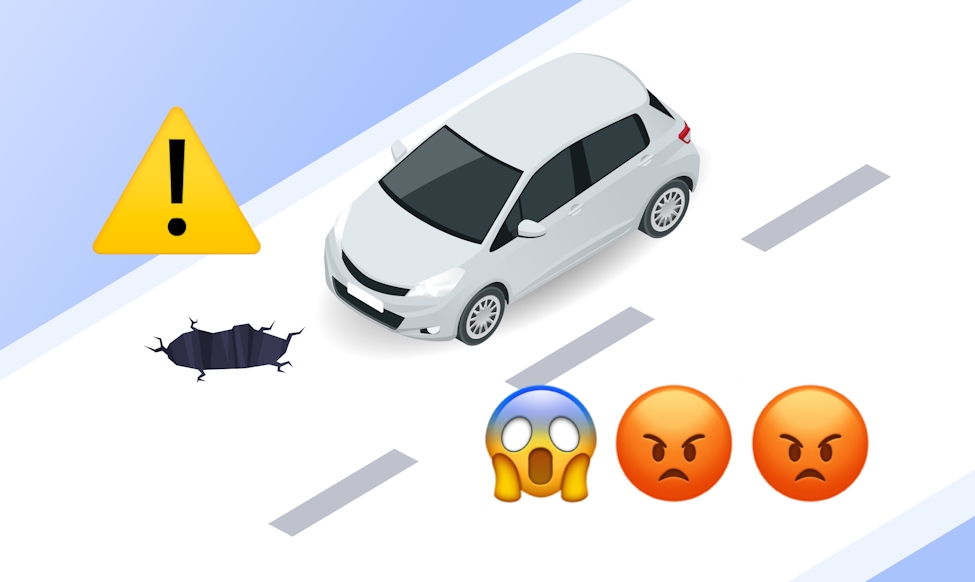 Join us as we dig into potholes, the problems they cause, and the cities that suffer the most.
Key takeaways
St. Louis, MO; Orlando, FL; and Minneapolis, MN have the highest levels of pothole-related searches.
Pothole-related searches rose 107% from 2019 to 2022.
47% of drivers would rate American road quality as bad.
Millennials (49%) and Gen Z (43%) were the most likely to say poor quality roads were the biggest issue facing American drivers.
Among delivery drivers who damaged a company vehicle by hitting a pothole, 84% paid for it personally, either out of pocket or through their insurance policy.
Bumps in the road
You're driving along, minding your own business, when a pothole suddenly appears out of nowhere. Whether you swerve, swear, or silently pray that your vehicle won't be damaged, a pothole encounter can be a nerve-wracking experience.
We recently used the magic of Google Trends search data to identify the most pothole-ridden cities in the US. We also surveyed 1,000 drivers and 127 delivery drivers about their run-ins with potholes, the impact of poor road conditions on deliveries, ideas for fixing roads, and more.
Let's hit the gas and explore what we found about America's pothole problem.
Searching for smoother streets
We started our journey by tracking pothole-related Google searches over the past five years to determine whether road conditions have improved or worsened. We then analyzed the data by location to identify which cities are plagued by the most potholes.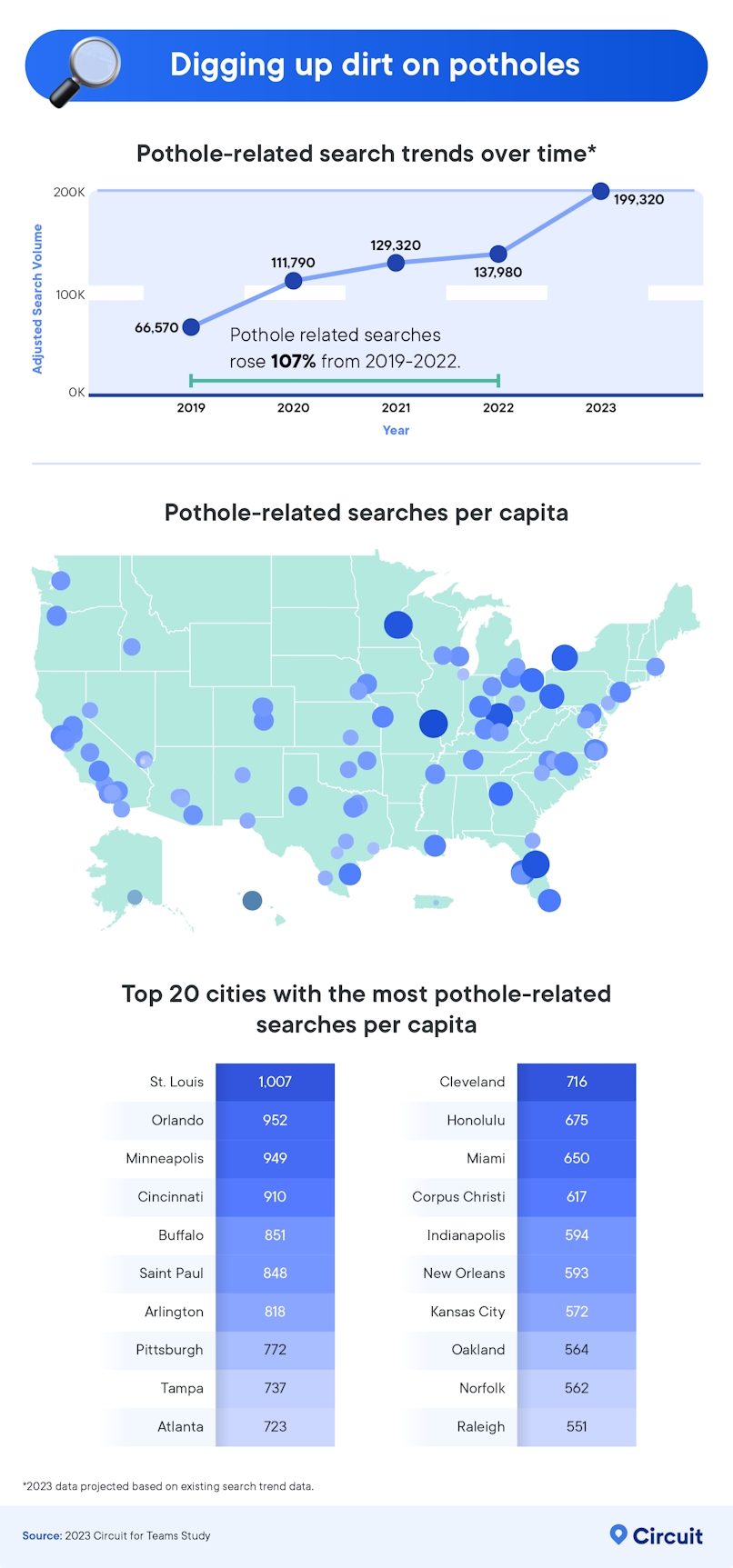 Overall, searches for potholes experienced an upswing between 2019 to 2022, surging by 107%.
However, the rise in searches significantly slowed from 2020 to 2022 during the COVID-19 lockdowns. With many commuters forced to work from home, work crews had clear roadways and safer conditions to fill those pesky potholes.
But the lockdowns are over, drivers are returning to the office—and pothole-related searches have soared. If trends from the first half of 2023 continue through the end of the year, search rates will almost double those of the lockdown years.
So where are people conducting these searches from? Potholes caused the most bumps in the road in St. Louis, MO; Orlando, FL; and Minneapolis, MN. But, as you can see in our handy map, potholes dotted roads across the country.
With so many potholes on American roads, how often do drivers run into them?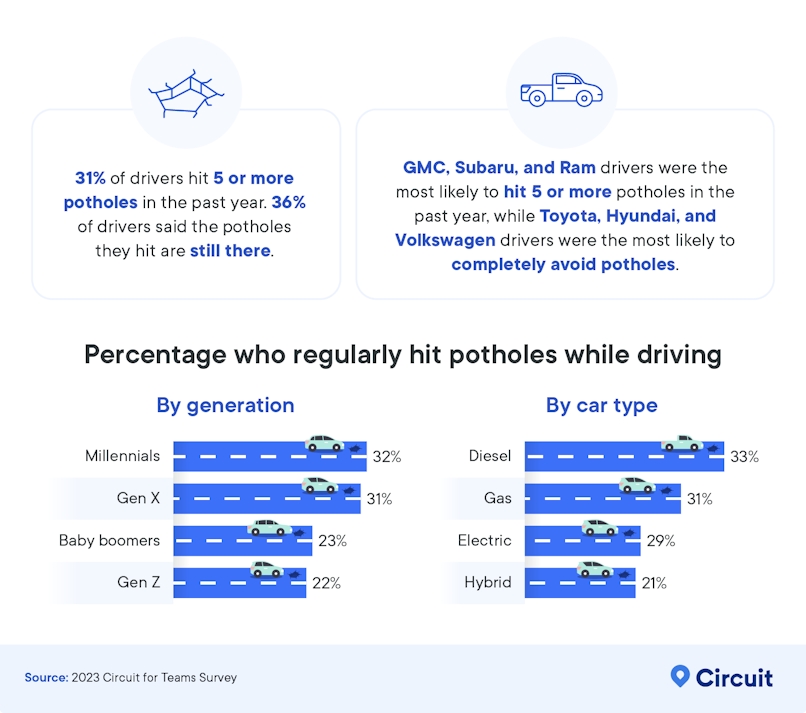 Almost 1 in 3 drivers reported hitting at least five potholes in the past year. To add insult to injury, 36% of those drivers said the potholes they hit are still there.
Transportation departments could earn major brownie points if they put their federal funding toward filling potholes and fixing bad roads.
Some drivers were especially likely to run into potholes. Among car brands, GMC, Subaru, and Ram drivers were the most likely to hit potholes, while Toyota, Hyundai, and Volkswagen drivers were the most likely to avoid them.
Potholes also seemed to have it out for millennials (32%) and diesel car drivers (33%), who ran into them the most. Meanwhile, Gen Z (22%) and hybrid car drivers (21%) hit the fewest potholes.
While hitting potholes is sometimes unavoidable, keeping a keen eye on the road and practicing defensive driving can help save your vehicle from pothole pain.
Key takeaway: Of drivers who hit five or more potholes, 36% said the potholes remained unfixed.
Road (conditions) rage
If you've ever lost your patience over bumpy, cracked, pothole-ridden roads—you're not alone. Let's look at how American drivers view the country's road conditions and their ideas for improving them.

Almost half (47%) of American drivers said the state of the country's roads is bad. Another 51% felt straight-up frustrated by road conditions.
In fact, 32% of drivers avoided highways whenever possible, with Gen Z reporting this aversion the most.
This frustration could be a result of people moving back into metropolitan areas. It can be challenging for highway planners to keep up with rapid traffic growth and equally difficult for road crews to keep up with increased maintenance demands.
Bad roads were especially frustrating for the younger generations, as millennials (49%) and Gen Z (43%) were the most likely to say poor road conditions were the biggest issue facing American drivers.
In addition, commuters were 22% more likely to be peeved by potholes than non-commuters. (Nothing like spilling coffee all over your lap to kick off a great workday.)
But not everyone was so concerned about bad roads. Distracted driving was the biggest issue among respondents, with 69% of drivers complaining about their unfocused peers.
Surprisingly, only 41% of drivers said drunk driving was the biggest issue on American roads. Distracted driving, traffic, aggressive driving, speeding, decaying infrastructure, and poor quality roads were all of greater concern to American drivers than drunk driving.
Given that driving under the influence is on the rise—along with the fatalities it causes—drivers may want to increase their concern over this deadly behavior. 
Key takeaway: Over half of American drivers felt frustrated over poor road conditions. 
Potholes and packages
In 2022, 44 million drivers reported vehicle damage after hitting a pothole. For professional drivers, such experiences can have serious and expensive consequences.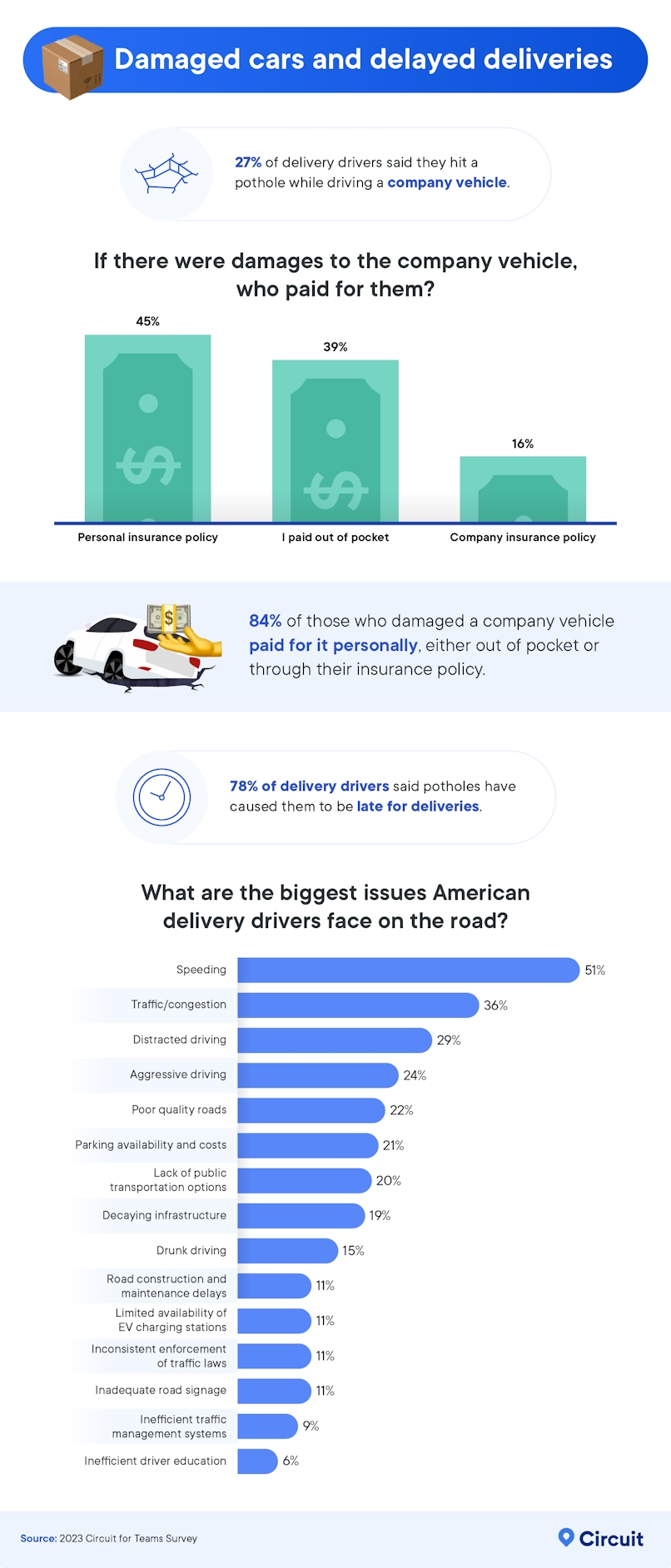 Over one-quarter (27%) of delivery drivers hit a pothole while driving a company vehicle. Among drivers who experienced damage to the company vehicle, 84% paid for it personally, either out of pocket or through their insurance policy.
Delivery managers may want to review their insurance plans to make sure drivers are covered when behind the wheel of a company vehicle. Keeping drivers informed of insurance options can help avoid expensive surprises, improving driver trust and retention.
Potholes and poor road conditions also impacted delivery times; 78% of delivery drivers said hitting a pothole caused at least one late delivery.
Despite these troubles, delivery drivers were more concerned about speeding (51%), traffic (36%), distracted driving (29%), and aggressive driving (24%).
Key takeaway: 78% of delivery drivers were late to a delivery after hitting a pothole. 
Avoiding pothole pitfalls
While you never know where the next pothole may lurk, it pays to be extra alert when driving through cities with a lot of them—here's lookin' at you, St. Louis.
Driving defensively and staying focused can help avoid unnecessary damage to your vehicle. This is especially true for delivery drivers who may have to pay out of pocket for damage to a car they don't even own.
In a perfect world, every roadway would be smooth, traffic-free, and full of alert and safe drivers. But since we live in the real world, remember to keep your eyes open and stay alert to avoid those pesky, problematic potholes.
Methodology 
We used Google Trends search data to identify which US cities conducted the most pothole-related searches. Total search data is per capita for each city. Circuit for Teams then surveyed 1,000 American drivers and 127 delivery drivers about American road conditions and what they believe should be done to tackle road-related issues. Of the 1,000 drivers, 130 were baby boomers, 282 were Gen X, 502 were millennials, and 86 were Gen Z. All survey data shown in the above study relies on self-report.
About Circuit for Teams
Circuit for Teams uses the latest tools, like real-time tracking and route planning software, to create an awesome experience for drivers, dispatchers, and customers alike. 
Fair use statement
Frustrated over pothole pitfalls in your area? Feel free to share this article for non-commercial purposes only; you must link back to this page so readers can access our full findings and methodology.