10 minute read
10 Best Workforce Management Software Solutions for 2023
Maximize your workforce efficiency with the best software solutions for 2023. Discover the top-rated workforce management software options in this guide.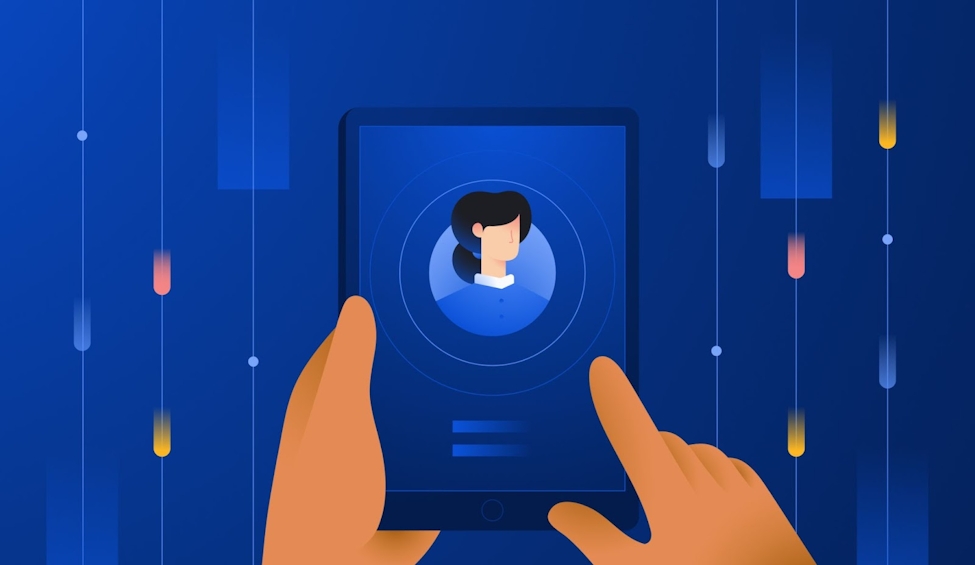 Searching for the best way to manage and track your mobile workforce operations? Consider Circuit for Teams.
Key takeaways:
Workforce management software improves labor management, shift scheduling, and workforce optimization while raising profits and decreasing liability.
Some workforce management software platforms perform one specific task, while others are more versatile or general. 
To best implement your new software, set aside enough time to fully train each employee and answer any questions they have.
Are you managing a team of delivery drivers and looking to grow your business or improve your day-to-day operations? If so, you might be thinking about using workforce management software. 
Because it's a little more high-tech than your classic fax machine or rotary phone, some team leaders need help learning what it can do and how to use it. 
If you have questions about workforce management tools and how they can help you complete more on-time deliveries, we're glad you're here. This article lists the best options available and answers some commonly asked questions.
Most importantly, you'll learn about how you can use workforce management software to improve labor management and shift scheduling. 
You'll notice fewer late deliveries and more happy customers.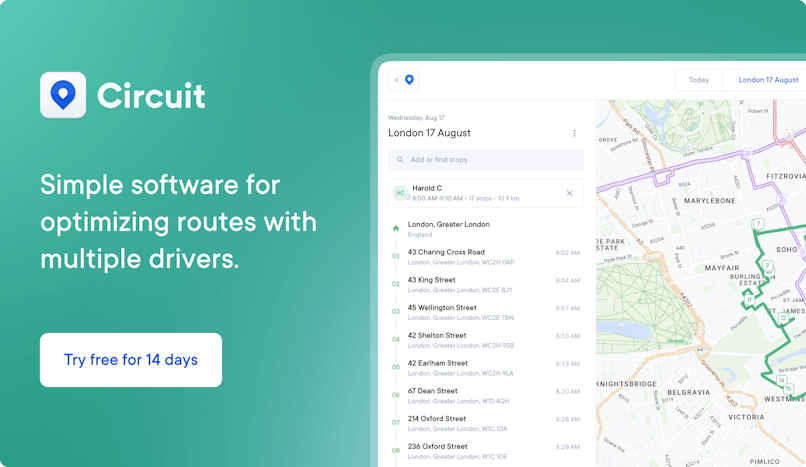 Criteria for selection
We picked the ten workforce management solutions in this article due to their features, pricing, and adaptability. Nothing's perfect (which is why we included cons for each one), but we think you'll like what they bring.
Remember that some choices perform one specific task, while others are more versatile or general. Choose the option that best fits your needs, and don't be afraid to use more than one if you think it can improve your company. 
Before we get into specific platforms, let's cover a few topics to keep in mind as you narrow your options. 
You want a user-friendly platform that can save you time (and headaches) as you show employees how to use the new system (and when you dive into the platform yourself).
You should also search for a service that's widely accessible and easy to integrate with what you're already doing. 
Can you link it with your workforce planning or scheduling system? Is there a mobile app? Does it include an option to make your own Memoji?
You don't want to spend more money than necessary, but you might have to spend to get value. 
Most platforms have a flat rate with a per-employee cost. Some also have different tiers or levels of products with different features. 
Make a wish list beforehand to know what features to find for as you scan the different choices.
Top 10 workforce management software solutions for 2023
In no particular order, we present the top ten WFM solutions in 2023. We linked to each site in the description, so feel free to research as you scan our thoughts.
Top workforce management software solutions:
ADP Workforce Now
Oracle HCM Cloud
Resource Guru
UZIO
Quickbooks Time
Zoho Workerly
Deel
Paylocity
Rippling
Alvaria Workforce Management Suite
ADP Workforce Now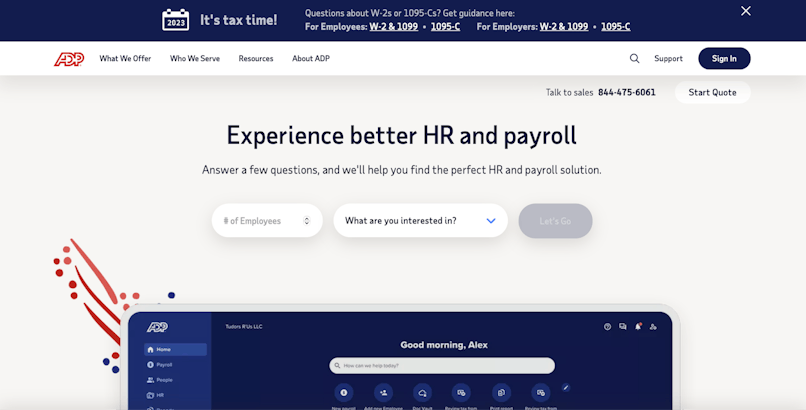 ADP has been a leading global service of payroll services for over 70 years. They know you have a full plate, so they'll tell you what solution to pick after you answer a few short questions.
Features: 
Offers payroll and human resources (HR) technology in a single platform
Allows you to manage retirement, insurance, and workers' compensation
Includes employee time off and attendance tracking
Compiles data on business tax credits and professional employer organizations (PEOs)
Pros: 
Includes expert service and support
Caters to small companies (1 to 49 employees) and larger businesses (50+ employees)
Con: 
May struggle to communicate between the app and desktop platform
Best for: Automatic payroll
Pricing: Starts at $79 per month plus $4 per employee
Oracle HCM Cloud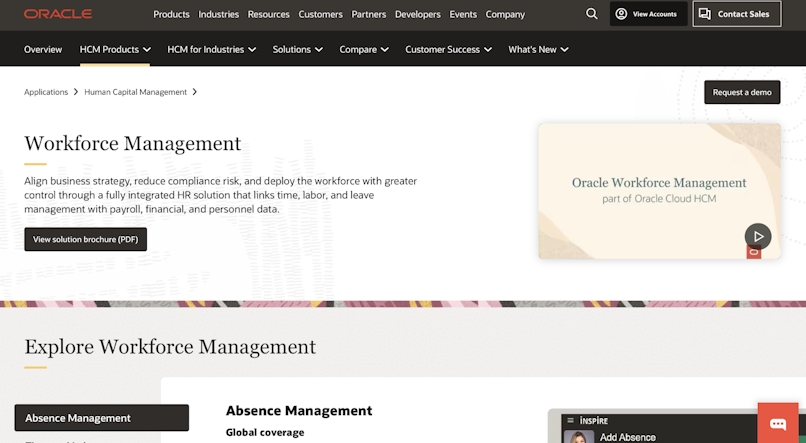 Oracle HCM Cloud helps you control your workforce, especially if employees work on-site and in different places.
Their fully integrated HR solution lets you manage time, labor costs, and employee leave in one platform, along with payroll and personnel metrics. 
Features: 
Offers global absence management
Easy configuration of rules and policies
Real-time visibility of absences, time, and labor
Pros: 
Allows team leaders to confirm accurate time data across various work schedules
Adapts to changing business workflow needs with great flexibility
Con: 
Complicated user interface can be hard to understand at first glance
Best for: Businesses on a budget with a low-price option
Pricing: Starts at $4 per employee per month
ResourceGuru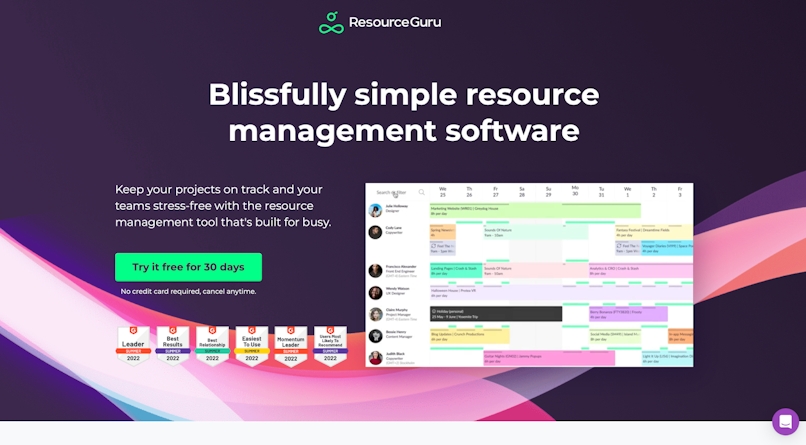 ResourceGuru helps teams manage projects from initiation through completion with its resource management tool designed for busy teams with several moving parts. 
If that sounds like you (especially the "busy" part), this system is worth a second find 
Features: 
Allows teams to keep projects on track through simple resource allocation
Includes a waiting list for future ideas
Pros: 
Simple and easy to use with functions like drag, drop, book, and bump
Allows employee scheduling for time off without interrupting ongoing projects
Integrates with Google Suite, Outlook, Trello, Slack, Salesforce, and Jira
Con: 
Sometimes hard to attach documents to tasks
Best for: Project and task management 
Pricing: Starts at $4.16 per person per month; includes a 30-day free trial
UZIO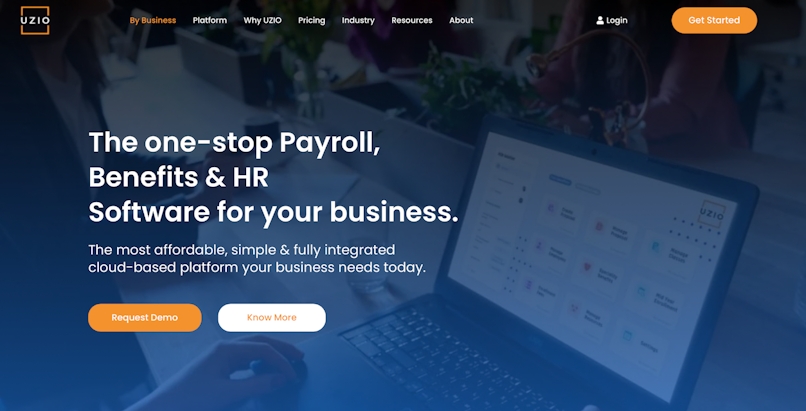 UZIO automates HR processes by collecting, classifying, storing, and distributing information. This could be your platform if you're looking for hassle-free HR management. 
Features: 
UZIO can handle payroll, benefits administration, and time tracking
Offers onboarding and off-boarding support
Integrates automatic salary changes
Tracks employee time off
Manages information and access to comprehensive benefits
Pros: 
Easy to use
Clean and straightforward platform
Offers premium options with legal support and 401(k) integration
Cons: 
Sometimes hard to link specific insurance plans 
Limited integration with other carriers
Best for: Companies looking for a comprehensive, easy-to-use platform
Pricing: Starts at $40 per user per month; free trial available upon ask for 
QuickBooks Time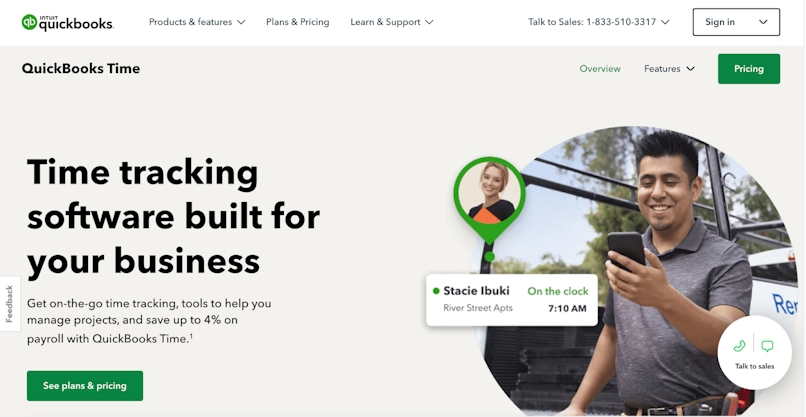 Find employee time data in one easy-to-access system with QuickBooks Time. As the only time tracker that works inside QuickBooks, this platform makes payrolling and invoices quick. 
Features: 
Comes with GPS location tracking for increased accountability 
Syncs time data to your QuickBooks account so you can edit, review, and approve employee time sheets
Pros: 
Includes a "who's working" window to find out what your employees are doing in real time
Allows employees to clock in with smartphones, computers, or time clock kiosks 
Cons: 
Windows are sometimes difficult to scroll through
Time-off notifications can confuse users
Best for: Time sheets and attendance
Pricing: Starts at $10 per month plus $8 per user; Elite plan is $20 per month plus $10 per user
Zoho Workerly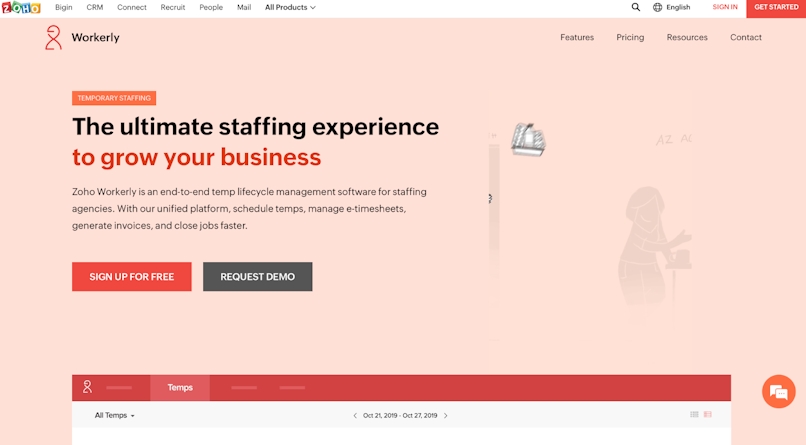 If you have a staffing agency, you might love how Zoho Workerly helps you manage schedules, time sheets, and invoices. This end-to-end lifecycle WFM software can make manual searches for job candidates a thing of the past.
Features: 
Helps improve job requisition by aligning your needs with available skills
Allows you to schedule and reschedule jobs through a list of matching temps based on your unique search criteria
Pros: 
Streamlines communication between candidates and clients
Uses an AI-powered search algorithm to match temps with open jobs
Includes customer insight record with social details
Con: 
Limited reporting dashboard
Best for: Teams that employ a temporary workforce
Pricing: Free for one active job; Standard plan starts at $25 per month, billed annually
Deel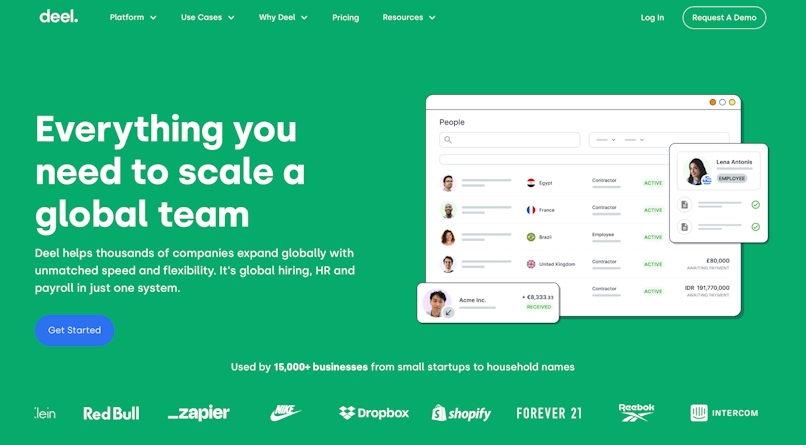 Looking to expand your company through global hiring? Use Deel for unmatched speed and flexibility in HR, payroll, and global team management. 
Features: 
Helps companies stay compliant while hiring employees and contractors around the world
Manages employee vacation and leave tracking
Can pay contractors in a single use 
Pros: 
Allows companies to hire and pay employees without dealing with complicated worldwide infrastructure
Includes automated invoicing, global payments, and built-in compliance
Con: 
Best for: Virtual teams spread out across multiple countries
Pricing: Starts at $49 per user per month
Paylocity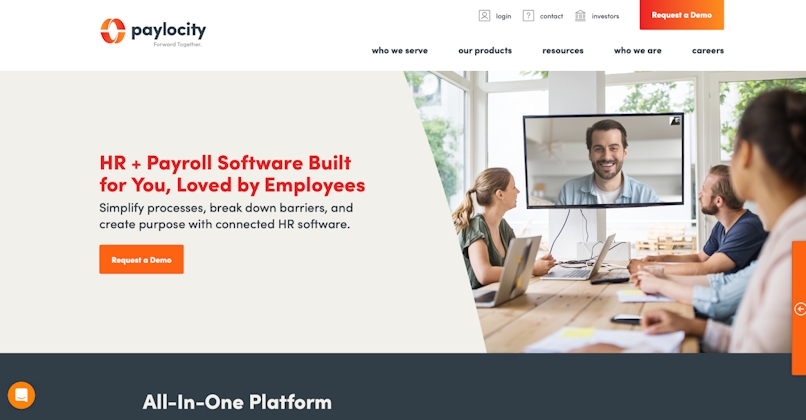 Paylocity can help you deliver on employees' expectations for career development and ongoing personal growth. You can assign specific courses to individuals or groups. 
If you have any in-house experts, they can develop their own courses for employees. 
Features: 
Includes a mobile app for on-the-go learning on employees' mobile devices 
Offers several preloaded classes on topics like diversity, inclusion, and accessibility, in addition to customizable course options
Pros: 
User-friendly platform
Allows supervisor to track employee progress  
Con: 
Some key features can be hard for new users to understand 
Best for: Employee training and development
Pricing: Available upon ask for 
Rippling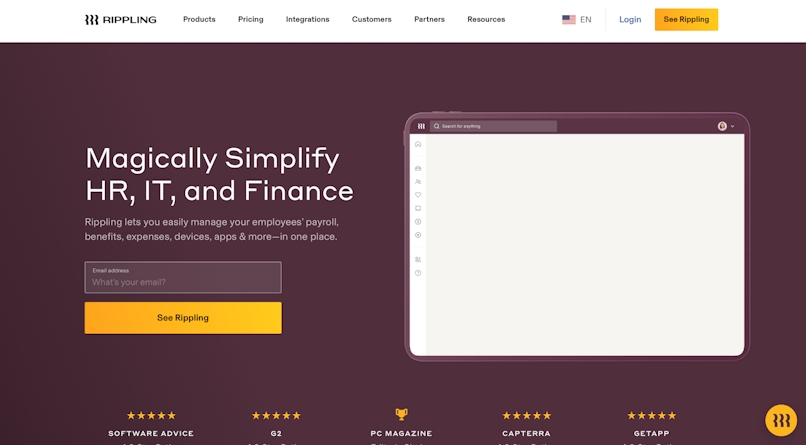 You can manage employees' expenses, benefits, payroll, and devices in one platform. Rippling comes with high ratings from previous clients and uses award-winning HR software for companies with two to 2,000 employees.
Features: 
Allows team leaders to manage payroll, benefits, talent, pulse, and timing/attendance in a single platform
Secure cloud-based data management allows teams to continue remote work
Pros: 
Constantly innovating and looking for ways to improve
Includes multiple features for downloading documents and viewing pay stubs 
Seamless transition or swapping from other programs
Con: 
Limited tax functionality (doesn't file quarterly taxes)
Best for: All-in-one platform
Pricing: Starts at $8 per user per month
Alvaria Workforce Management Suite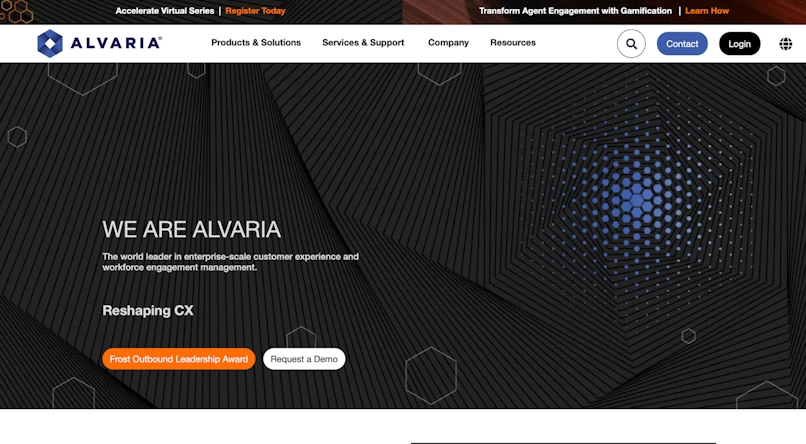 Use Alvaria Workforce Management Suite for better performance management and employee engagement. The platform tracks data you can use to reduce turnover and maximize efficiency. 
Features: 
Enhances customer experience by promoting ongoing workforce engagement management
Streamlines analytics and automation of time-consuming tasks
Includes tools to help optimize employee schedules based on company needs and employee performance
Pros: 
Easy to navigate
Includes built-in system reports
Offers forecasting for budgets and staff 
Cons: 
Employees may need help entering PTO requests
Can run slowly on some servers
Best for: Improving employee performance
Pricing: Contact sales for specific pricing information
Side-by-side comparison of the top solutions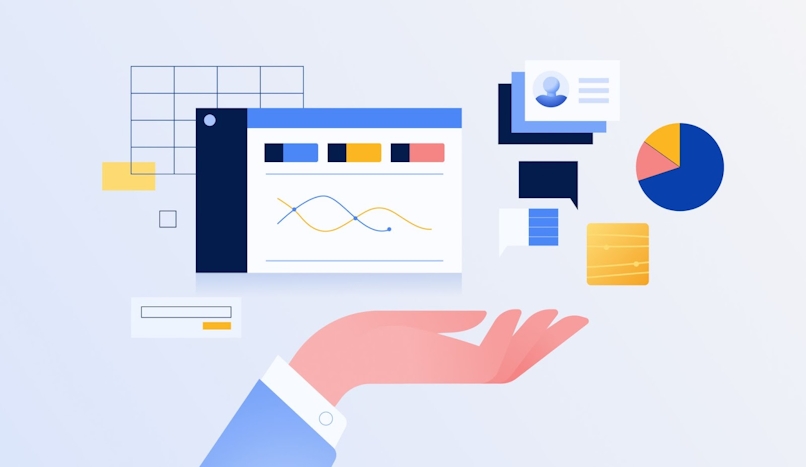 How Circuit for Teams helps with workforce management
Many delivery managers turn to Circuit for Teams for help — making it easier to figure out how much to pay employees and how much to reimburse for fuel costs.
When you use Circuit for Teams, your dispatchers can quickly export monthly metrics for all drivers that show how many miles each driver covers in one day and how long their routes took to complete.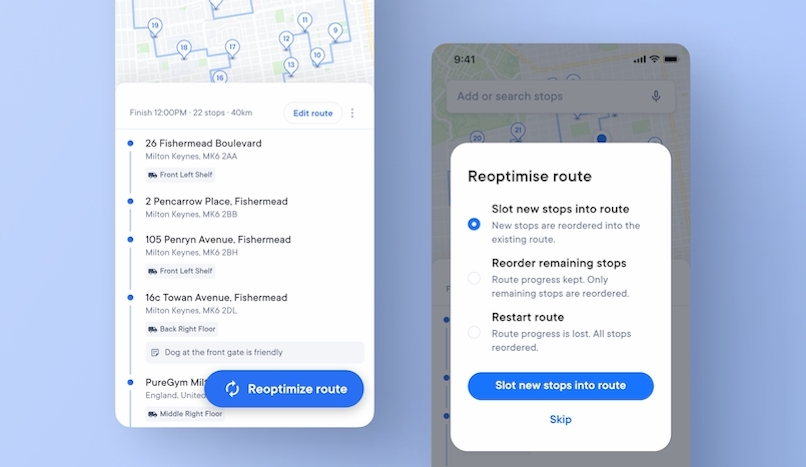 Drivers can also take a photo and request a name and signature before completing each delivery.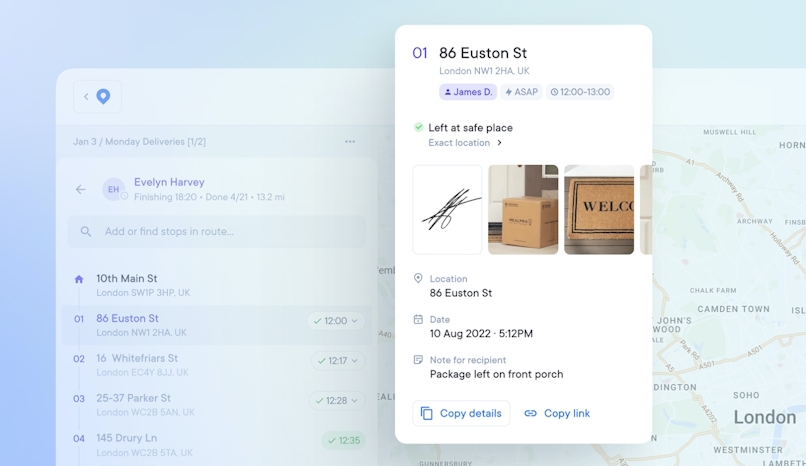 And customers know when to expect their packages thanks to automatic notifications.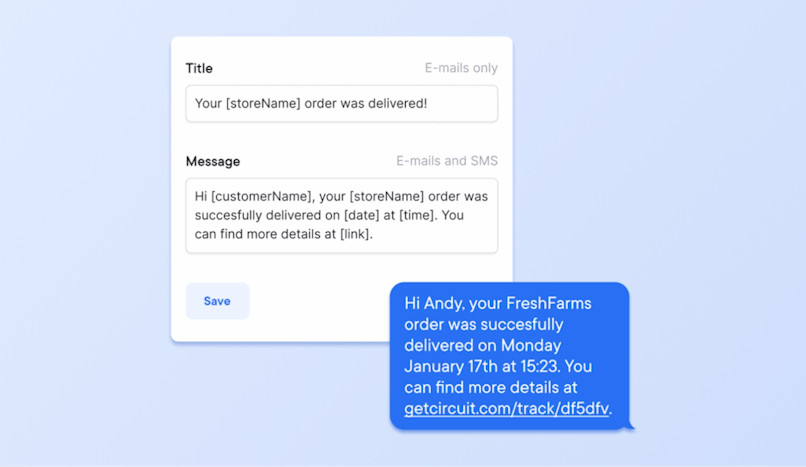 Choose the best workforce management software solutions for your business
By now, you probably have a better idea of how a workforce management system can save you time, energy, and stress. Soon, you'll have more free time than the employees at Dunder Mifflin Scranton. 
OK, maybe your work environment won't be that laid back and unproductive, but you can enjoy better day-to-day communication with your employees and more time to do the things that matter most to you. 
 there's no one-size-fits-all approach, so you'll have to get your hands dirty to determine what platform can help you get more done. 
If you're looking for a platform to keep employees' time, consider something like QuickBooks Time. If project management is more important, you might prefer ResourceGuru. 
Whatever option you choose, make sure you get all your employees rowing in the same direction. Take time to show each team member how to use the new software. 
Answer their questions so that you don't accidentally become the IT person whenever a new issue pops up. 
It won't take long for you to fall in love with your new scheduling software or talent management tool. Your employees will probably become quite fond of it too. 
And who doesn't love a win-win scenario where everyone is happy with the employee experience?