6 minute read
How Much Do Americans Spend on Excessive Delivery Fees?
Analyzing the costs of food delivery that often go unnoticed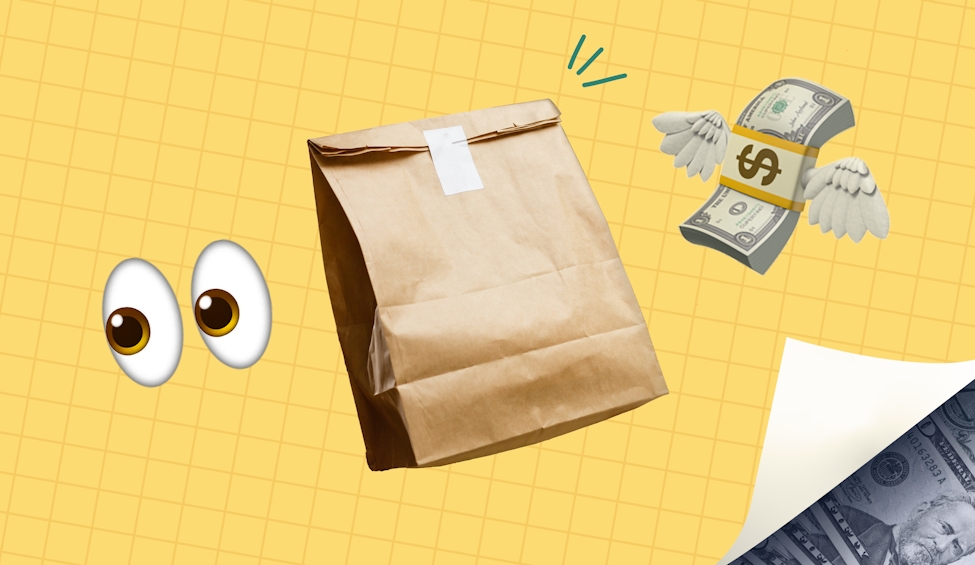 Find out how food delivery's hidden costs are stacking up.
Key takeaways
The average American makes nearly 55 food delivery orders annually, spending almost $1,850.
Delivery fees, service fees, and tips make up roughly 36% of food delivery costs (an average of $654 each year per customer).
Postmates users spend the most on "hidden" delivery fees: 46%.
62% of Americans who get food delivered pay for a premium subscription.
Delivery app premium subscribers order nearly twice as often as others.
In today's digital (and post-pandemic) world, many people use delivery services to get the food they crave delivered straight to their home. Food delivery market revenue has more than doubled since the pandemic hit, with experts projecting continual growth each year.
We found that most people are willing to pay for the convenience of food delivery, but how often? And just how much are they shelling out for it? We surveyed more than 1,000 Americans to understand their food delivery habits and spending. 
How often are Americans ordering food?
In the first part of our study, we found out what Americans' delivery habits look like, breaking them down by generation, income, and which services they use.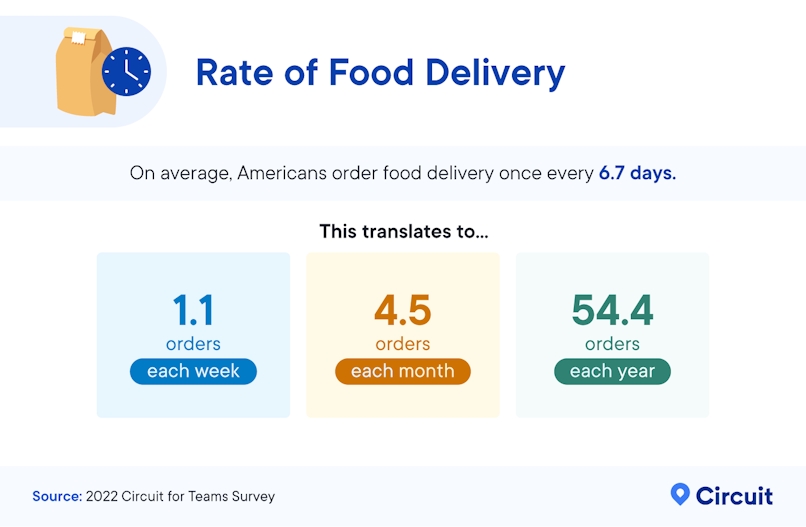 Overall, the average American gets food delivered once every 6.7 days. That's around once a week, four or five times a month, and 54 times per year.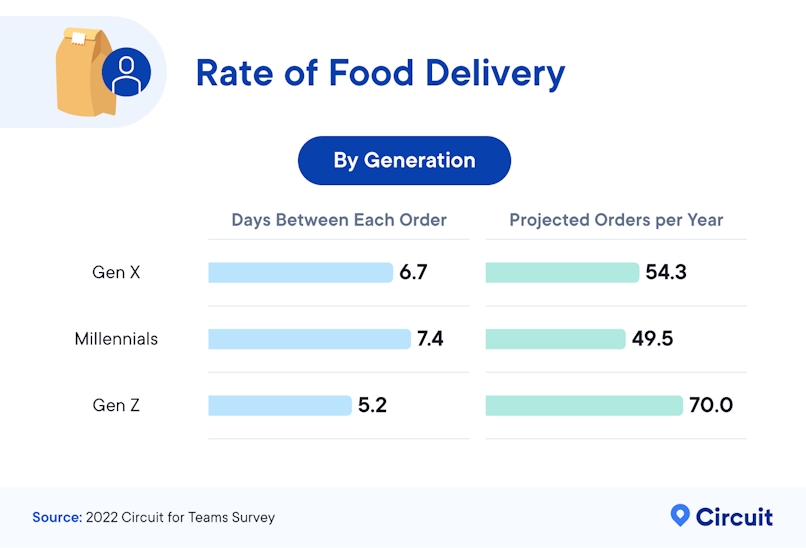 If you assumed that younger, tech-savvy generations order delivery the most, you're right! We projected that Gen Z places 70 orders per year, millennials place close to 50, and Gen Xers place just over 54. Gen Z also appeared to place their orders more than once a week.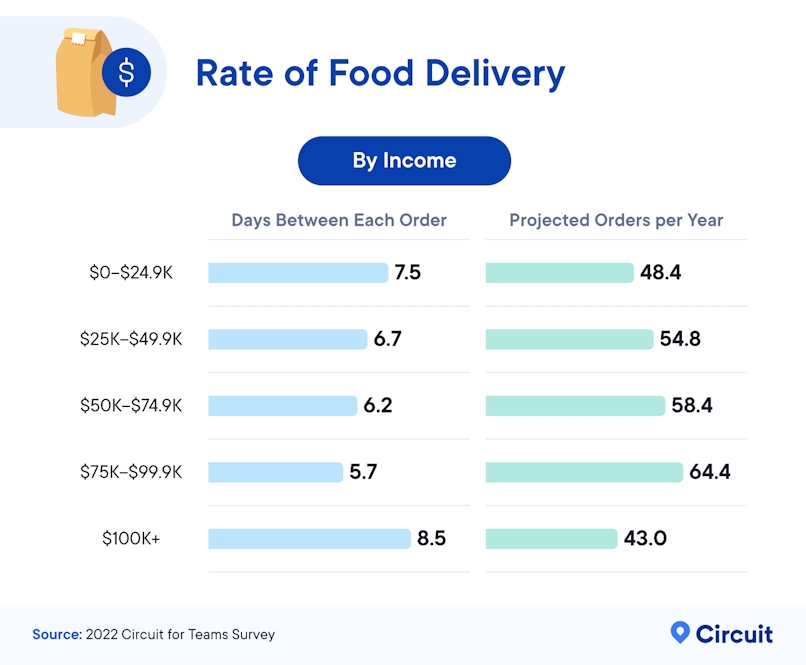 Broken down by income, those making between $75,000 and $99.9 thousand a year were on track to place the most orders every year: more than 64 total, with just under six days on average in between.
But higher incomes didn't necessarily mean ordering out more. Those making over $100,000 a year might place the least number of food delivery orders in a year — just 43.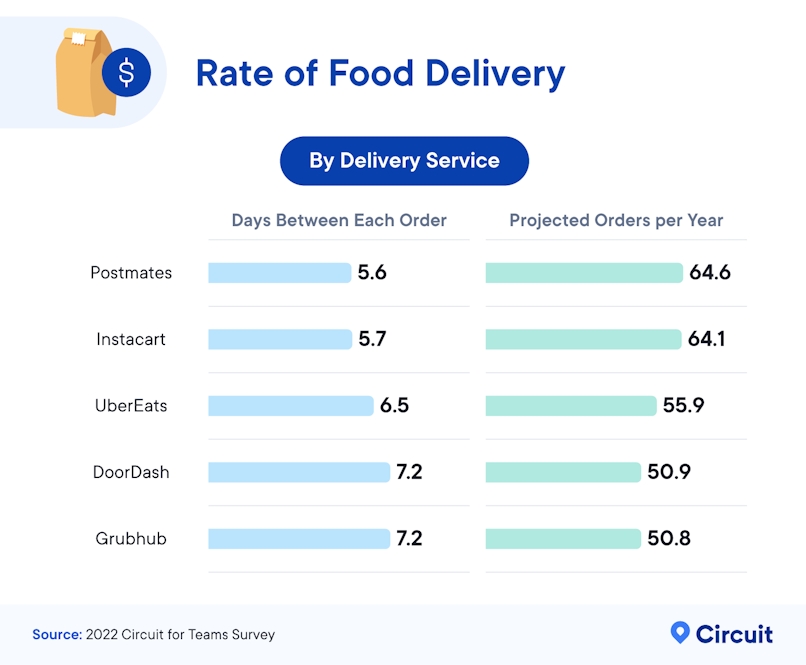 Based on our projections, Postmates reigned supreme, with their average user placing more than 64 orders in a year. Their customers also wait the shortest time between orders: less than six days.
Instacart came in right behind, with their users placing about the same number of orders and waiting around the same time between orders. 
Key takeaway: The average American orders food delivery 54.4 times a year.
Delivery expenses
Next, we looked into how much people spend on food deliveries based on income level, generation, and delivery service.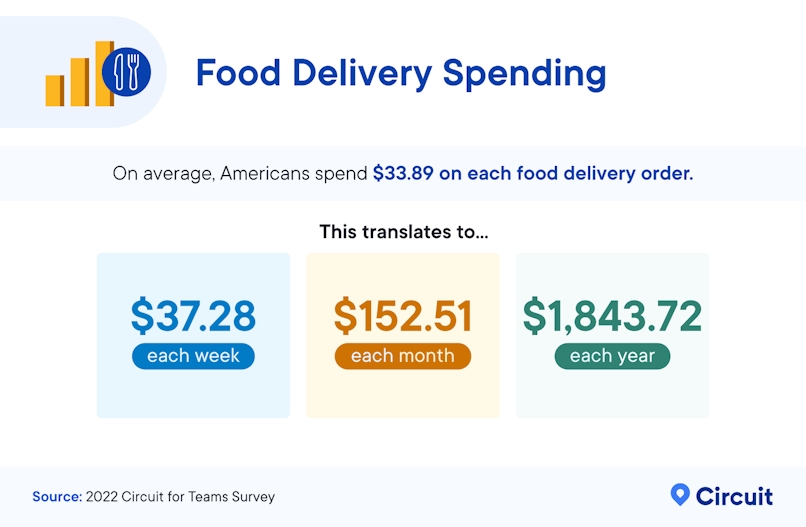 The average American spends $33.89 per order on food delivery, which translates to $37.28 a week, $152.51 per month, and $1,843.72 a year — that's a lot of dough for takeout!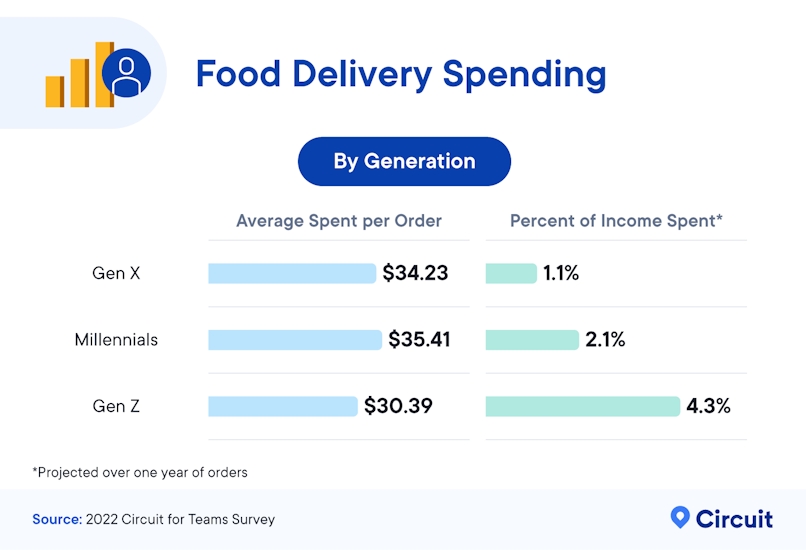 Gen Z is likely to spend the highest percentage of their income on food delivery — around 4% — with their average order totaling $30.39. Millennials might spend the most on deliveries, but their orders are less likely to break the bank, accounting for just over 2% of their total income annually.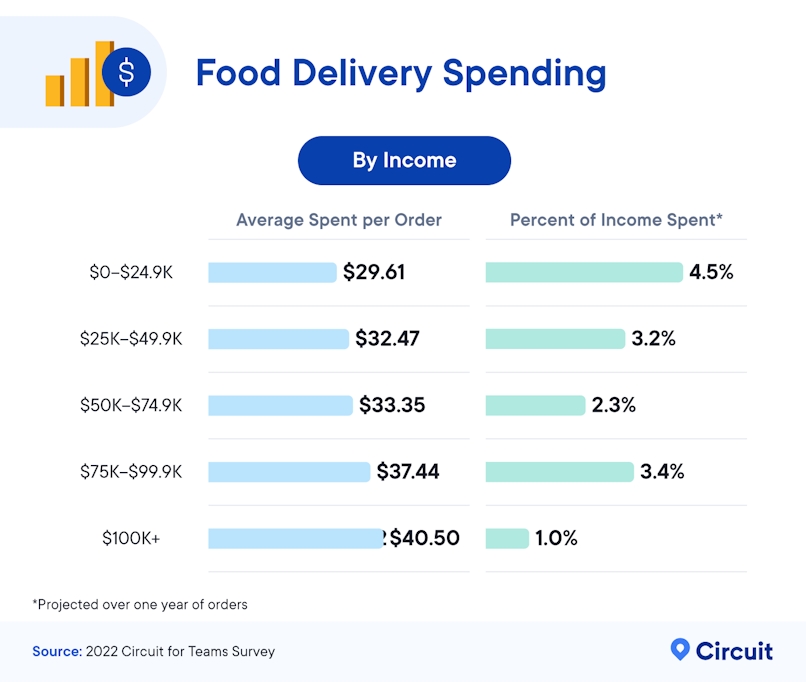 Higher earners will probably feel more comfortable splurging when they order out since it makes less of a dent in their finances. People making over 100K a year are likely to spend the most on each order (just over $40) and still only spend 1% of their income over a year.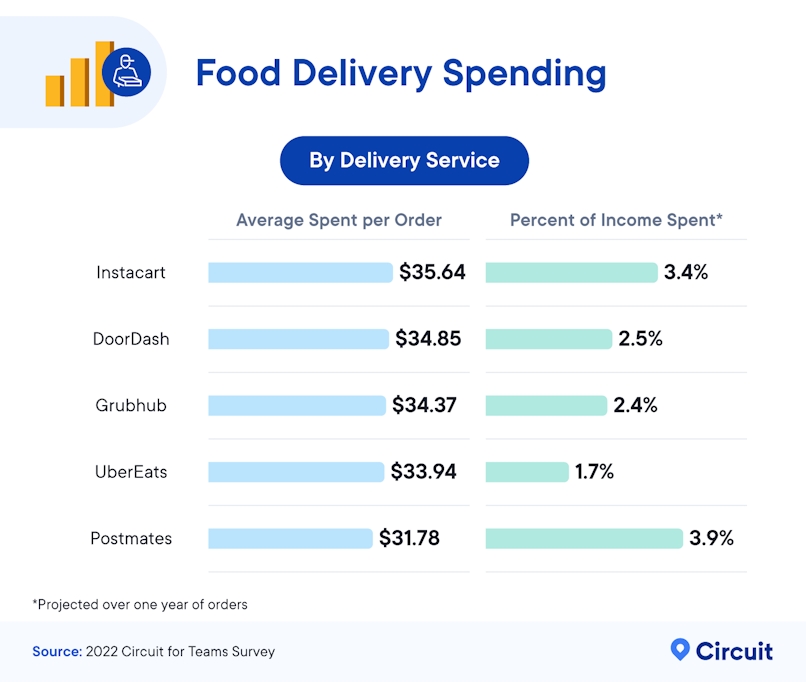 People spent more money on Instacart food deliveries than any other service ($35.64 on an average order). However, Postmates orders might have had a bigger impact on users' budgets, with customers spending the highest percentage of their income on the service (almost 4%).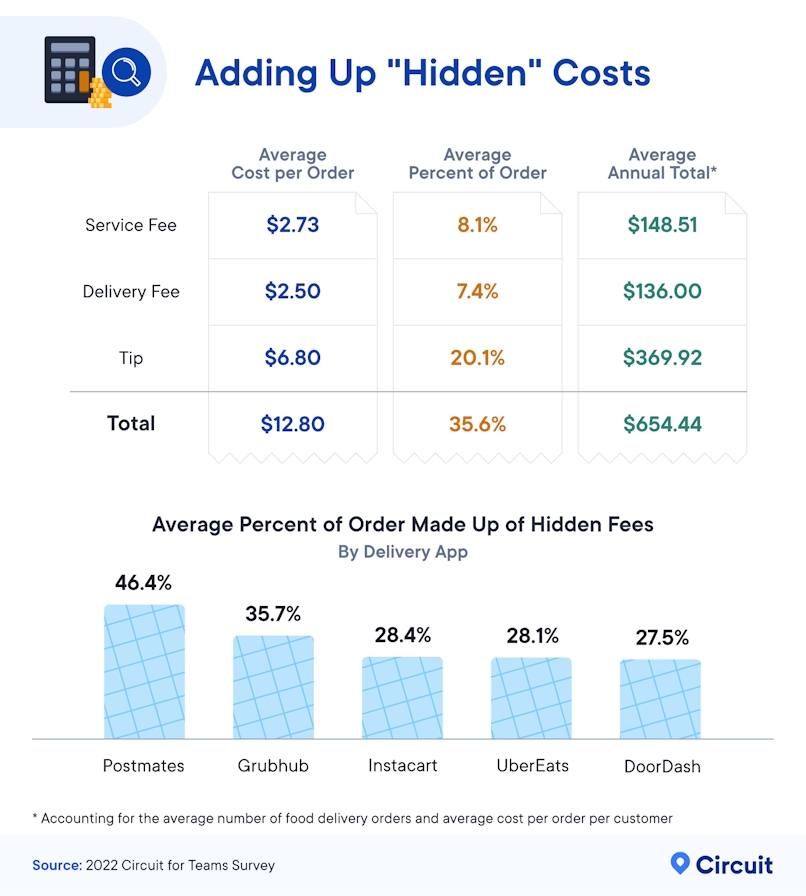 What about the hidden costs you don't find until you're ready to place your order? On average, all those service fees, delivery fees, and tips add up to almost $13.00 per order. That comes out to over $650 a year!
The biggest culprit was Postmates, whose order totals nearly doubled once they added on those extra costs.
Key takeaway: The average American spends over $1,800 per year on food delivery. 
Delivery decisions
The last part of our study looks at people's ordering habits. How many are willing to pay extra for certain perks, and who tips the most?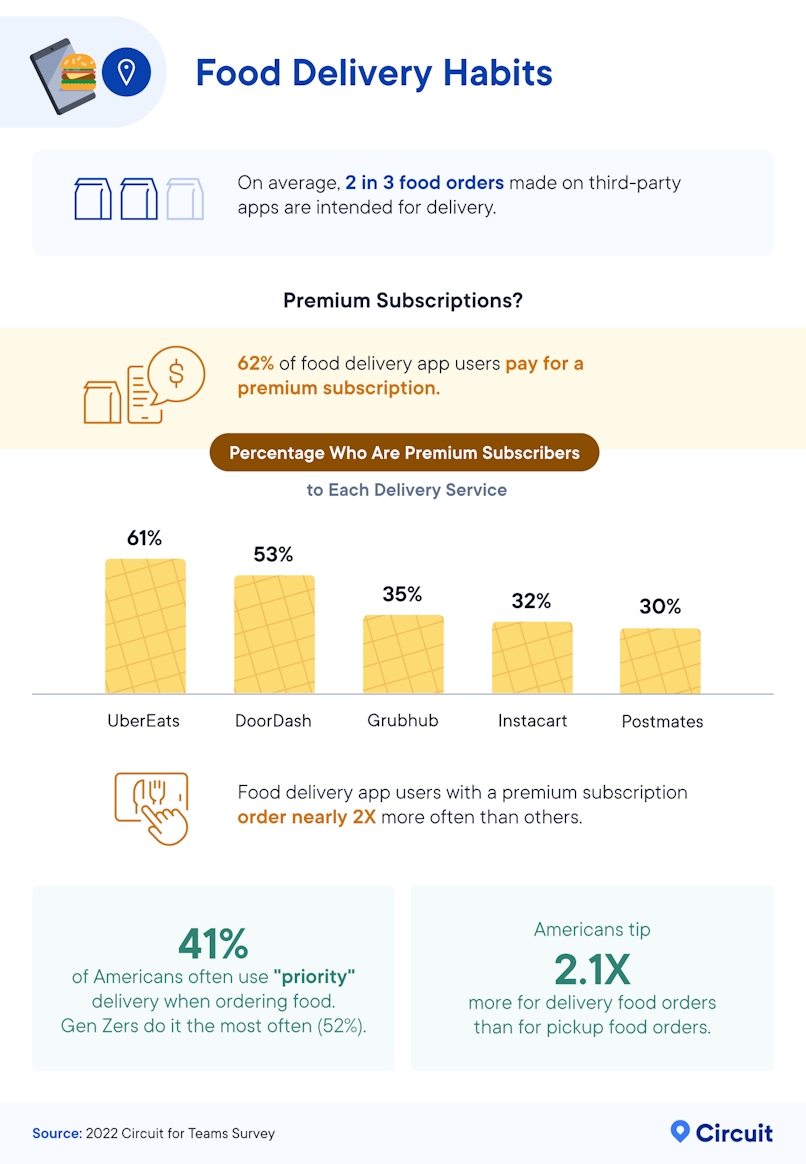 As we've said before, convenience is king these days, which is probably why two-thirds of the food ordered through these apps are for delivery rather than pickup.
In fact, people value convenience so much that 62% have paid for a premium subscription to their favorite app. Most of them were UberEats users; 61% of those we surveyed enjoy free delivery and discounts thanks to the Eats Pass membership.  
Some apps let you chip in a little extra to get your food faster, and 41% of respondents said they choose this "priority" option when ordering. Gen Zers were the most likely to do so, and 52% of them said they do it regularly. 
Key takeaway: 2 in 3 Americans prefer delivery over pickup on third-party apps.
Counting up the cost
Even though most restaurants and eateries have reopened to full capacity since the COVID-19 pandemic began, people are still leaning heavily towards food delivery. They're even loyal to certain delivery brands, with more than half of people opting to pay extra for a premium subscription to their favorite service. 
People are also shelling out quite a bit more for the convenience of having food delivered to their door, even when the fees make up nearly half the total cost of their order. With the younger generations being the most accepting of these costs, there's no denying that food delivery apps are the future of food service. 
Methodology 
We surveyed 1,021 Americans who reported ordering food for delivery at least once within the last six months. 25% of respondents submitted screenshots documenting their food delivery spending and fee breakdown.
About Circuit for Teams
Circuit for Teams helps you plan the best routes, getting your team members to their destinations ASAP. 
Fair use statement
If you're a delivery devotee and enjoyed our study, you're more than welcome to share it. We just ask that you link to these findings and that your purposes are noncommercial.