5 minute read
Over Half of Americans Depend on Delivery
These days, you can get almost anything delivered to your door. Has the increased popularity of e-commerce changed America's dependence on delivery?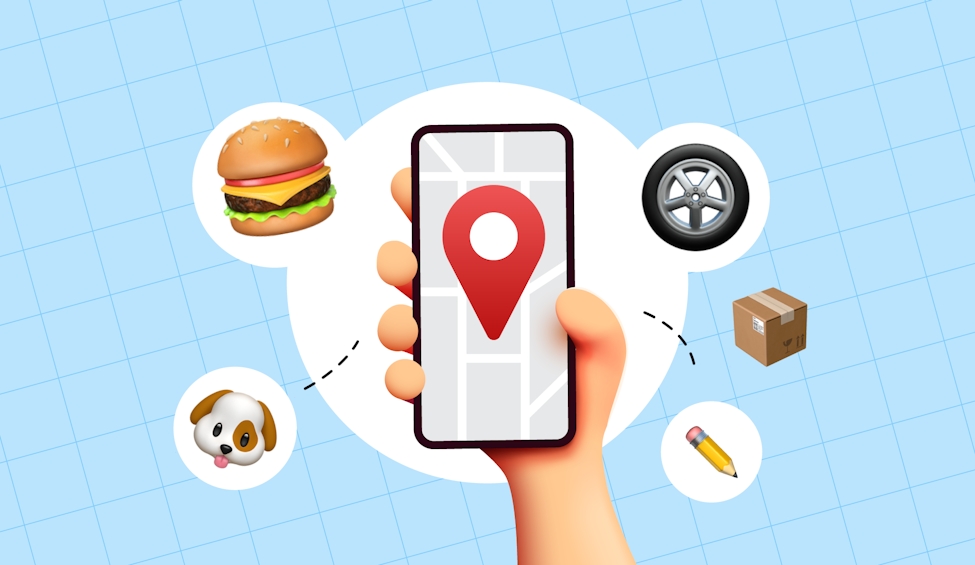 We surveyed over 1,000 Americans to learn more about their current delivery habits and purchases.
Key Takeaways
3 in 4 people get at least one package a week.
Americans pay an average of $817.32 in shipping and delivery fees each year.
Pet supplies saw the biggest increase in deliveries over the past two years. 
55% of respondents said that receiving packages makes them feel happy.
The World at Your Doorstep
The past few years have seen a dramatic increase in delivery. From clothing and food to prescriptions and dog treats, many Americans' dependence on delivery has grown.
But just how dependent on delivery have we become? How often do people get deliveries, and what items do they order the most? 
To find out the truth about America's delivery dependence, we analyzed Google search trends and surveyed 1,000 people about their delivery preferences and habits.
Demand for delivery
Between the COVID-19 pandemic, long work hours, and hectic schedules, general life fatigue there are a number of reasons Americans may turn to delivery. 
But, how often do they get packages, and how much are they paying for this convenience?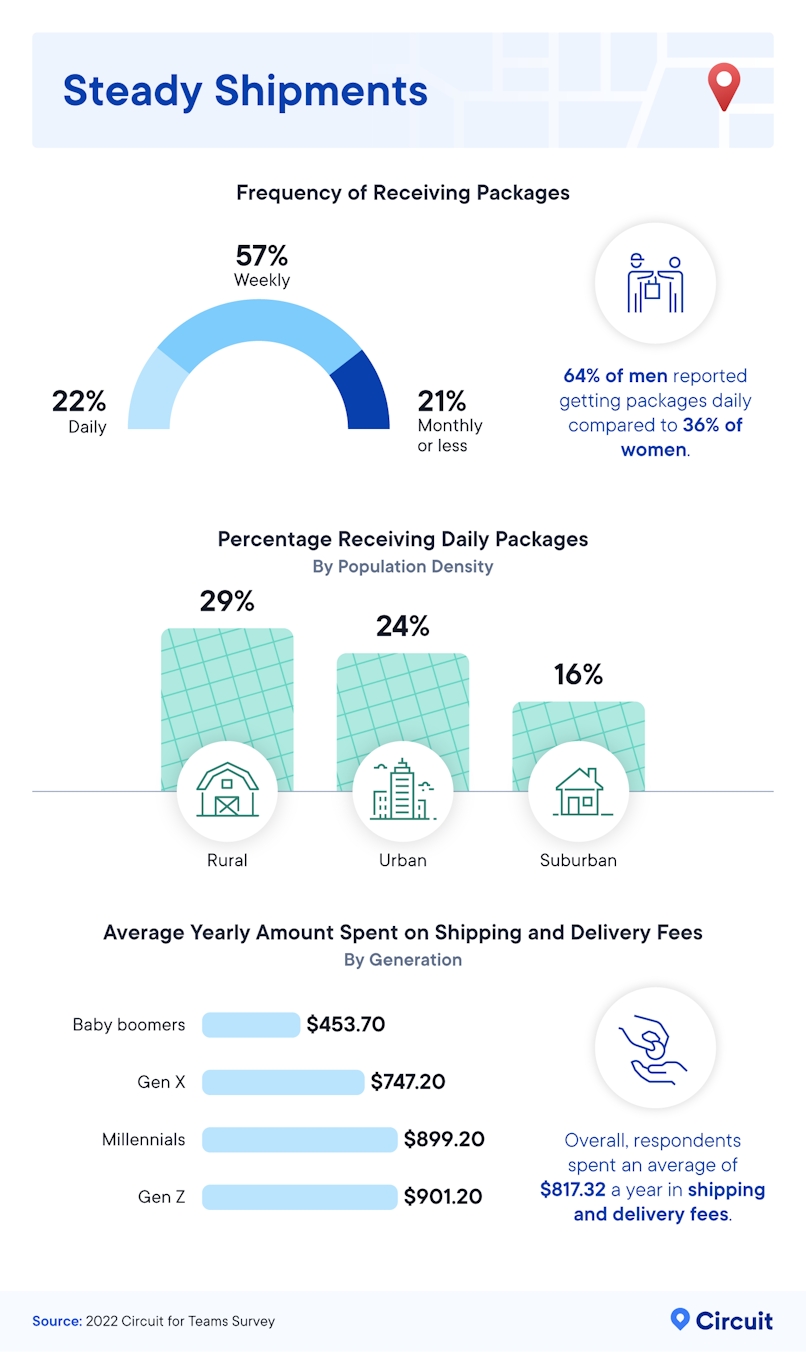 Of the people surveyed, 79% received packages at least once a week.
Nearly a quarter received packages daily, including 33% of Gen Z , 22% of millennials, and 20% of Gen X. Men were much more likely than women to get daily package deliveries.
With all those daily deliveries, Gen Z paid the most in shipping and delivery fees: an average of $901.20 each year.
If that sounds like a lot, it might be because shipping prices have surged in recent months. Despite generally receiving packages less often, millennials only spent an average of $2.00 less each year than Gen Zers.
Rural populations were the most likely to receive packages daily. That makes sense, considering the lack of convenient shopping and product availability in those areas compared to more densely-populated ones.
Many purchases were not impulsive, middle-of-the-night decisions: 22% were in the morning, and another 22% were in the afternoon. But we also found a good number of late-night shoppers who have spent quite a bit on delivery fees.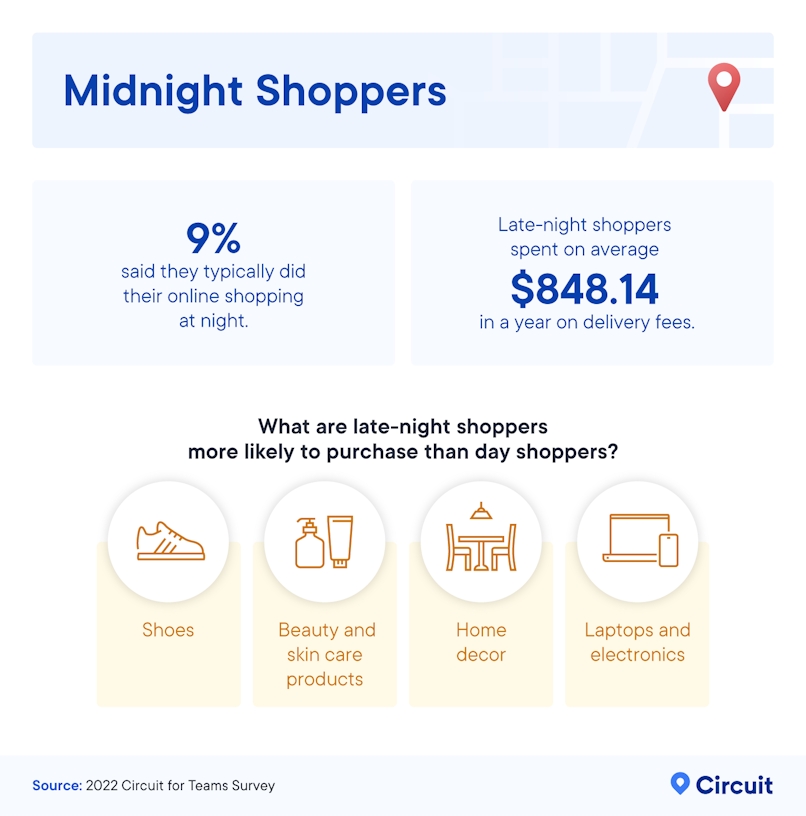 Even though midnight shoppers only made up 9% of respondents, they spent an average of $848.14 on delivery fees — almost as much as millennial shoppers did.
Key Takeaway: 3 in 4 people get at least one package a week.
What Americans want
Whether shopping during the day or late at night, consumers have many of the same items delivered to their door. But, which items are delivered most often, and which items have seen the highest increase in delivery frequency?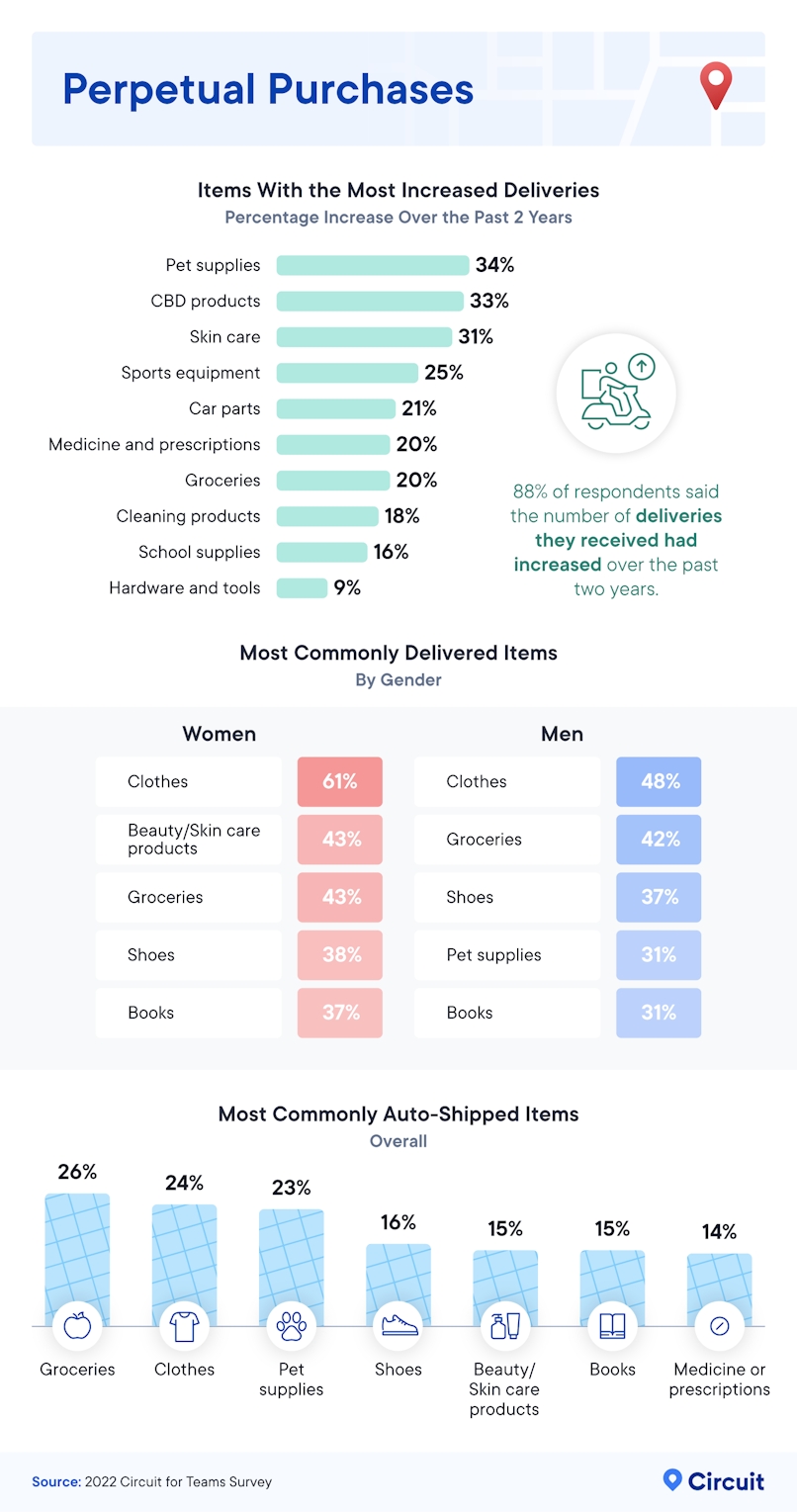 The pandemic and a sharp increase in work-from-home jobs undoubtedly pushed customers to skip the stores and turn to delivery. Likewise, 88% of our respondents said the number of deliveries they received has increased over the past two years.
Many items not commonly shipped before the pandemic saw an uptick in delivery orders, including pet supplies (34% increase), CBD products (33% increase), groceries (20%), and school supplies (16%).
Groceries, clothes, pet supplies, and shoes were the most commonly auto-shipped items, meaning they were set up for automatic purchase and delivery after a specified time period.
Only 14% used auto-ship for medicine or prescriptions, which may be for the best — you must authorize some medications every time before you're billed.
Younger generations might be more comfortable with the occasional surprise package arriving at their door: Gen Z was the most likely to have purchases auto-shipped, while baby boomers were the least likely.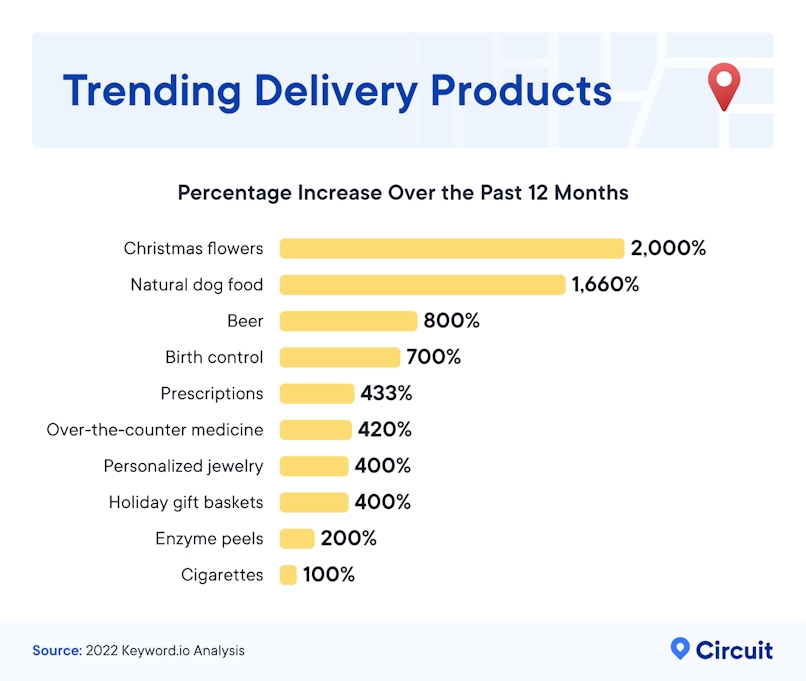 While there was a delivery boom during the height of the pandemic for products in some categories, delivery increases for others happened more recently.
In the past 12 months, deliveries of Christmas flowers increased by 2,000%, and natural dog food deliveries increased by 1,660%. Birth control was also delivered more often (700%), but those deliveries didn't go up as much as the ones for beer (800%).
Key Takeaway: Pet supplies have seen the biggest increase in deliveries over the past two years.
Reward, or remorse?
Buyer satisfaction or remorse can happen instantly when you make a purchase in a store. But when you order online, those feelings are delayed until you get your item.
So how has online shopping affected customers' feelings about their purchases? And why are so many Americans using delivery in the first place?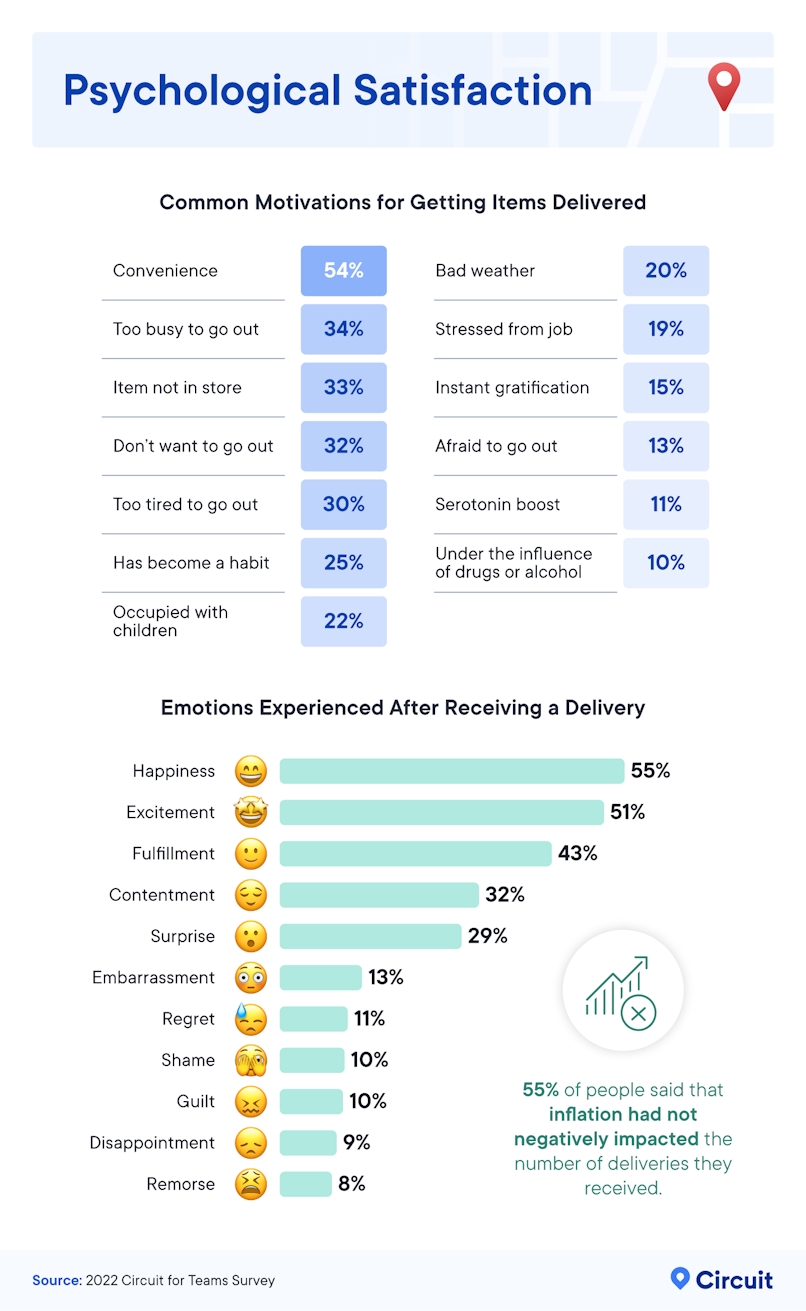 For most consumers, delivery was all about convenience, with 54% naming it as their top reason for ordering online.
Other common reasons, like being too busy to go out (34%), too tired to go out (30%), occupied with children (22%), and stressed from work (19%) also echoed the convenience of delivery.
Fortunately, most people feel positive to get a delivery, with very few negative emotions reported. Feelings of happiness (55%) and excitement (51%) far outweighed those of regret (11%) and remorse (8%).
Key Takeaway: 55% of respondents said that receiving packages made them feel happy.
Delivery dependence
In the post-pandemic surge of eCommerce, delivery drivers will bring almost anything to your door, and most Americans are taking advantage. With deliveries increasing for everything from pet supplies to prescriptions, consumers are more dependent than ever on delivery services, especially in rural areas.
Even with inflation increasing purchase and shipping prices, the number of deliveries received has remained constant for more than half of our respondents, showing us that consumers place a high value on convenience. While there are still some things people will only buy in stores, it's clear that delivery is a new mainstay in American retail.
Methodology 
The data for this study came from a survey of 1,008 Americans of which 53% were men, and 47% were women. For generational breakdowns, 9% were baby boomers, 35% were Gen X, 54% were millennials, and 11% were Gen Z. Search trends data came from analysis of Google searches using keywordtool.io. 
About Circuit for Teams
Circuit for Teams routing software optimizes routes for multiple drivers, keeps customers up-to-date while their items are in transit, and gets proof of delivery once they arrive.
Fair use statement
Do you know someone who always has packages on their porch? Feel free to share this article for any noncommercial purposes, and be sure to provide a link back to this page to give the authors their due credit.