12 minute read
11 Best Employee Scheduling Software Solutions for 2023
Employee scheduling software can positively impact your workforce and business. Learn about the best scheduling software for 2023.
Use employee scheduling software like Circuit for Teams to manage your drivers and plan their routes.
Managing a team of drivers can be tough.
You have to make sure you've got enough drivers to cover all your routes — and you have to optimize those routes. 
Then, you have to track those routes and make sure the job actually gets done.
(Hint: Circuit for Teams can help with route planning, optimization, and tracking.)
But there's also the people management side of things. 
You have to schedule driver shifts while considering current staffing levels, scheduling conflicts, and any last-minute shift changes.
There's a tool for that, too: employee scheduling software. 
This technology automates workforce management processes like scheduling, time tracking, and time-off requests — easing the burden on delivery managers.
If you're managing a team of drivers, employee scheduling software can save you time and hassle. 
Below, I'll outline some favorite tools and reveal what to look for when investing in an employee scheduling tool.
Key takeaways
When choosing an employee scheduling software tool, it's important to consider factors like your budget, the size of your team, the features you need, and the level of integrations you require with other software systems.
Many employee scheduling software tools offer features like mobile time tracking, shift scheduling, customizable reports, and integrations with HR, payroll, and POS software. Some tools also offer features like demand forecasting, automated scheduling, and labor compliance tools.
Pricing for employee scheduling software tools varies widely, depending on factors like the number of users, the features included, and the level of support you require. Some tools offer free plans or trial periods, while others require you to contact the company for a custom quote.
These 11 employee scheduling software are the top of our list and may suit your needs.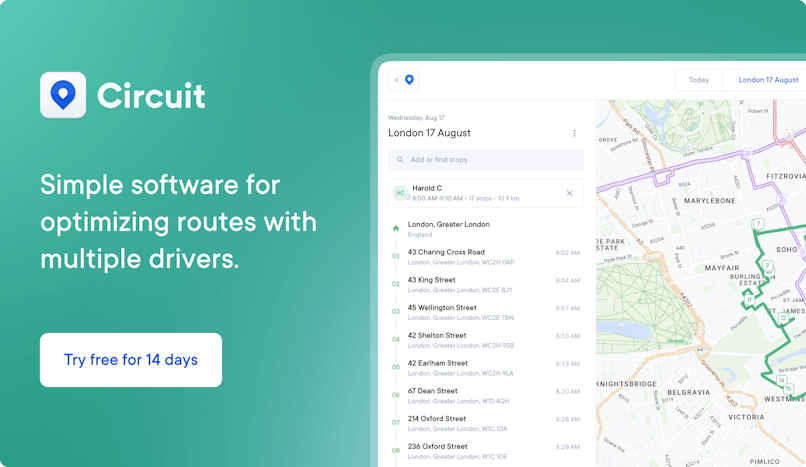 11 best software to schedule employees
You can choose from many employee scheduling software tools. I've narrowed the list to 11 top contenders.
Deputy — best for maximizing integrations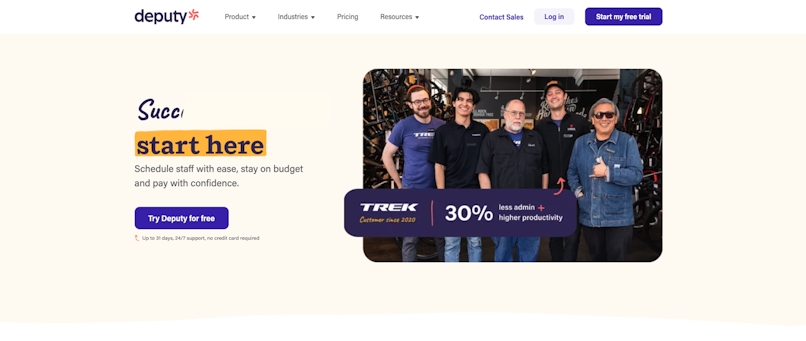 Deputy is a comprehensive tool that includes scheduling and time-tracking automation. 
It also offers integrations for systems like HR, POS, and payroll software and includes labor compliance tools.
For example, you can integrate mandatory driver breaks into each team member's workday. 
The app can turn any mobile device, including a smartphone, into an employee time clock, so workers receive an alert when it's time to hit pause.
The Premium option is the most popular plan, costing $4.90 per user per month. 
This includes essential features like scheduling, time and attendance solutions, and reporting. It covers unlimited employee shifts per month.
Pros:
Includes a lot of diverse integrations
Offers labor compliance tools
Mobile app access
Cons:
The mobile app can get glitchy
Users report issues with messages going through
Paying for this many integrations can be useless if you don't need them
QuickBooks Time — best for existing QuickBooks users 
QuickBooks is a popular accounting tool that you may already use in your business. 
If so, I've got great news: The company also has a time-tracking tool that integrates with the payroll software.
With QuickBooks Time, you can create simple time sheets, use mobile time tracking, and create customizable reports for your teams. 
A live activity feed lets you collaborate with teams in real time, and you can set recurring alerts to speed up scheduling even more.
The most popular option is the Plus Plan, which runs $42.50 per month if you take advantage of the half-off special for the first three months. 
The price jumps to $85 monthly after the discount period and includes up to five users.
Pros:
Includes mobile time tracking
Set recurring alerts to speed up scheduling
Collaborate with teams in real time
Cons:
Probably doesn't make sense if you don't use QuickBooks
Limited reporting options
Not a user-friendly dashboard
Zoho People — best for comprehensive HR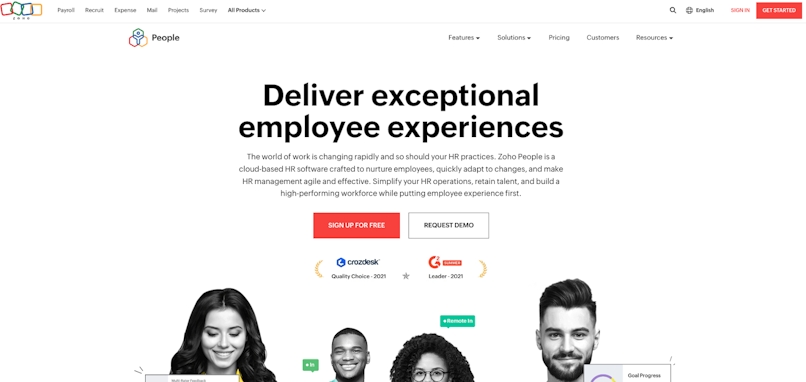 Zoho People is a comprehensive HR tool that includes features for recruitment, onboarding, expense management, time off structuring, payroll, and more. 
It's not strictly a time-tracking tool but includes that functionality.
The tool also includes HR analytics. 
You can check driver stats at a glance to see who keeps showing up to work late, who's used up all their vacation days, and who's consistently showing up and getting the job done (time for a promotion?).
Their Professional plan costs $2 per user per month, billed annually. This includes essentials like shift scheduling, time tracking, and time sheet management. 
You can upgrade to more expensive plans for functions like performance appraisals.
Pros:
Includes expense management
Link to your payroll tool
Access HR analytics
Cons:
More of an HR tool than a scheduling tool
Time logging process lags
Users report trouble reaching customer support
Shiftboard — best for optimizing driver engagement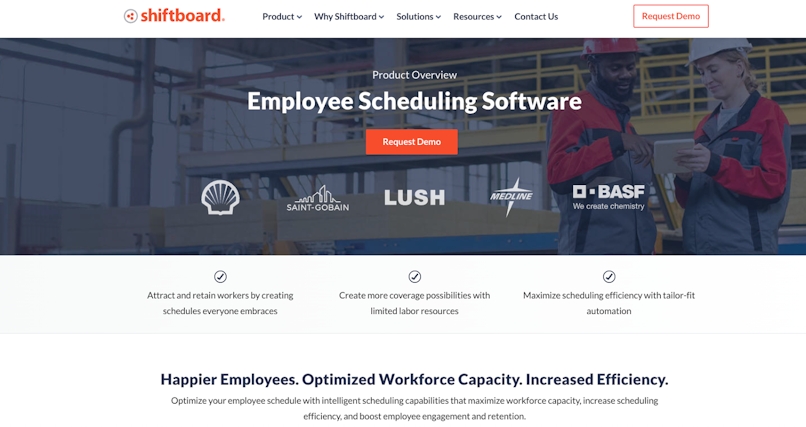 Shiftboard is a scheduling tool that's all about optimizing your workforce. 
It offers schedule automation, time sheet and leave management, and labor demand planning. Coverage optimization helps you split shifts and quickly shuffle workers.
Shiftboard also offers perks like worker engagement tools. 
You can allow eligible workers to pick up or volunteer for extra shifts, for example, and distribute overtime based on equitable traits like seniority.
However, Shiftboard only offers Enterprise and Enterprise Plus plans. This means you have to contact the company for a quote based on your specific needs to determine pricing.
Pros:
Lets you split shifts
Give workers the power to pick up shifts
Distribute overtime fairly
Cons:
Steep learning curve for figuring out how it works
Complicated user interface
Only personally tailored enterprise plans are available (likely more expensive)
Humanity — best for those working in a specific industry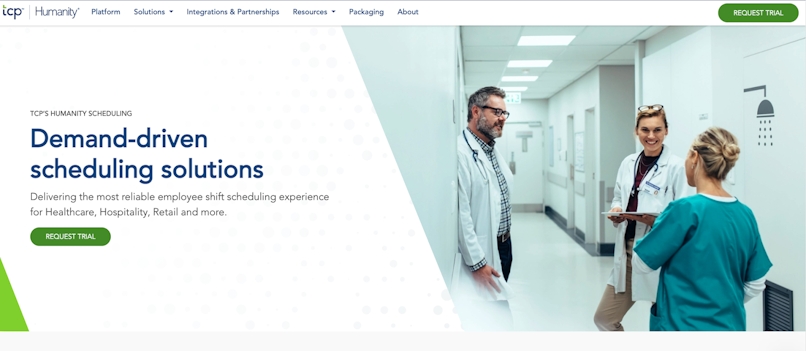 Humanity is a cloud-based tool for shift scheduling that's largely industry-focused. 
It has solutions for health care, retail, manufacturing, and transportation delivery. 
It integrates with HR management platforms like Workday and BambooHR.
Managers can use this tool to schedule workers, while workers can use it to request time off. 
Use the custom templates and automation rules to create schedules faster (for example, by indicating that worker X isn't available on Thursdays).
People who choose this tool will likely want the Classic plan, which includes auto-scheduling features. 
Unfortunately, pricing details aren't available on the website. You'll have to call to request a price quote.
Pros:
Custom templates
Automation rules speed up scheduling
Integration with HR platforms 
Cons:
Lacks formatting options for printing daily schedules
If an employee covers multiple positions, it shows as a conflict/unavailable
Nontransparent pricing
HotSchedules — best for combining scheduling with messaging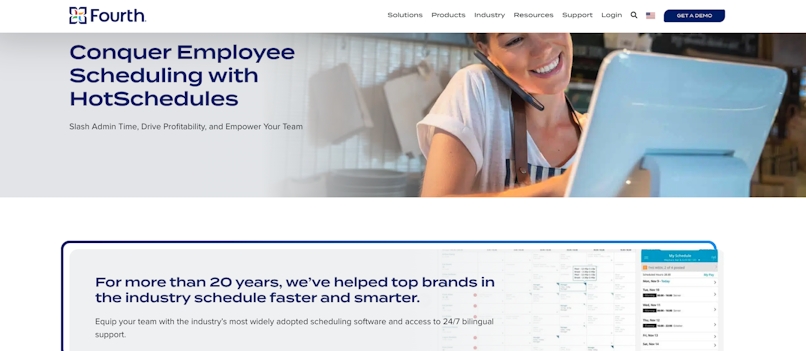 The HotSchedules employee scheduling tool features an intuitive drag-and-drop interface. 
Other features include demand forecasting, team member messaging, and compliance notifications (for example, if a driver has gone too long without a break).
This tool is also helpful for drivers. 
They can integrate it with their personal Google calendar, do their own shift swapping, and request time off with a user-friendly app. 
Plus, the in-app messaging protects their personal details.
Pricing details are hard to find on their website. You can request a demo by calling or completing an online form. This is also an opportunity to ask for a price quote.
Pros:
Demand forecasting opportunities
Internal messaging system
Google Calendar integration
Cons:
Users report glitches with the messaging component
Schedule templates are limited
Manually adding new employees is time-consuming
Connecteam — best for those wanting free software 

Connecteam is a clear winner for small businesses wanting a simple and affordable scheduling solution. 
It's free for life and gives you full access to all of its "hubs" and features.
For example, the tool's "operations hub" includes scheduling, time clock, and task management features. 
You can upgrade to higher-tier plans for more functionality, like GPS tracking and payroll software integration.
The best thing about Connecteam is, obviously, the fact that it's free for up to ten users! 
That said, the tool's most popular plan is the Advanced plan, which includes features like geofencing for time clocks and scheduling templates. It costs $49 per month (for the first 30 users).
Pros:
It's FREE
Simple and streamlined user interface
You can upgrade for features like GPS tracking
Cons:
No paid time off option
You can't confirm when someone has read a message
Limited customer support
Monday.com — best for high levels of customization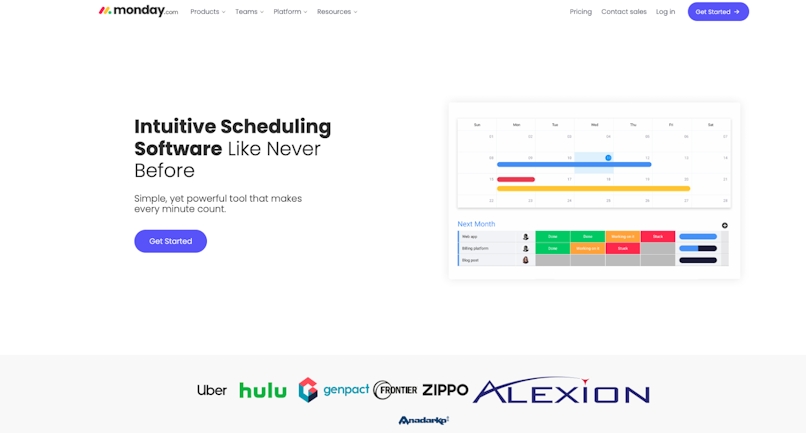 Monday.com is an intuitive staff scheduling software that lets you plan and manage weekly schedules for your team. 
This tool offers plenty of customizable features. For example, you can pick calendar or timeline views in your dashboard.
There's also a Google Calendar integration. 
In addition to scheduling, Monday offers time tracking and smart notifications. For example, Monday can alert the driver if a priority package's delivery deadline is approaching. 
The most popular plan is the Standard plan, which costs $30 per seat per month. 
It includes essentials like various views (timeline, Gantt, calendar), automations, integrations, and customizable dashboards.
Pros:
Includes smart notifications
A lot of customization options
Varied schedule views
Cons:
No offline mode
Complicated tutorials and a steep learning curve
Unwieldy project management and customer relationship management functions
Buddy Punch — best for emphasizing accountability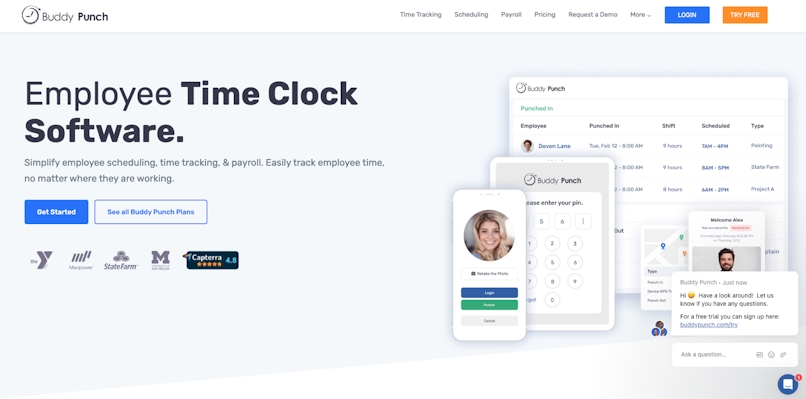 Buddy Punch is a user-friendly time-tracking tool that focuses on the essentials. 
You can use it to create time sheets, track time data, and manage paid versus unpaid time off. 
The tool also integrates with various payroll software, like Gusto and Workday.
One interesting point for delivery teams is the ability to monitor remote workers. 
The tool even uses image tracking through facial recognition, boosting accountability.
You'll probably want to go for the Buddy Punch Pro plan, which costs $3.99 per user per month, plus a $19 base fee per month. 
This includes employee scheduling, schedule templates, and schedule notifications.
Pros:
Integrates with payroll tools
Differentiates between paid versus unpaid time off 
Facial recognition boosts accountability
Cons:
Some users report issues with the photo capture function
Takes time to learn
No automated reporting
Sling — best for cutting costs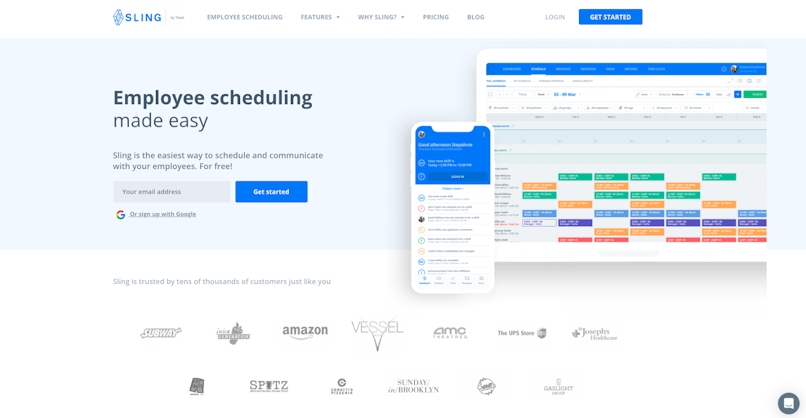 Sling offers time tracking and task management features with an eye on savings. 
The labor costs feature lets you optimize expenses while scheduling. For example, if you have one driver working overtime — and getting more money — the software will flag it. 
Another great Sling feature is its ability to schedule and communicate across multiple work locations. This is a plus for delivery managers with multiple depots to oversee. 
The tool also offers its own newsfeed and messaging tools.
Sling has a free plan that includes unlimited employees. 
However, users wanting added perks like mobile time tracking and labor cost management will want the Premium plan. 
It costs $1.70 per user per month, billed annually.
Pros:
Includes a newsfeed and messaging functions
Free plan available
Schedule workers across multiple locations
Cons:
Lengthy load times
Users report problems accessing customer support
Private messaging can prove problematic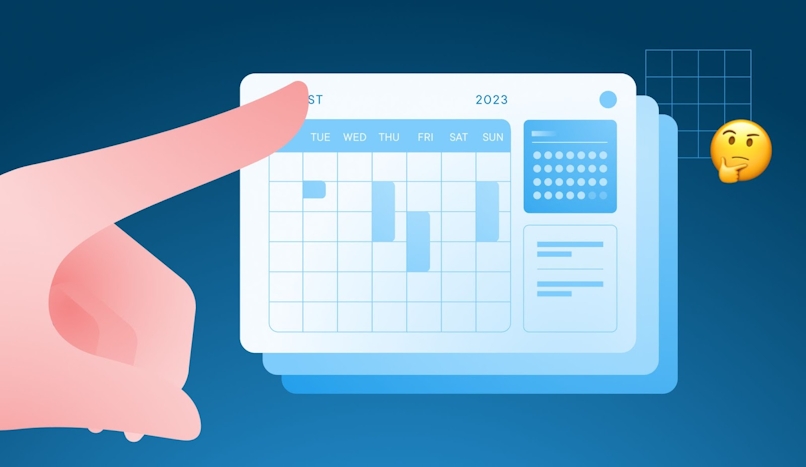 Circuit for Teams — best for delivery teams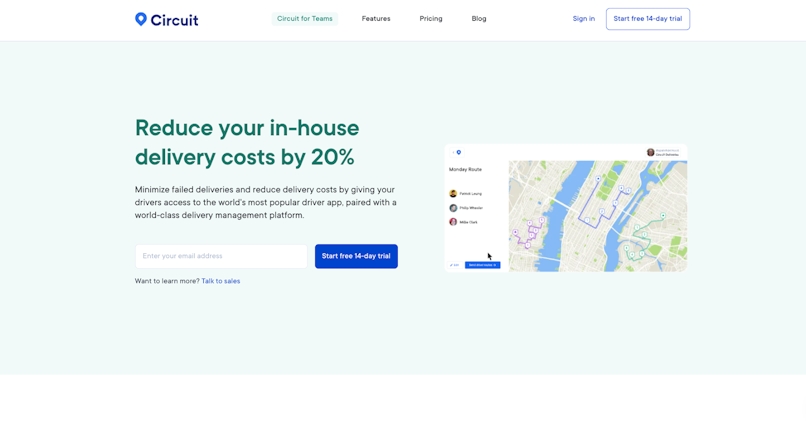 Circuit for Teams is a route optimization technology that doubles as a driver management tool.
Scheduling delivery drivers is unique from scheduling in other fields because driver work is more flexible. 
Circuit for Teams lets you accommodate this flexibility with a unique scheduling software you can adapt for shift work. 
You can assign routes to drivers based on their availability, and real-world factors that change that availability (like traffic).
Pros:
Integrates with a route optimization tool
Adapt workloads based on availability and real-world circumstances
Includes other useful features for drivers, like proof of delivery, customer notifications, and delivery time windows
Cons:
Lacks some of the integrations (payroll, HR) of the other tools listed
Doesn't let drivers request their own time off
No scheduling templates available
What is the best scheduling software?
You came here looking for the "best" scheduling software. But here's the truth: There is no "one" best option for all needs.
It just depends on your budget, the size of your team, the features you need, and the level of integrations you need with other software programs. 
The above list covers some of the most common options in the market today, like Monday and Zoho People. These tools have been tried and tested. 
But that doesn't mean they're for everybody.
For example, a tool like Buddy Punch might be the best pick if you want to emphasize accountability. 
But Deputy might be the better option if you're eager to take advantage of integrations.
Shiftboard allows your drivers to pick and volunteer for extra shifts, and Humanity is the best tool for those working in specific industries. 
Meanwhile, HotSchedules is great for combining scheduling with messaging and can even help with demand forecasting. 
Finally, your business type plays a big role in picking scheduling software. 
If you run a delivery business, Circuit for Teams is the clear winner — in our humble opinions ;-).
Below, I'll talk about some points to consider when choosing the right tool for you.
What to consider when choosing the best employee scheduling software for you
So, how can you choose the right employee scheduling solution for your needs? 
Consider these points:
Scheduling and time tracking. Let's start with the basics. What kind of scheduling and time-tracking functions does the app have? Do you get scheduling templates? Can you view schedules in various modes, like calendar versus timeline? Are you able to schedule shifts and email work schedules to teams?
Time-off requests. Some employee management systems also consider vacation days and let your team request days off. Pro tip: Check whether you can differentiate between paid versus unpaid time off.
Mobile app. Your team wants easy access to their schedule. Accessing it on an app helps (psst, make sure any app is compatible with Android and iOS). You can also solve this with integrations like Google Calendar, which teams can access on their phones.
Team communication. Some tools include messaging features to help managers and team members stay in touch. Examples include direct messages, team messages, and digital bulletin boards.
Integrations. Many of the above software programs include integrations (for example, with payroll, HR, or POS software). Determine which integrations you need, if any. This probably depends on whether you're already using similar tools.
User-friendliness. Even the best tool won't do you much good if it's too complicated. Look for a streamlined design and user-friendly features, like spreadsheet templates and a drag-and-drop option.
Customer support. What happens if your scheduling system malfunctions? Can you call someone? Ask about customer support options (like chat, telephone, and email) when scoping out providers.
Price. Last but not least, don't forget to consider costs. Some of the above employee scheduling apps and desktop tools are pricey. You don't have to get the most expensive one, as long as you've got the functions you need.
Managing a team of delivery drivers? Circuit for Teams can help
Scheduling needs can take up a lot of time for fleet managers. The above software solutions can help.
Circuit for Teams is a great pick for delivery teams, giving you a scheduling tool that's made for this kind of shift work. What do I mean by that?
Delivery drivers aren't just sitting behind a desk Monday to Friday. They're on the road dealing with real-world factors, from bad weather to bad traffic.
With Circuit for Teams, you can reoptimize and reassign driver routes as availability and situations change.
Plus, Circuit for Teams gives you a tool that doesn't just help you schedule drivers — it also helps you optimize driver routes. And you get perks like proof of delivery and customer notifications.
Circuit for Teams is always adding new updates based on customer's needs, like the ability to manage multiple depots and set fixed or variable delivery time windows.