6 minute read
Ask the Expert: How to Buy the Best Vehicle for Courier Work
Buying versus leasing the best vehicle for courier work, along with their advantages and disadvantages and the best way to buy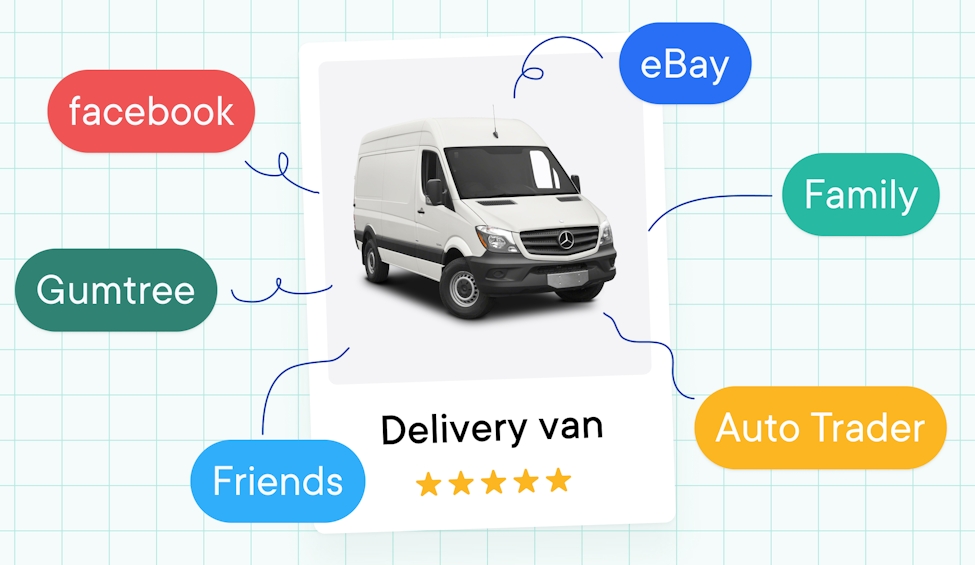 As a driver, you need to have the best vehicle for courier work; it's essential. The good news is that as an independent courier, you can pick the exact vehicle you need for the type of delivery you do.
Perhaps you don't need to spend as much on a vehicle as you might think: a good second-hand truck can get your drops done just as well as a shiny new one. (You just might not look as 'cool' whilst you're doing it).
If you do 100 or more drops a day, then your family car just isn't going to do. Also, suppose you carry more oversized freight. In that case, you may need to consider a tail lift or curtainside to help make delivery faster.
Now comes the question: How do you buy the best vehicle for courier work?
Whether you're new to courier delivery or have been running your route for some time, the advice featured in this article is helpful to everyone.
This is part of a series of regular posts from Pete the Courier Driver with hints and tips for delivery drivers. If you're wondering what the best vehicle type you need is, check out this guide first.
First, let's look at buying versus leasing the best vehicle for courier work, along with their advantages and disadvantages.
The best vehicle for courier work: Buying vs leasing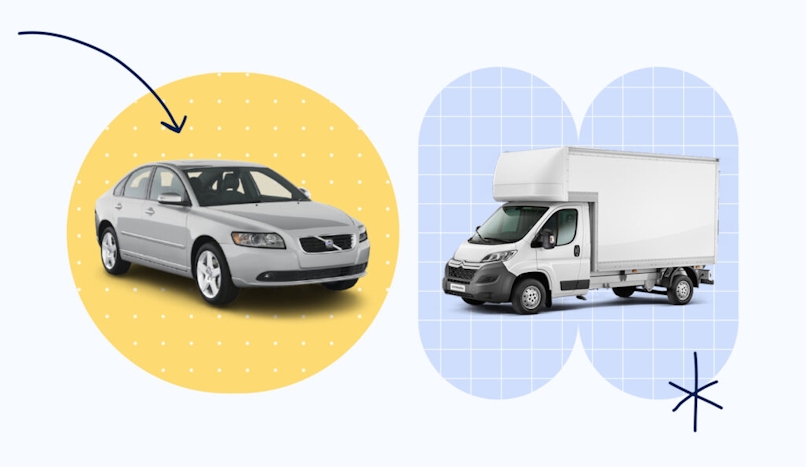 You might be thinking about buying or leasing. I would always buy. Because if you're going to be going into something you're not 100 per cent sure about and then lease yourself a brand new vehicle, you might realize you've leased the wrong one. Then you're stuck with it for three years.
And also, when you're getting something new and shiny, the overheads are costly. I recommend buying over leasing.
But, I'd also recommend that you don't buy a brand new vehicle for the same reason. It might not turn out to be the right truck for you.
So let's assume you've got your budget and want to buy yourself a decent second-hand truck.
Where do you go? The first place I start is eBay.
The best vehicle for courier work: Online auctions
Work out the kind of vehicle you need by comparing the type of delivery you typically do (or want to do), the average size of your packages, and your average daily stop amount.
You might want a Ford Transit with a long wheelbase, you might be looking for a Mercedes Sprinter, you might fancy a Transit Luton.
If you do more heavy haulage or freight, you might need a box van with a curtainside, or tail lift, as an example.
Type whatever it is into eBay and see what comes up.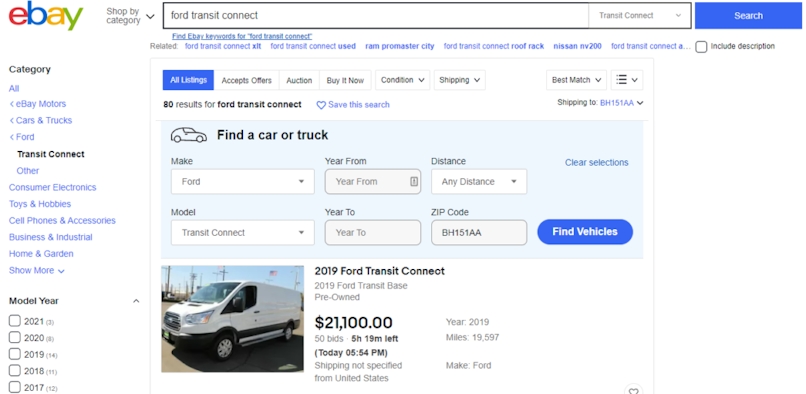 Make sure you search the whole of the UK (or state-wide for the US). Ideally, you'll be spending the next two to three years in this vehicle. If you're going to be spending money on it, it's worth a longer trip.
Before you spend any money on a courier vehicle, contact the seller and check:
Is this truck everything it says it is?
Has this got good mileage?
Has it got paperwork with it?
You want to try and get a vehicle with some amount of pedigree and known history. Then if the seller agrees, tell them that you're coming to look at it.
Of course, you might not need to travel. If you put your parameters into eBay then the truck that you want might be local to you:

Once you've found the best vehicle to suit your particular line of courier work, check the following:
How many miles has it done? You want as low mileage as possible.
Has it got a full service history?
Has it got everything you want to suit your explicit needs?
Suppose that you need a tail lift, and you like a vehicle that doesn't come with one. Then you've got to factor that one into the equation.
Then, once you've found a vehicle that you like the look of, UK buyers can hop over to the 'Vehicle History Report' for a complete breakdown: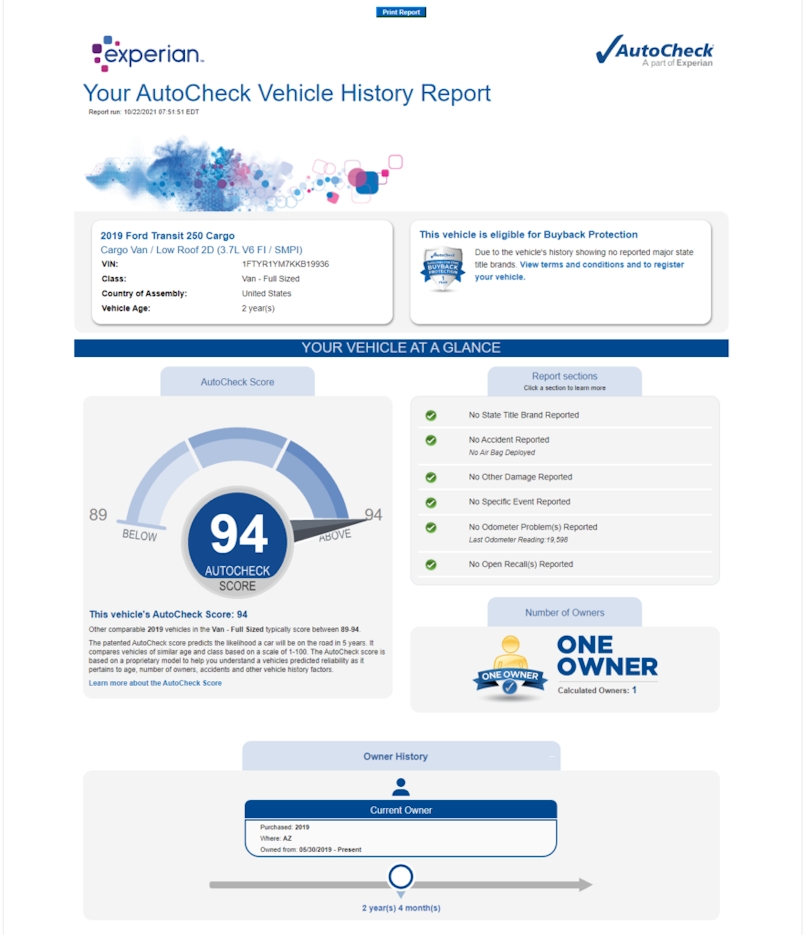 It's not always easy to find the exact vehicle you need, but you'll usually come close.
You can also try Auto Trader (UK) or Auto Trader (US), and the Facebook Marketplace. I've found some bargains on there. Also, many vehicle traders advertise on Gumtree in the UK or Craigslist in the US.
The best vehicle for courier work: In-person car auctions
In-person vehicle auctions tend to be a bit painful (and practically non-existent during the pandemic). But even still, a lot of the time, you can find a delivery truck in an in-person auction.
Just be careful that the reason the seller is putting their truck into auction is not that they don't want to sell it to someone online because of fear of buyer complaints. They might be using an in-person auction as a way to get shot of a dodgy vehicle. And vehicle sales at an in-person car auction are final.
Before you go spending any of your hard-earned money on a potentially poor choice, make sure you check out this complete guide to car auctions first.
The best vehicle for courier work: Vehicle dealerships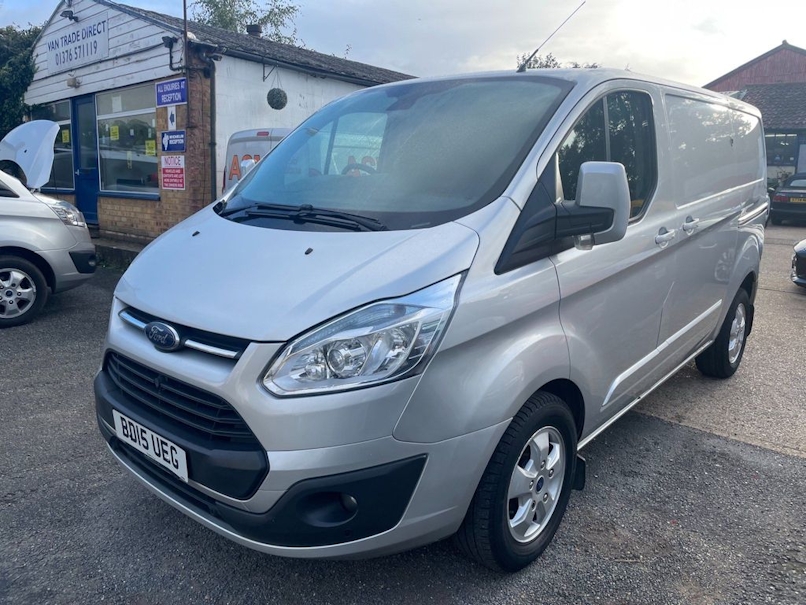 Rather than taking any risks at an in-person auction, my advice is to buy from a dealer if you can.
A specialized second-hand vehicle dealer is the best way to find a vehicle for courier work. Just make sure that you get as much pedigree and history as you can and get as much paperwork as possible.
The good thing about using a second-hand vehicle dealer is that you have come back should you get ten miles down the road and the exhaust drops off, or if your mechanic checks it over and finds an unknown fault.
The bad thing is that you're likely to spend more money than buying a vehicle privately (dealerships can add as much as 17% on top for used courier vehicles). Plus, dealers can be reluctant to negotiate better deals. I'd still opt for this over the gamble of an in-person auction, however.
The best vehicle for courier work: Vehicle type
What it is you want the vehicle for? If you're going to do multi-stop courier delivery, you probably don't want one that's too big. But also, don't just buy yourself a truck for the sake of it.
Do your research and, ultimately, the right vehicle will jump out at you.
Suppose you really want a Sprinter with a long wheelbase. But each that you look at is a bit rusty, or has done 350,000 miles, or has a headlight hanging off.
Keep going because not all private sales are equal. With just a little effort, you might happen on a truck that's the same price as the ones you've already viewed, but it's done far less mileage and has a full service history.
The vehicle will jump out at you.
You might also want the black Ford custom because it looks cool and like something out of The A-Team. Only it might not carry that much and cost you a lot more money. So try to be open-minded.
The best vehicle for courier work: Driving it home
Write what you need from your specific courier vehicle down on a piece of paper and do your checklist:
eBay
Gumtree or Craigslist
Facebook Marketplace
Local specialist vehicle dealerships
Or, for a risk, there are local in-person vehicle auctions, too.
Just try not to pay too much, think about precisely what you need for the next 2-3 years, and once you've got a vehicle, maintain it.
However, if you have bought a vehicle that isn't right for you (maybe it's too big, or you find that you can't get it into tiny parking spaces), sell it. Sell it and get another one. Keep going until you get it right.