7 minute read
How to Get a Refund If Your Amazon Package Is Delivered Late
If your Amazon packages miss their guaranteed delivery date, you might qualify for a refund. Learn how to get an Amazon late delivery refund.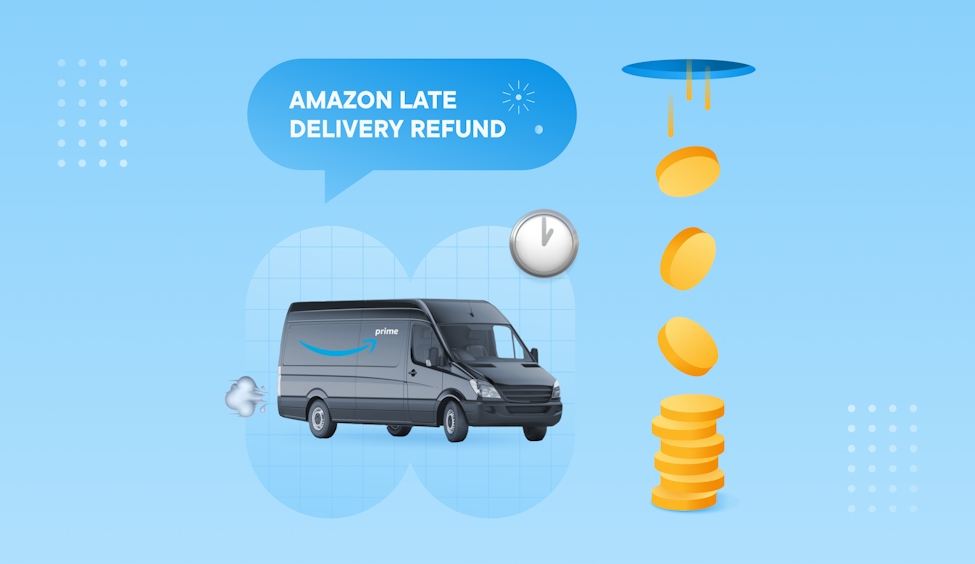 Yes, we're a little spoiled. We like our packages to arrive on time.
If you're an Amazon Prime member, you're probably used to getting your packages within two days.
But what do you do if your package is late?
This can be more than just an annoyance. Maybe you're desperate for that last-minute birthday gift to arrive on time, or you're expecting an essential item you need ASAP. 
In this case you have to grab it from the store and no longer need the late purchase.
This sucks.
You spent money on an item you no longer need because it didn't arrive in a timely manner.
The good news is that you can get a refund if your Amazon package is delivered late.
In most cases, Amazon is pretty accommodating, thanks to their guaranteed delivery policy.
Here, I'll go into the process of getting a late delivery refund from Amazon and then answer some FAQs.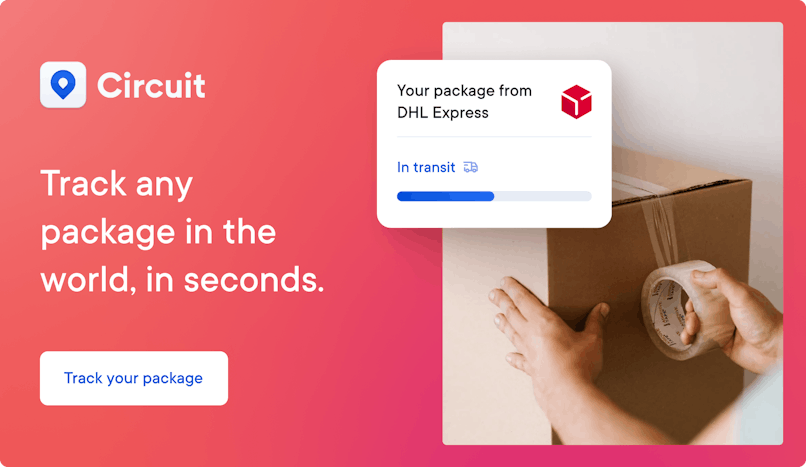 About Amazon's guaranteed delivery policy
Amazon's delivery guarantee has specific terms and conditions.
The company will refund shipping fees as long as the items qualify under the specified terms. (We'll dive into how to qualify in the next section).
In essence, the guarantee only applies to "certain delivery speeds and select products." You'll find "guaranteed delivery" on the checkout page when it is available for your order.

Amazon will send your confirmed guaranteed delivery date in your order confirmation email. You can use this date to figure out whether your delivery is late.
How to qualify for a late delivery refund
Here's how to qualify for an Amazon late delivery refund:
Shipped to an eligible address: You need to have entered an accurate, eligible address for shipping. If you entered the wrong address, your item wouldn't qualify for a refund.
Shipping option same as advertised: When you placed your order and selected your shipping option, it must have a stated guaranteed delivery date to be eligible for a refund.
Order placed before "order within" time frame: Amazon often has a countdown on the Amazon product page. This "order within" countdown ticker tells you how much time you have left to order if you want to get it by the advertised date. If the timer runs out, Amazon will push the delivery date. Your order confirmation email will include your confirmed delivery date.
Payment method successfully charged before time is up: If you hang out on the checkout page too long or if there are issues with your payment method, Amazon isn't responsible for late delivery.
Unavoidable issues: Sometimes, things come up that are out of Amazon's control. Severe weather, natural disasters, or worker strikes may cause late deliveries. If this happens, your purchases don't qualify for a delivery guarantee.
At least 24 hours late: Your package must be at least 24 hours late to qualify. Attempted delivery on or before the guaranteed date disqualifies you from a refund.
Do you need to be an Amazon Prime member to qualify for the guaranteed delivery policy?
No, you don't need an Amazon Prime membership to qualify for the delivery guarantee. You can still get a refund if your item is late, even if you don't have Prime.
However, being a Prime member does affect your refund in a different way. 
Amazon offers Prime shipping benefits like free two-day shipping, free same-day delivery, and free standard shipping on Prime-eligible items.
The type of shipping and the delivery date depends on the specific product, but Prime-eligible items include free shipping.
Amazon's delivery guarantee promises to refund shipping fees, but this can present a problem: How can Amazon refund shipping fees if you're a Prime member who bought a Prime-eligible product and didn't pay any shipping fees?
In the past, Amazon customer support agents would offer to extend your Prime membership for a month or two for free.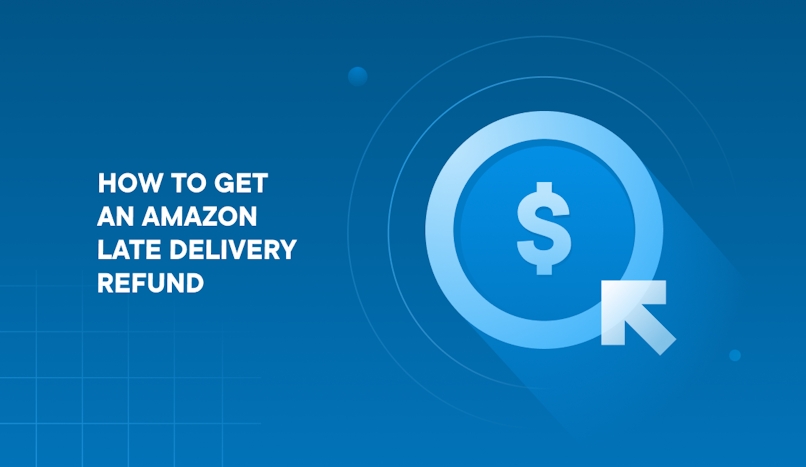 How to get an Amazon shipping fee refund in 3 steps
Visit the Amazon Customer Service page and complete the following steps.
1. Select the appropriate order 
You should find your most recent orders at the top of the page under the heading "Do you need help with a recent item?"
Select the order. If you don't find it listed, click "Help with a different item."

2. Select "Arrived too late" or the appropriate selection
Depending on your order status, you'll find different options.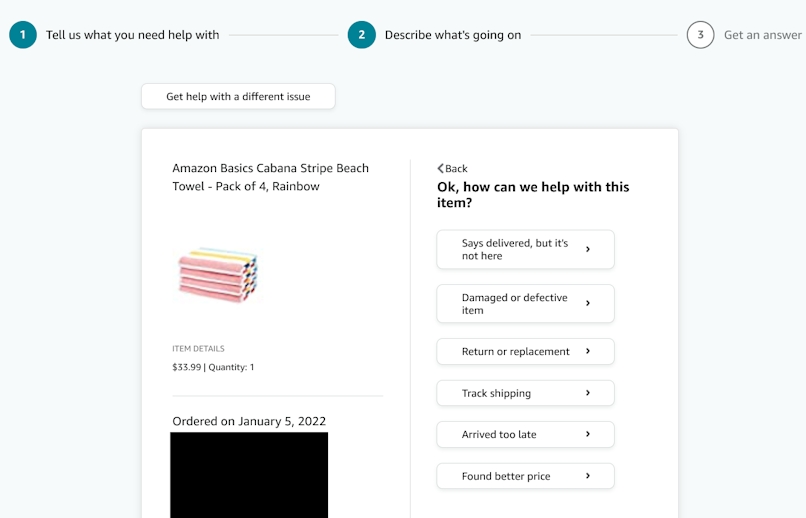 Pick the most appropriate "Late Order" selection and go to the next step.
3. Pick your desired outcome
Select "I need more help" to chat with an agent online or over the phone.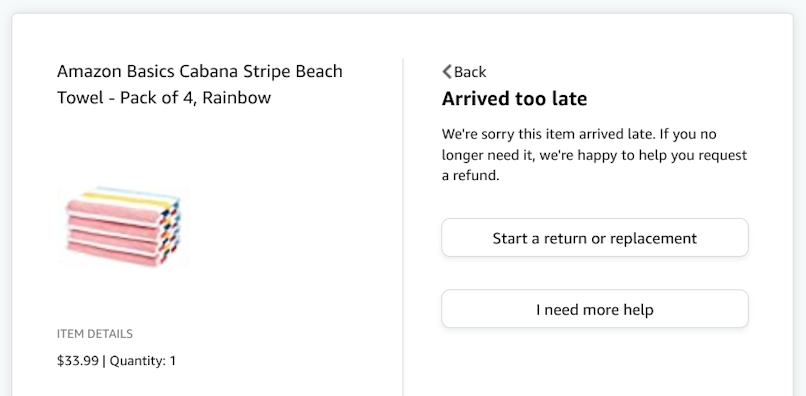 Alternate option: Contact Amazon customer service
Sometimes, the quickest way to get your refund is to start a live chat session.
Because Amazon likes automation, they've made it fairly difficult to contact customer service any other way. 
You can't just pop on the Contact Us page and click chat to talk to a live agent.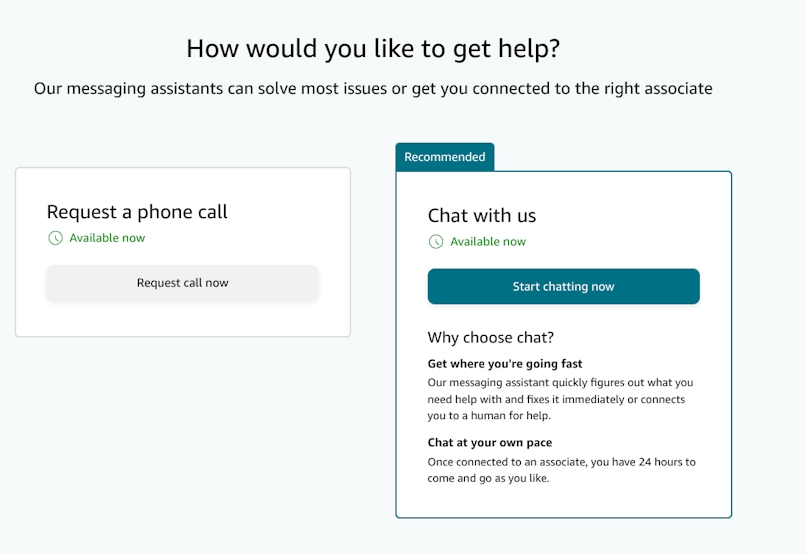 If you want to chat with an agent, log into your Amazon account, follow the steps above, pick "I need more help," and choose "Chat with us." 
Keep your order number handy in case they ask for it.
Wait at least 24 hours before trying to contact a representative.
The agent may give you a new package delivery date (past the guaranteed delivery date). 
If you qualify for a refund, don't accept this as an answer. Instead, hold the agent to Amazon's policy and ask them to refund your account for the late package.
Can you contact Amazon through social media?
At this point, I think we have all seen social media users call out companies online.
As you'd expect, Amazon has an active presence on Twitter and Facebook — so why not just use the platforms for a callout tweet or private message requesting a refund?
Amazon has a Twitter account exclusively for answering support questions.
They reply to tweets they're tagged in and answer direct messages.
However, if you scroll their feed, you'll see they usually direct customers back to their website to resolve their problems.
The customer clicks the custom link in the tweet, signs into their account online, and then goes through the process.
So, while you can definitely give it a try, contacting Amazon through social media will probably just take you back to the Amazon customer service portal.
You can save time by going directly to the source. Visit this page to find the right phone number.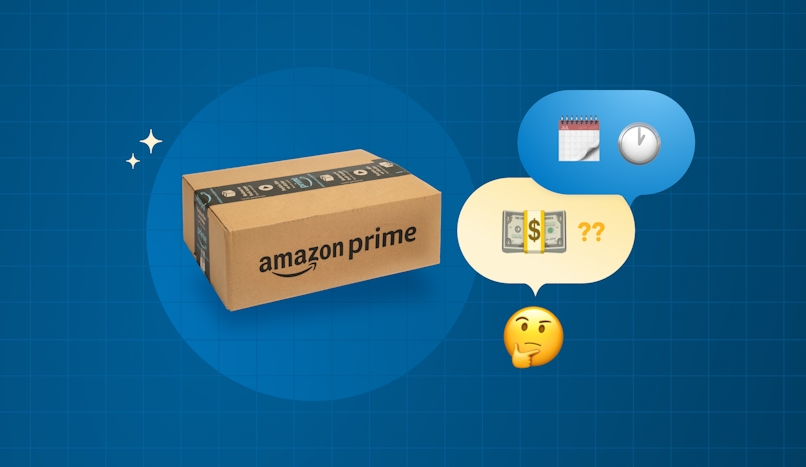 How much can you expect to get back from a late delivery refund?
Amazon's official late delivery refund policy doesn't say exactly how much you will get. It just says customers will receive the "shipping price." 
But how does this work for Amazon Prime members who qualify for free delivery on most products?
Amazon Prime members often qualify for free next-day or two-day shipping on Prime products. This means there's no shipping cost to refund.
But Prime members can still qualify for a refund if their packages miss the promised delivery date.
In the past, agents often offered a free month of Amazon Prime to Amazon Prime members. More recently, they've offered monetary compensation of different amounts. 
Ask your agent for specifics.
If you don't have an Amazon Prime membership, Amazon will reimburse your shipping fees to the original form of payment (your debit or credit card).
What to do if your Amazon order says it's been delivered, but it's not at your home
Sometimes, your order says it's "delivered," but you haven't received it yet.
Wait 24 hours before alerting Amazon.
Your package may be on its way to you and could still get there before the end of the day. Some carriers deliver until 10 pm.
You can also check the tracking information in your shipping confirmation email or on your Amazon account using Circuit Package Tracker. 
Visit Amazon's "How to Contact Our Carriers" page for more information.
The carrier should have the most recent shipment information and delivery window estimate. Again, some carriers may deliver until 10 pm.
The carrier might have more information about your order's location (or even a photo of where it's been left), plus the signature and name of the person who accepted the delivery. This may help you figure out what's up with your missing package.
If your order is more than 24 hours late, it's time to cash in on the guaranteed delivery policy.
Log into your account and visit the Customer Service portal.
Once you've selected your order on Amazon's customer service portal, you should see the option "Says it's delivered, but it's not here."
Select this option and go to the next step. Usually, you can choose to request a refund or chat with an agent.
Get a refund through Amazon
We like our stuff to be on time and, when it's not, it can be more than a minor inconvenience.
Sometimes, it's a waste of money.
You order something you need on Amazon, expecting it to get there at the promised time. When it's late, you have to rush out and buy it somewhere else.
Thankfully, the Amazon guaranteed delivery policy comes in clutch so you can get a refund.
With the information in the guide, you'll be able to resolve the issue quickly and get on with more important things — like ordering more stuff on Amazon.