12 minute read
The Best Vehicle Routing Software: 5 Options for Delivery Teams
Explore the top vehicle routing software solutions for delivery teams. Streamline operations, optimize routes, and enhance efficiency with these picks.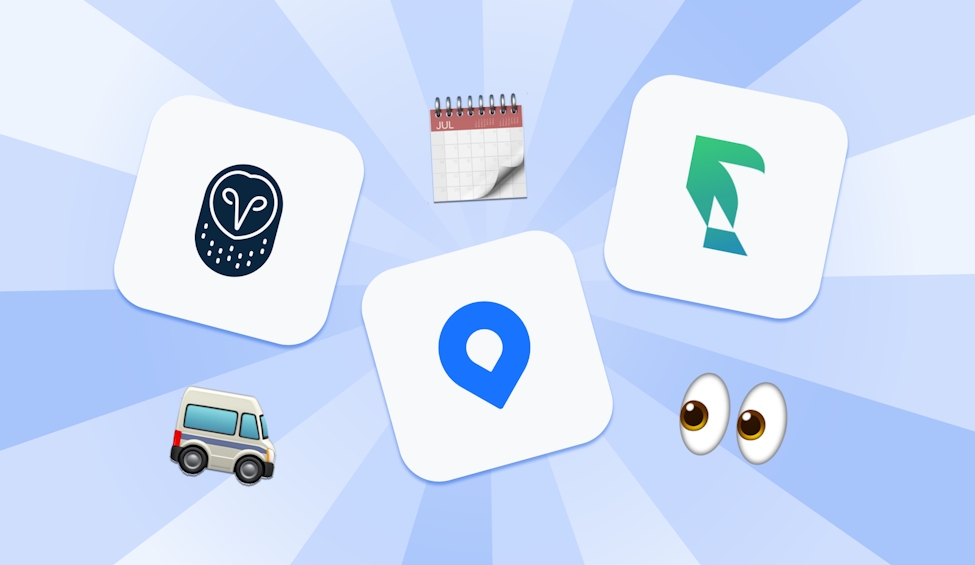 In this guide, we review five different vehicle routing software platforms for delivery teams of all shapes and sizes.
One of the biggest costs for delivery teams — whether we're talking about one or two drivers doing local deliveries or an entire fleet of cargo vans — is the cost of making the deliveries. That cost includes paying your delivery drivers, and if you're supplying company vehicles or offering mileage reimbursements, it also means paying for fuel costs and vehicle maintenance.
Using vehicle routing software is a great way to cut down on your business's expenses. Vehicle routing software optimizes your delivery routes so your drivers are making their stops as quickly and efficiently as possible.
When your drivers can make more deliveries in less time, you can move more product while reducing expenses. It also lets you drastically cut down on the time it takes to make and manage a route. Users of Circuit save on average 1 hour every day just in route planning alone.
(You can read our case studies here, where some customers cut payroll by more than 12.5 hours a week for their small delivery team.)
But different delivery teams have different needs. For example, some teams need large-scale courier management software designed to integrate into complex business platforms. (For example, hooking into their supply chain or accounting tools.) Other delivery teams focus more on local deliveries and simply need a way to create fast and efficient routes.
In this guide, we cover five different vehicle routing software platforms for delivery teams of all shapes and sizes.
Are you ready to start creating optimal routes at a click of a button? You can use Circuit to plan and execute single and multi-driver routes. Start your free trial today.
Key takeaways
Using vehicle routing software can significantly reduce a business's expenses. It optimizes delivery routes, and makes deliveries more efficient,, saving time and reducing costs. 
While some local delivery teams might use consumer mapping apps like Google Maps or Waze, these apps lack optimization and can't efficiently plan delivery routes. They also miss out on other features specific to vehicle routing software.
Circuit for Teams is a multi-driver vehicle routing software ideal for small-to-midsize delivery teams. Features include unlimited stops and routes, priority stops, time windows, average time per stop, real-time route updates, route monitoring, order tracking, and proof of delivery.
Designed for individual drivers, Circuit Route Planner software offers similar route planning features as Circuit for Teams but without the multi-driver functionalities. It aids in creating the best route and speeding up the delivery process.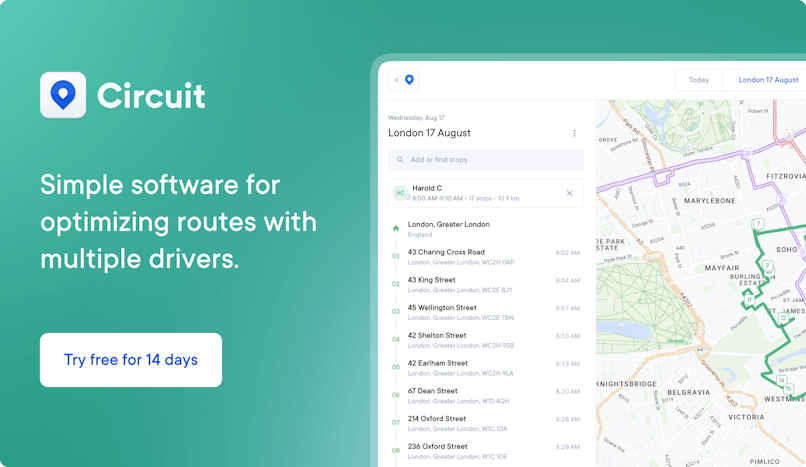 Enhancing the delivery experience: the power of advanced vehicle routing software
In today's fast-paced world, businesses are constantly seeking ways to streamline their workflow and enhance customer satisfaction. One of the most significant challenges faced by delivery services, especially for small businesses, is planning routes that are both efficient and cost-effective. Enter the world of advanced vehicle routing solutions.
The role of API in route planning. APIs (Application Programming Interfaces) have revolutionized the way businesses integrate different software solutions. By leveraging APIs, a routing solution can seamlessly integrate with CRMs, telematics systems, and other essential tools, ensuring that all business needs are met in a unified platform.
Multi-stop route and pickups. For delivery services and field sales reps, managing a multi-stop route can be daunting. However, with the right route planning app, businesses can easily schedule pickups and deliveries, ensuring on-time service and maximizing driver efficiency.
The importance of customer experience. Customer satisfaction hinges on the delivery experience. Live tracking features and driver tracking tools allow customers to know exactly when their packages will arrive, enhancing the overall customer experience. Moreover, a driver app equipped with barcode scanning guarantees accurate deliveries every time.
Dynamic routing for ever-changing needs. Dynamic routing adapts to real-time changes, whether it's a last-minute delivery request or an unexpected road closure. This confirms the most efficient routes are always chosen, reducing fuel consumption and delivery times.
Telematics and route optimization tools. Telematics provides insights into vehicle operations, from fuel usage to driver behavior. When integrated with a route optimization tool, businesses can further reduce costs and enhance their delivery management.
Catering to small business needs. Small businesses often face unique challenges in their delivery services. A user-friendly routing solution tailored for small businesses can simplify the process, from planning routes to ensuring deliveries are on time.
Enhancing field sales operations. For field sales reps, time is of the essence. A robust route planning app makes sure they reach their destinations using the most efficient routes, allowing them to focus on what they do best: selling.
Integrating CRM and delivery management. As businesses grow, the integration of CRM systems with delivery management tools becomes crucial. This not only streamlines the workflow but also guarantees that customer data is always up to date, leading to improved customer satisfaction.
Vehicle routing software for small-to-midsize delivery teams
Sometimes, local delivery teams use free sat nav or consumer mapping apps, like Google Maps or Waze, to plan their delivery route.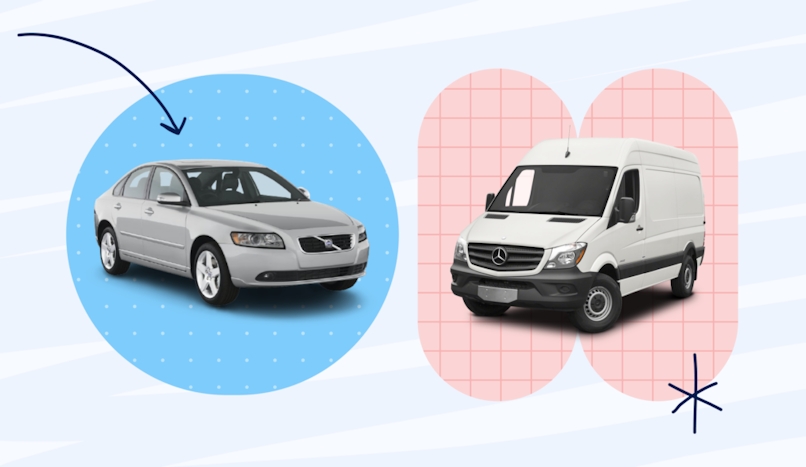 We've investigated these tools ourselves, and we also wrote a post on how to create the fastest route with only Google Maps.
Spoiler: It doesn't work. Because there's no actual optimization, you're just guessing by rearranging the stops.
When you use these everyday mapping apps by themselves, you're spending time creating a route that might not actually be saving your drivers any time. And you're also missing out on the other features of vehicle routing software, which we detail below.
1. Circuit for Teams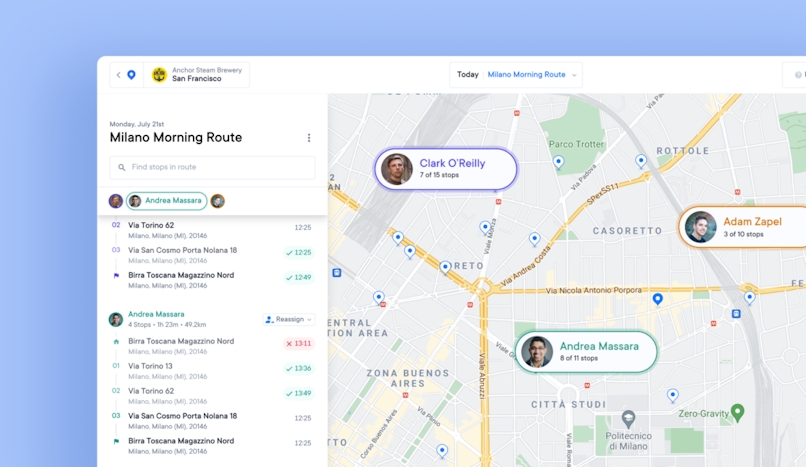 Circuit for Teams is a multi-driver vehicle routing software that's ideal for small-to-midsize delivery teams. It saves your business time and money by optimizing your daily routes. There's no limit on the number of stops you can add to a route, and there's no limit to how many routes you can make in a day.
Stops can be added either manually (on a web app or a mobile app that works with both Android and iOS mobile devices) or by uploading a spreadsheet.
Once your stops are in Circuit, you can customize your routes.
This includes setting priority stops, time windows, and average time per stop.
Priority stops. This lets you set a stop as priority number one. When our route optimization software creates the fastest route possible, it will start with your priority stop.
Time windows. You can set Circuit up so your deliveries get planned within a specific timeframe. One of our customers uses this to make sure all of her commercial deliveries happen during the morning. All her residential deliveries happen later, when the store's customers are more likely to be home.
Average time per stop. Your average time per stop plays an important role in optimizing your route. If you're dealing with deliveries that take a bit more time at each stop, you'll need a different route than drivers who only need to spend two minutes at each stop.
Then you let Circuit know how many drivers are going to be assigned to a route, and our route optimization algorithm creates the fastest route available to you.
Your drivers can access the route through their Circuit mobile app, and they can use the route with their preferred sat nav app, like Google Maps, Apple Maps, or Waze. If you're at the office and need to make any changes to the route, those changes show up in real time on the driver's phone. For example, if a customer calls in and cancels their order, you can simply remove their stop from the route and your driver will receive the update.
Other key route management features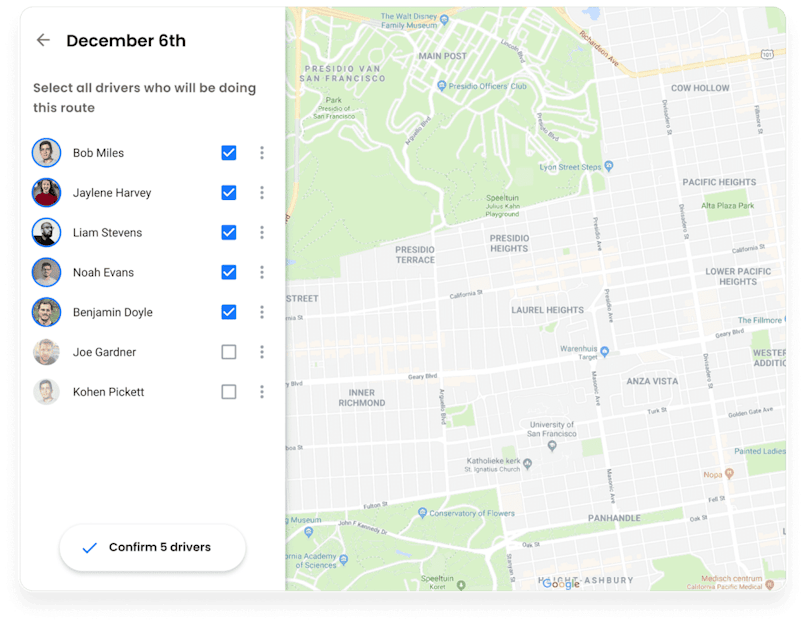 Routes aren't finished once you optimize them. Your delivery drivers still need to navigate the route, complete the stop, and get proof of delivery.
Circuit for Teams includes all of these core features.
Route monitoring. With our route monitoring feature, you can see where your drivers are within the context of their route. This means you see their location, which stop they just completed, where they're going next, and updated ETAs.
Order tracking. With our order tracking feature, your customers can get automated updates (either through SMS, text message, or both) that tells them when their package is on its way.
Proof of delivery. You can collect proof of delivery in two ways with Circuit. You can have your driver take a photo of where they left the package, or the driver can get a signature from the customer. (The customer simply signs on the driver's smartphone with their finger, and it goes into the app.)
2. Circuit Route Planner (vehicle routing software for individual drivers)
If your delivery business doesn't need the multi-driver features of Circuit for Teams — and won't benefit from its more advanced functionality like route monitoring, order tracking, and proof of delivery — then you can get vehicle routing with the Circuit Route Planner.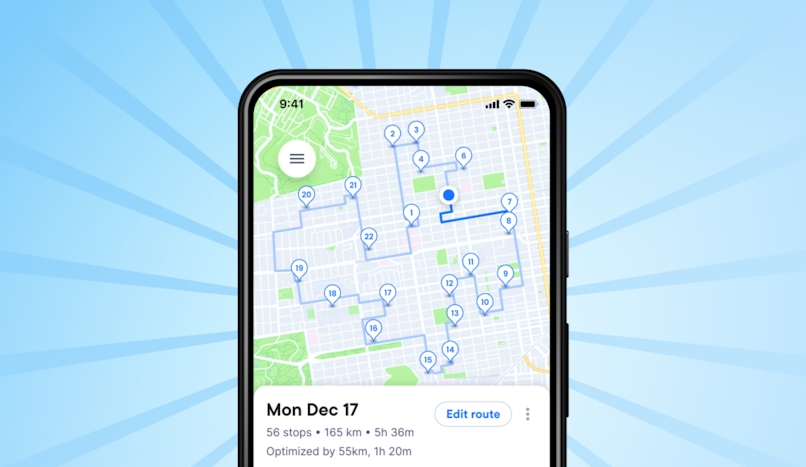 Like Circuit for Teams, you can manually type in your addresses into the Circuit Route Planner. You can also customize your routes based on priority stops, time windows, and average time per stop. One of our customers, Sagar Khatri — a subcontractor courier — uses the Circuit Route Planner to create the best route and speed up his delivery process.
When Sagar loads his vehicle, he puts a description of each package into the notes section of the Circuit app. When he gets to a stop and he looks at his notes, he can know what package he's looking at. This may sound like a small thing, but when you're dealing with dozens (maybe hundreds) of deliveries a day, saving even two minutes can add up.
Sagar credits Circuit for doubling the number of deliveries he could make in a day.
3. Samsara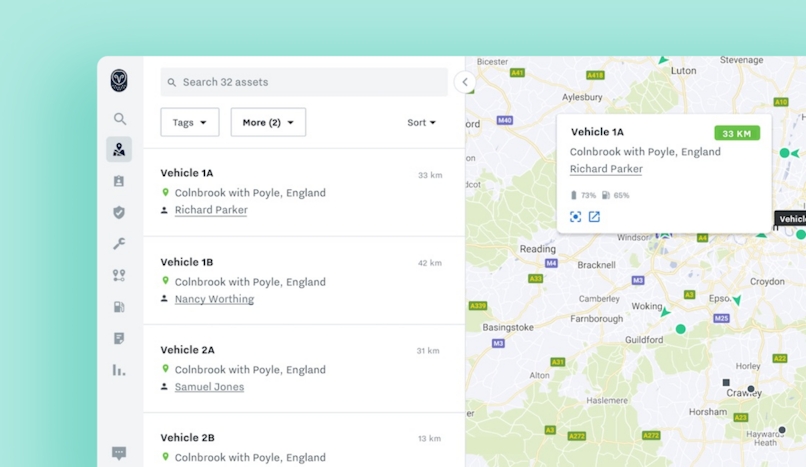 Similar to Circuit for Teams, Samsara gives you route optimization and route monitoring and can also send out customer updates. In that regard, it has all the fundamental aspects of vehicle routing software.
If you're running a large-scale delivery operation — perhaps with several fleet managers on deck — there are some key differences that mean Samsara is a vehicle routing software worth considering if Circuit doesn't give you everything you need.
For example, Samsara lets you set up geofencing alerts. You can tell Samsara Dispatch to draw borders over a map so you get a notification when a driver leaves the designated area. This helps you make sure your drivers are where they're supposed to be, and it also can be used to send out updates to a customer when your driver is getting close to making their delivery.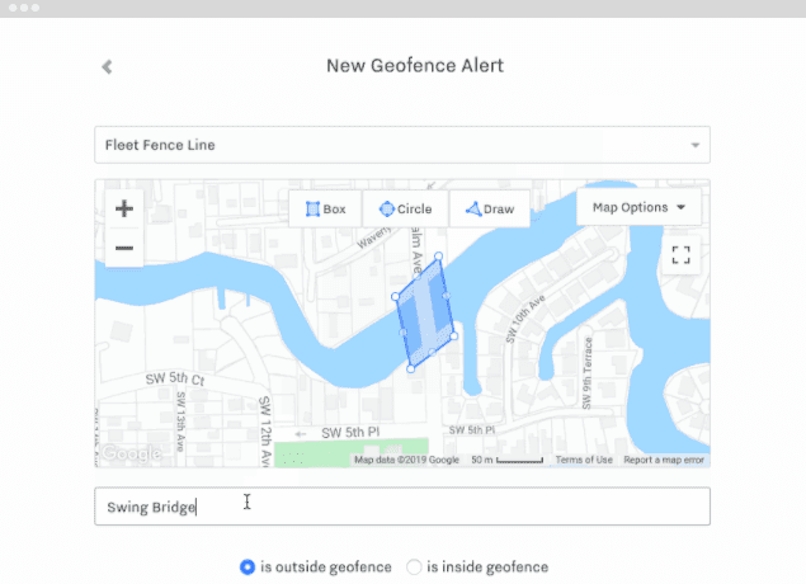 Samsara also measures fuel trends. Samsara will tell you if your drivers are breaking too hard, carrying loads that are heavier than planned, or constantly turning their vehicle on and off throughout the route. If you're dealing with hundreds of vehicles, those numbers add up.
4. Tookan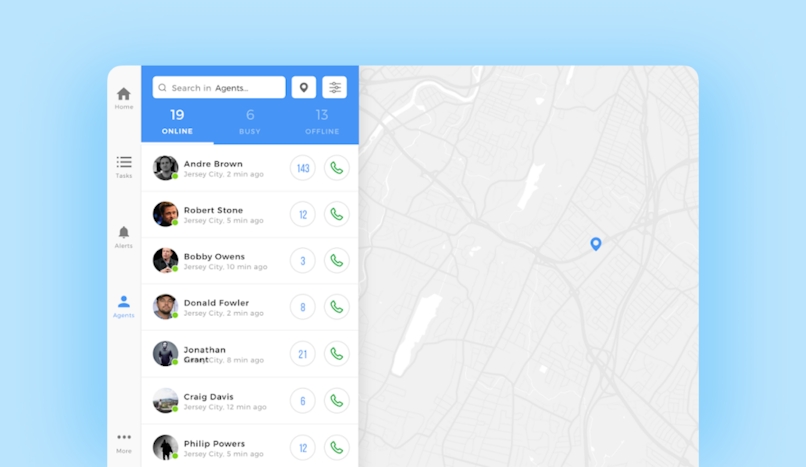 Tookan is another platform that's good for larger fleet management operations because it lets you create waybills, geofence specific areas (and assign those areas to drivers), and offer on-demand delivery, also known as fulfillment automation.
For example, customer orders are automatically sent to whichever one of your delivery drivers is nearest and has the product on hand. This also makes Tookan good for field service companies, which will have techs driving with gear and equipment on their truck. When a last-minute service call comes in for a home repair or appliance repair issue, you can use your Tookan account to help automate that call assignment.
But because of its advanced features, Tookan's pricing structure is only cost-effective for larger teams.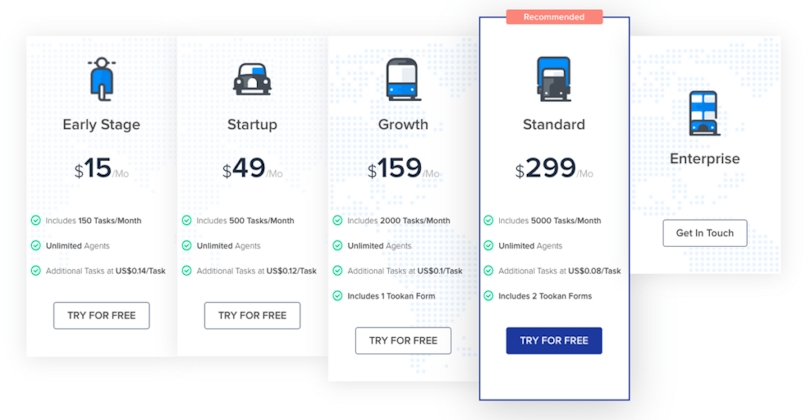 Tookan's pricing is on a monthly rate with unlimited drivers, but have a limited allowance of deliveries.. What changes from plan to plan isn't Tookan's features, but how many deliveries you can make per month.
Here is the breakdown of Tookan's pricing plans*:
Early-stage: $15 per month for 150 deliveries.
Startup stage: $49 per month for 500 deliveries.
Growth stage: $159 per month for 2000 deliveries.
Standard stage: $299 per month for 5000 deliveries.
*Note: These prices are factoring in an annual commitment. If you use Tookan on a month-to-month basis, these rates will increase.
Whether this pricing structure works for you will depend mostly on your size and operational efficiency (how many deliveries your team can make in a day).
Let's say you're a courier company that completes around 400 deliveries every day that are split between three couriers. That means your three drivers are completing roughly 8,000 deliveries per month.
This delivery output would put you on the Tookan Standard stage plan at $299 for 5,000 deliveries. Then you'd be charged an extra $0.08 for every delivery over your allotted amount. So your monthly fee would be a total of $539.
Compare that to Circuit's pricing structure. With Circuit for Teams, you're paying monthly for each driver, not each delivery, o you don't get penalized for making more deliveries If you ran the same-sized courier team (three couriers making 8,000 deliveries per month), you'd only be paying $180 per month when you use Circuit for Teams.
5. Route4Me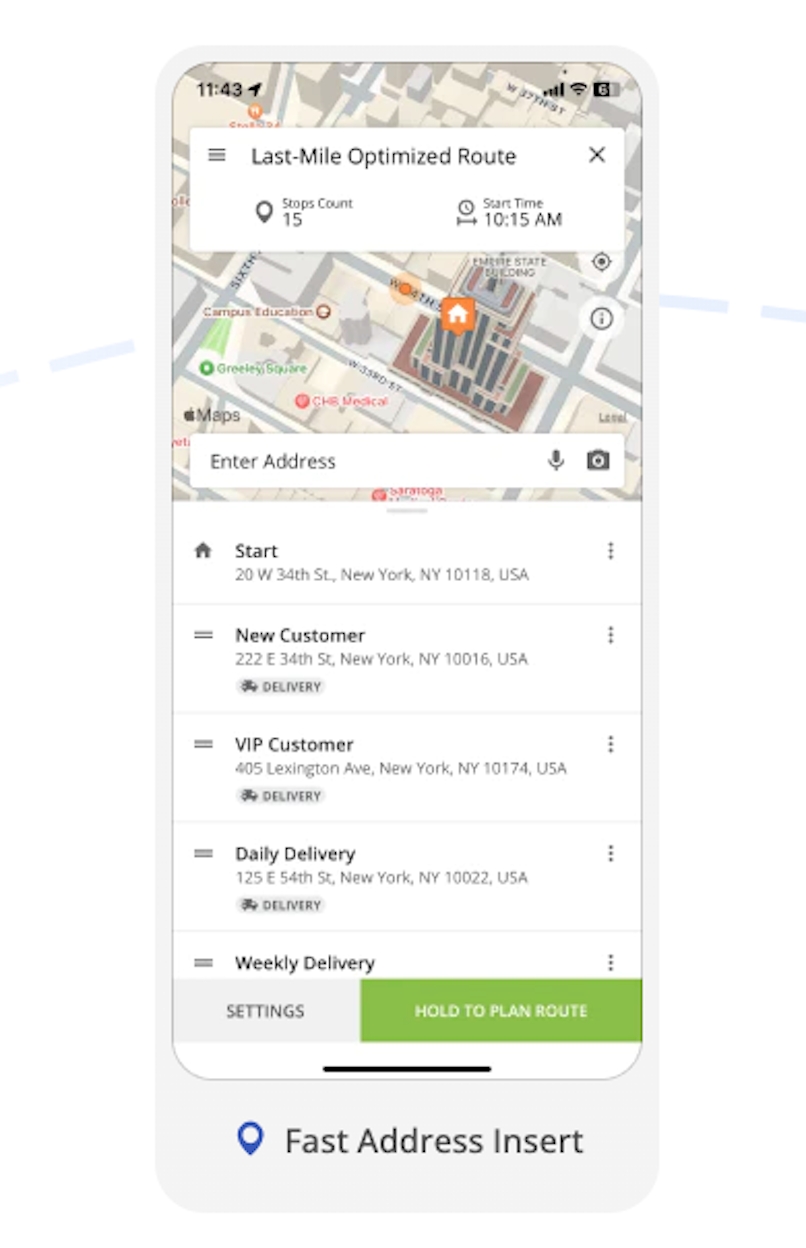 Route4Me is a popular, user-friendly vehicle routing software. Its intuitive interface makes sure that even those new to routing software can easily plan and optimize routes. Teams can seamlessly integrate Route4Me with existing systems, enhancing workflow and allowing all tools to work in harmony.
Route4Me adjusts routes in real-time based on traffic conditions, weather, and other unforeseen factors, confirming the most efficient path is always taken. You can also offer your customers real-time tracking of their deliveries, enhancing transparency and boosting customer satisfaction. 
Route4Me offers a pricing structure tailored to cater to various business needs. They emphasize the ease of getting started with their platform, providing a 100% free seven-day unlimited trial for businesses without the need for a credit card.

Route Management ($199/mo):
Ideal for running your business operation.
Facilitates collaboration across your company.
Allows connection to any app.
Provides real-time business insights.
Enables live tracking of your team on a map.
Route Optimization ($249/mo):
This package focuses on optimizing routes for efficiency.
Route Optimization Plus ($349/mo):
An enhanced version of the Route Optimization package offering additional features and benefits.
For businesses with more than 10 team members, Route4Me charges an additional $69/mo. per extra team member.
While Route4Me offers a range of features tailored for businesses of all sizes, Circuit stands out for its user-centric design and simplicity. Specifically crafted for individual drivers and small-to-midsize delivery teams, Circuit creates a seamless experience without overwhelming users with complex functionalities. Its intuitive interface, combined with features like priority stops, time windows, and real-time route updates, makes route planning a breeze. 
Moreover, Circuit's focus on user feedback means that it's continually evolving to meet the unique needs of its users. If you're looking for a straightforward, easy-to-use solution that prioritizes efficiency and user experience, Circuit is the clear choice.
Final thoughts: choosing the best vehicle routing software for your team
Delivery routes get complicated very quickly due to changing traffic patterns, time constraints, and other factors. This is even trickier when you have multiple drivers out there. Finding the right vehicle routing software is a must if you want to keep things on track.
If you're in need of a heavy-duty platform for a large fleet of vehicles, Samsara and Tookan are two good options to consider.
And if you're a small-to-midsize business, we recommend trying Circuit for Teams. It's a route planning software that handles all your vehicle routing needs, as well as helping you manage your last-mile delivery processes. And if you don't need multi-driver routing, GPS tracking, customer updates, and proof of delivery, you can also try Circuit Route Planner.