6 minute read
Optimization and AI Can Help DTC Delivery Businesses Weather a Downturn
Learn how DTC delivery businesses can use the power of optimization and AI to navigate economic downturns and stay competitive in a changing market.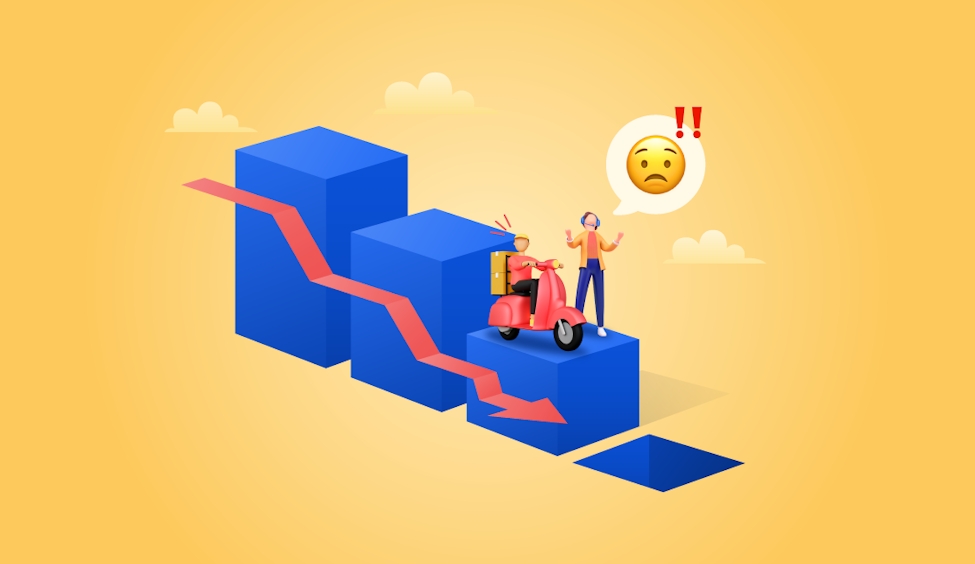 Find out how direct-to-consumer delivery businesses are preparing for an economic recession.
Key Takeaways
Over 40% of delivery dispatchers and other logistics employees have seen a decline in delivery orders in the past 6 months.
Many delivery companies have been forced to reduce drivers' hours (29%), wages (15%), and benefits (7%) due to lower demand for delivery services.
Delivery dispatchers and other logistics employees are most likely to use AI for delivery time predictions (31%), route optimization (26%), and improving customer service (25%).
Among business owners, 1 in 5 have used ChatGPT to reduce expenses.
Preparing for a rainy day
Freight transportation saw record highs over the past few years due to the pandemic. Now, the threat of a looming economic recession may have many delivery businesses worried.
A recession can often push businesses to the brink, but you can work to fend off trouble and prepare for the downturn in several ways.
We surveyed 300 business owners (primarily focused on direct-to-consumer (DTC) deliveries), along with 106 dispatchers and other logistics employees, about the current state of their businesses. How are they preparing for a delivery slowdown, and how can their experiences help you prepare for tough times ahead?
A changing business climate
The pandemic-fueled delivery boom has ended, and dispatch and logistics employees are already feeling the impacts of a looming recession. How do DTC businesses feel about the current climate, and what are they doing to prepare for a continued decline?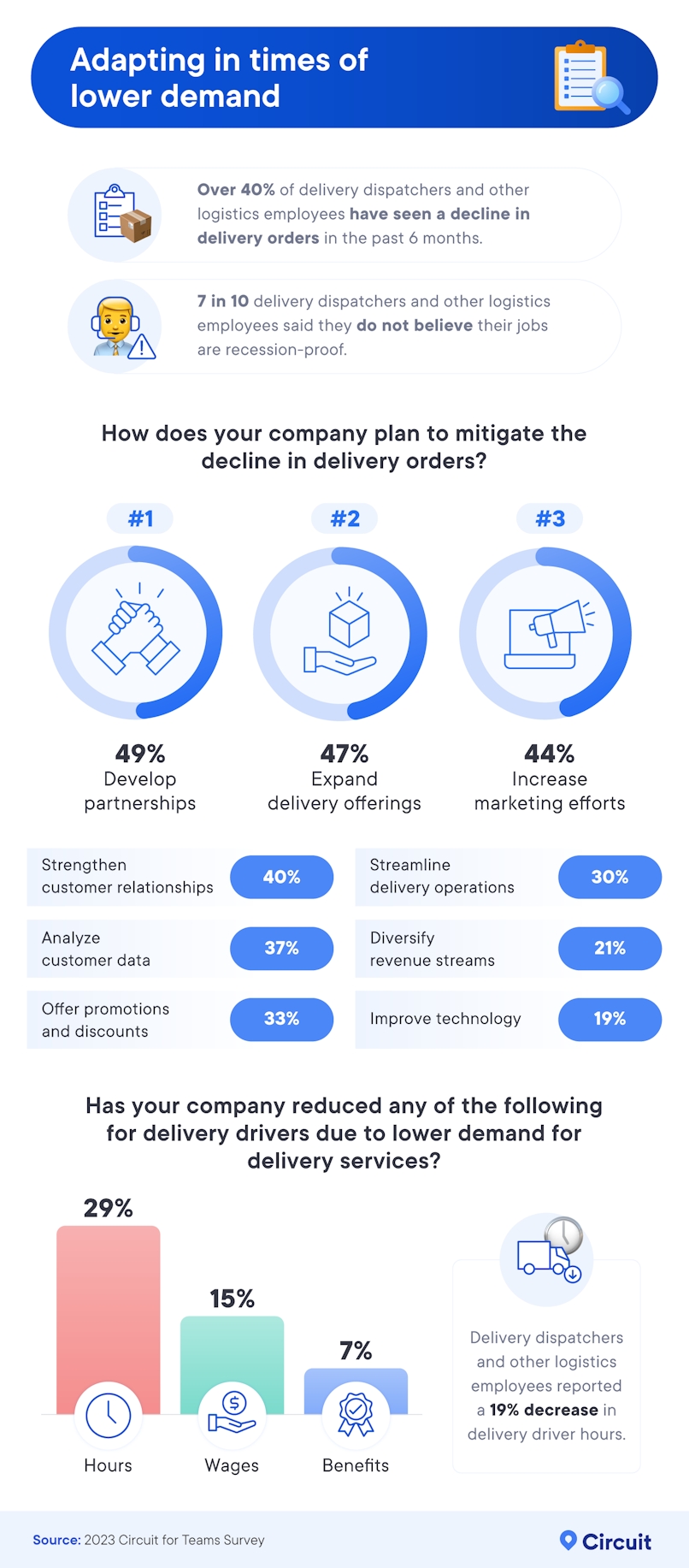 With more than 40% of dispatchers and other logistics employees reporting a downward trend in deliveries over the past six months, it's no surprise that those surveyed also said they had to cut driver hours by 19%. 
A scalable on-demand workforce is one solution to help ease staffing issues, but employing enough drivers to maintain your company's level of customer service is an important factor for customer retention, regardless of the economic climate. 
The dispatchers we surveyed said they had to reduce driver hours (29%), wages (15%), and benefits (7%) due to decreased demand. However, DTC delivery giants Amazon and UPS have laid off thousands since the beginning of the year.
Beyond layoffs and cutting hours, respondents said they are working to recession-proof their businesses by focusing on growth and diversification. The top three tactics used were the development of partnerships with other businesses and vendors, expansion of business offerings or lines of business, and increased marketing to promote their businesses. 
While growth and diversification are ideal, some businesses choose the opposite approach. In April 2023, FedEx announced its plan to consolidate business lines to cut costs and become more agile. 
Key takeaway: The economic recession has had a significant impact on DTC deliveries, forcing delivery businesses to cut hours, lay off workers, develop partnerships, and diversify in order to stay afloat in a rapidly changing market.
A balancing act
As the economy trends downward, delivery businesses hoping to thrive during a recession need to manage costs, customer service, and delivery driver morale. How are business owners and dispatchers handling this careful balance act?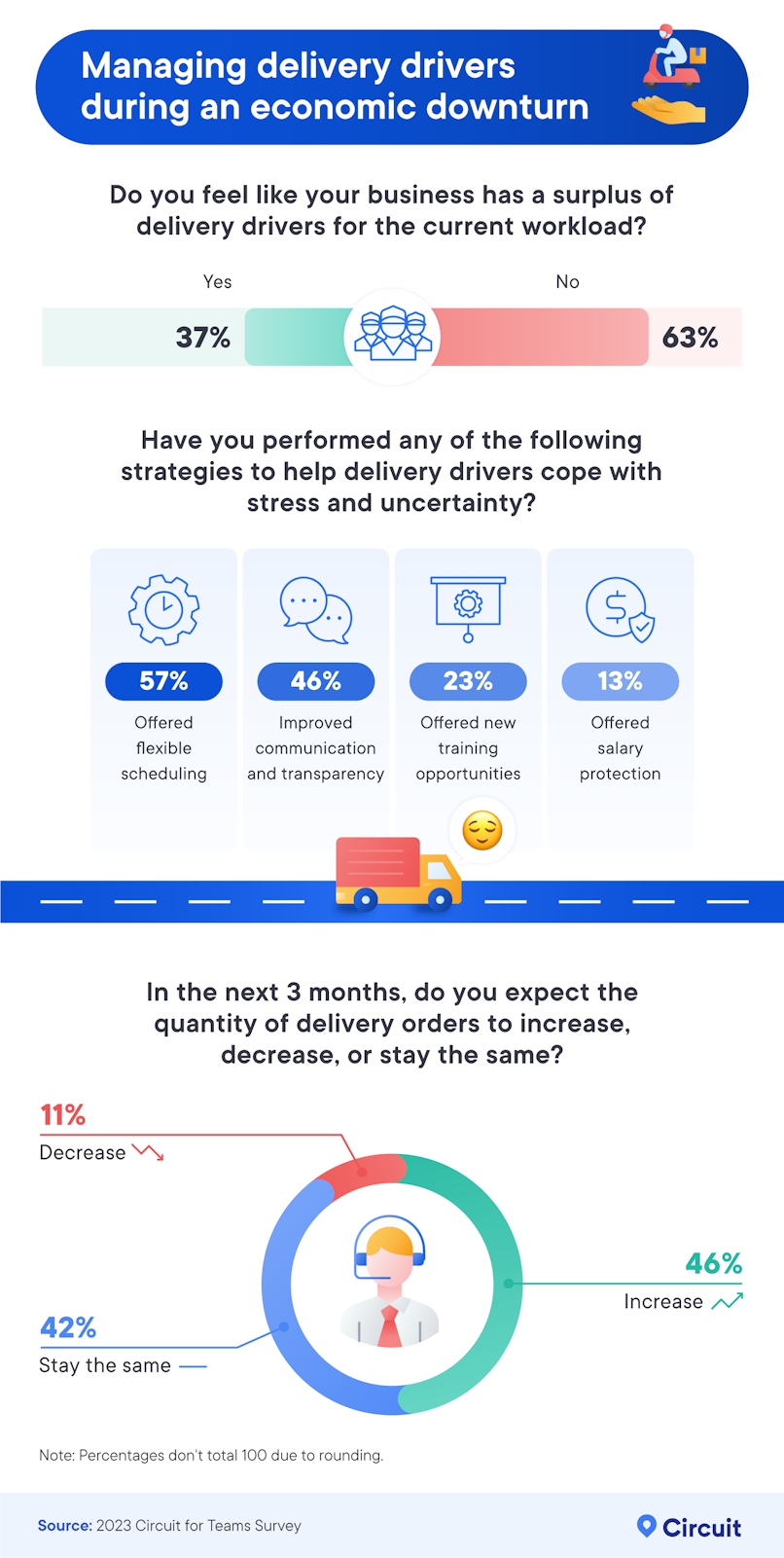 Job security fears are common during a recession, and more than one in ten delivery dispatchers and other logistic employees said they expect their company to have layoffs in 2023. Over one-third of those surveyed felt their businesses had more drivers than workload. 
When asked about strategies for helping their delivery employees handle the uncertainty, our responders cited flexible scheduling as the top method for driver retention, followed by improved communication and transparency. Open communication and feedback between management and drivers can help make sure drivers feel valued and motivated during challenging economic times. 
Despite the current state of the economy, dispatchers and logistics employees remained positive about the future, with 46% saying they expected business to pick up in the next three months — respondents whose companies deliver consumer goods were particularly optimistic. In fact, research predicts that the DTC online market will reach $213 billion by the end of 2023.
Key takeaway: Flexible scheduling and open communication with drivers can help DTC delivery businesses manage uncertainty while maintaining a high quality of customer service.
Tapping into tech
Innovations in technology are helping businesses in every industry improve productivity and cut costs. Let's find out how DTC delivery businesses use tech to withstand hardship and thrive in a recession — and times of economic prosperity.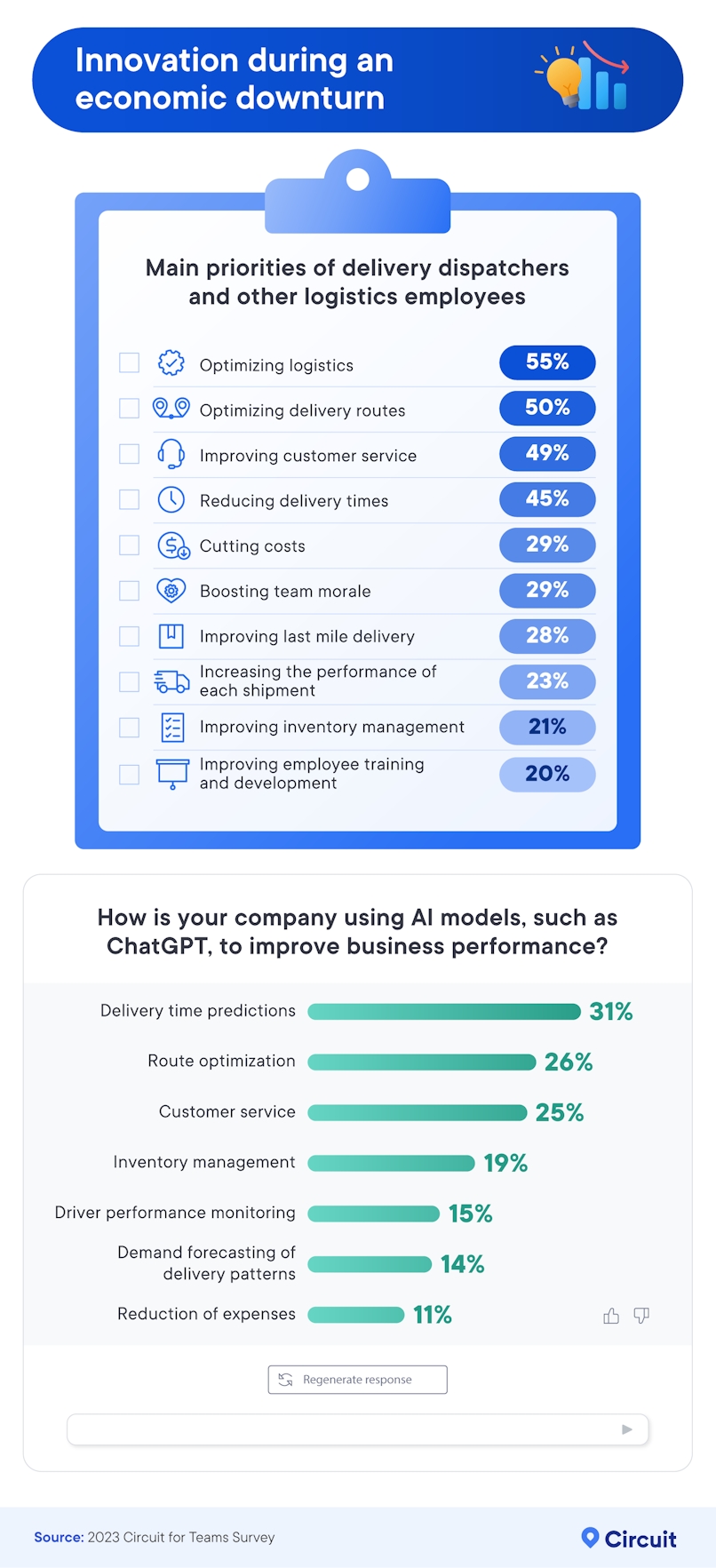 Over half of our survey responders said optimizing logistics and delivery routes was a business priority. In fact, they were 40% more likely to prioritize improving the last mile of delivery over improving employee training and development.
Optimization of delivery routes often leads to improved customer service, which was the third highest priority of respondents. Many transportation and logistics businesses are now turning to artificial intelligence (AI) to help with optimization; 31% using it for delivery time predictions, 26% for route optimization assistance, and 25% for improved customer service.
With the growth of chatbots, like ChatGPT, and automation happening rapidly, AI's use in logistics and transportation will continue to expand and transform the industry. From optimizing supply chain management and improving inventory control to enhancing safety and efficiency, AI can help streamline DTC delivery and bolster customer service excellence.
Key takeaway: AI and automation can be used in several areas of DTC delivery, including route planning, driver performance monitoring, and inventory and expense management.
The customer is king
In a cyclical industry heavily impacted by the economy, it's important to prepare for high and low-demand periods. We asked business owners, primarily DTC, their tips for managing periods of decline.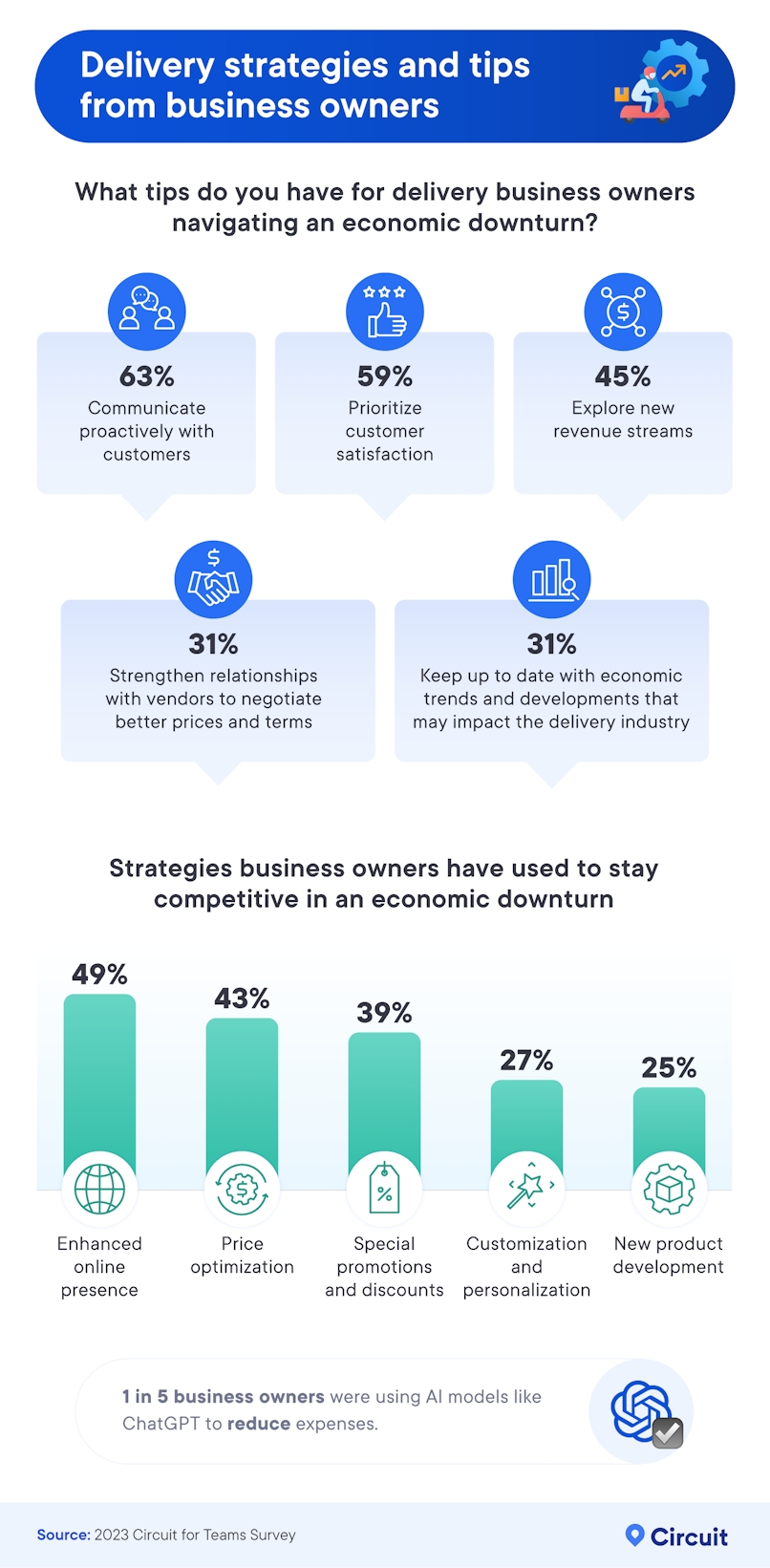 Despite the economic climate, 63% of respondents said proactive customer service is the key to success, and 59% said prioritizing customer satisfaction was the best way to withstand an economic downturn. Indeed, it's generally easier and cheaper to keep a customer than to find a new one.
To stay competitive during a recession, 49% of business owners enhanced the company's online presence and 43% optimized pricing. Enhancing your online presence can reach new customers and improve existing users' experience, and offering competitive pricing can allow a business the flexibility to adapt to market conditions.
In addition, 1 in 5 of business owners surveyed said they use AI like ChatGPT to help cut costs and boost their bottom lines.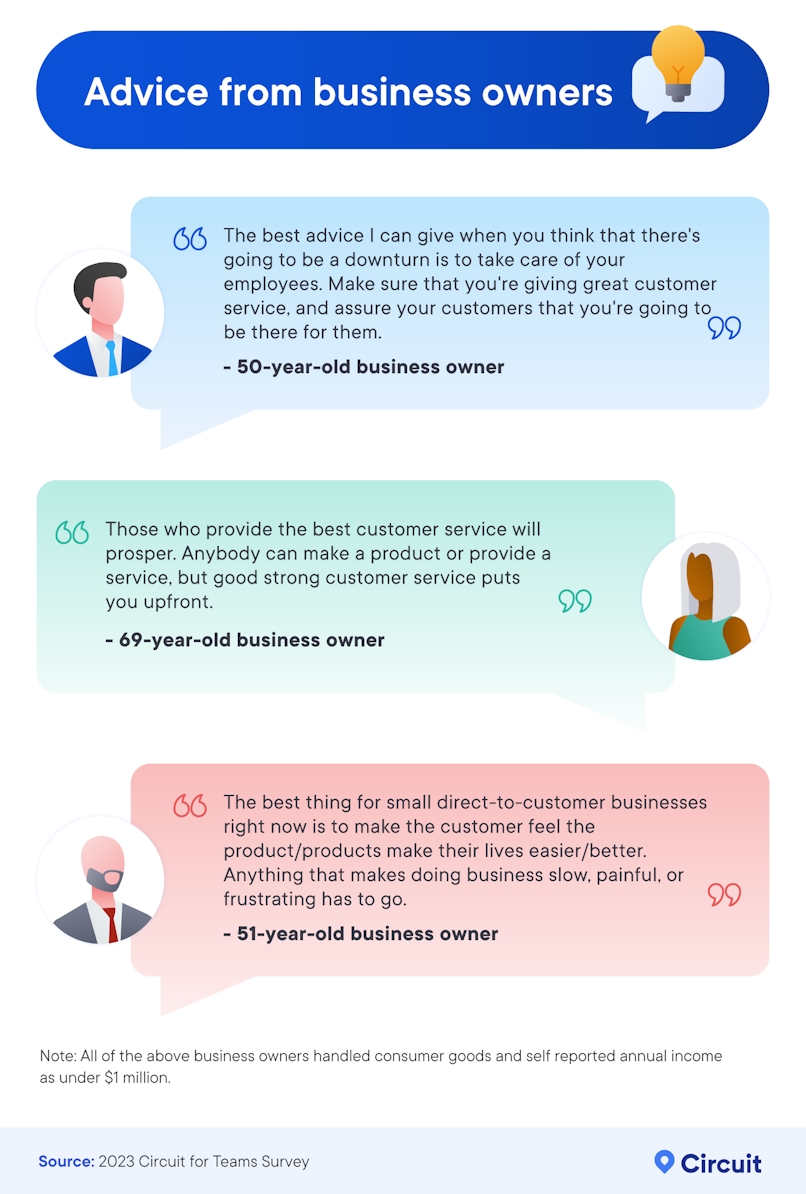 Key takeaway: Proactive customer service can help DTC delivery companies retain business and maintain a competitive edge, even during an economic slowdown. 
Survival strategies
An economic recession is a challenging time for DTC delivery businesses, but businesses that adapt and innovate will continue to thrive despite the difficult circumstances.
Automation and AI can streamline operations and optimize routes to reduce costs and improve customer satisfaction. Flexible scheduling and open communication can help manage uncertainty and retain a stable workforce to meet the market's demands.
Above all, proactively engaging with and prioritizing customers will create a loyal customer base that can help make your DTC delivery business successful in any economy.
Methodology 
To explore delivery during an economic downturn, we surveyed 106 dispatchers and other logistics employees. We also surveyed over 300 business owners, primarily DTC owners, to explore how they are preparing for an economic downturn. 
About Circuit for Teams
Circuit for Teams can help your DTC delivery business stay competitive in a changing market with route planning software for multiple drivers. Easily optimize delivery routes, track last mile delivery, and update customers — all in one place.
Fair Use Statement
We love supporting dispatchers and business owners looking to succeed in the DTC delivery market. Feel free to share this information for any noncommercial use; we just ask that you include a link back to this page so readers can access our full findings and methodology.