18 minute read
Guide to Supply Chain, Logistics, and Transportation Careers
With so many supply chain jobs, how do you know which path to take? Find your perfect career in supply chain, logistics, and transportation with our comprehensive guide.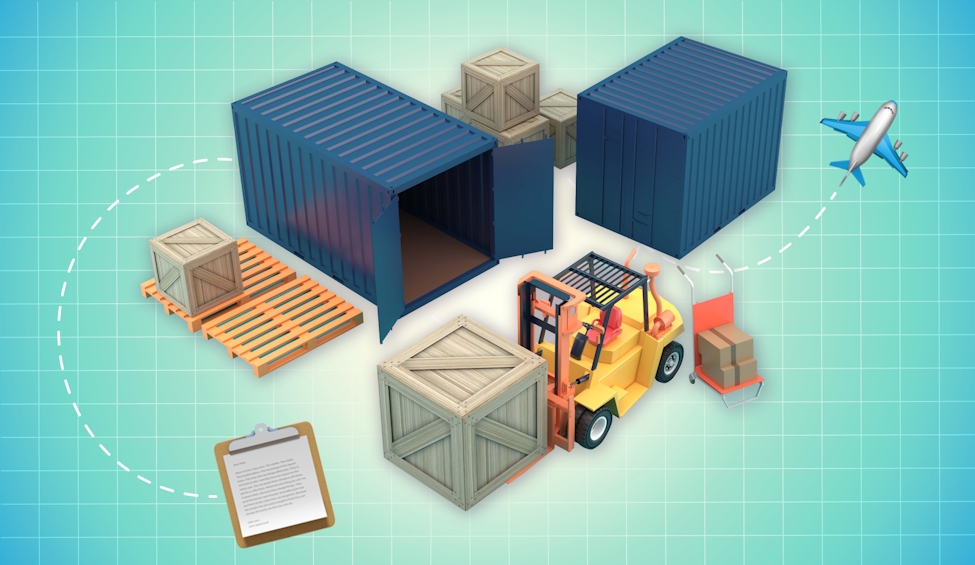 Looking to start a career in supply chain, logistics, or transportation? Learn how to optimize, collaborate, and forecast with this comprehensive guide.
If you're interested in business optimization, carving out a career in supply chain, logistics, or transportation could be a great opportunity for you.
Whether you work as an employee or manager, you can make a big difference in the efficiency of any company's business operations with the right tools and skills. Working in any of these fields can also provide a sense of purpose knowing that you are playing a vital role in the global economy. The supply chain, logistics, and transportation industries are also constantly evolving and offer a range of exciting challenges that keep workers engaged and motivated to improve organizational efficiency well into the future.
In this guide, we'll walk you through the top ten jobs in those industries. Then cover the salary ranges, best US locations, and chances at career growth within each one. 
Learn about the ways supply chain management, logistics, and transportation are essential to businesses of all sizes, and explore different job opportunities that might be a good fit for you.
What are supply chains, logistics, and transportation?
The supply chain, logistics, and transportation industries are the backbone of global commerce, connecting businesses and consumers across vast distances and intricate networks. These industries are a complex meeting of the world's top minds, with suppliers, manufacturers, distributors, and retailers all moving in unison to bring products to market. 
There are challenges to overcome every step of the way, from managing inventory and optimizing transportation routes to navigating customs regulations and negotiating pricing agreements. It's a world of high-stakes decision-making and constant problem-solving, where every delay, misstep, or miscalculation can have far-reaching consequences. But at its core, the supply chain, logistics, and transportation industries are about connecting people and making their lives better, whether by bringing goods to remote communities, speeding up delivery times, or reducing waste and inefficiency. 
These are challenging yet rewarding industries that require skill, creativity, and a passion for making a difference. If you're up for the task, working in a supply chain, logistics, or transportation management position is one of the most significant and rewarding career paths out there.
10 job types in the field
It's an exciting time to explore careers in each of these industries. According to a study of supply chain workers, 88% have a positive outlook on their careers and believe it's a rewarding path to follow. Meanwhile, the Bureau of Labor Statistics predicted a 30% increase in logistics jobs between 2020 and 2030, mainly because organizations increasingly rely on logisticians to solve transportation and supply chain-related challenges and identify opportunities for continuous improvement.
Read on to learn more about ten specific jobs in the supply chain, logistics, and transportation industries that offer workers an exciting opportunity to play a critical role in complex business functions across the world.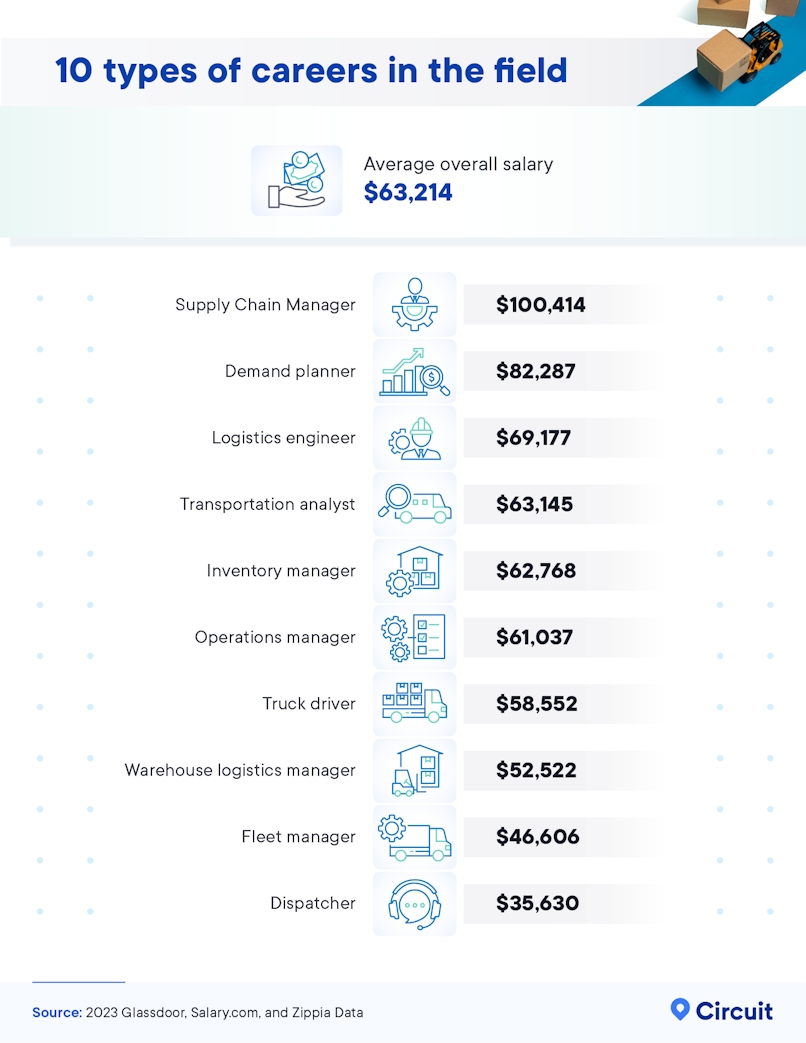 1. Supply chain manager 
Supply chain managers oversee a company's supply chain strategy. They spearhead inventory management, keep track of logistics and supply chain, and optimize operations. 
They also source and get the right equipment, collaborating with vendors and suppliers to make sure operations meet quality and safety standards.
The day-to-day operations of a supply chain manager vary, and their responsibilities certainly vary. In the morning, they'll analyze data from shipping and delivery processes, find cost-effective solutions to fix flagged issues, and report on KPIs. After lunch, managers might train and guide new employees, collaborate with other departments, or negotiate with suppliers.
But, before becoming a full-time supply chain manager, getting a bachelor's degree in business, supply chain management, or management is a good idea. You might need this to get a foot in the door. Consider programs at The University of Phoenix and the Pennsylvania State University, as these are the most common colleges for future supply chain managers to attend in the US. 
A college education isn't the only thing that can help you become a supply chain manager. Certifications can also be an effective tool to separate yourself from the pack on the job hunt. The Certified Supply Chain Professional (CSCP) and Certified in Production and Inventory Management (CPIM) certifications are two great ones to look into.
Once you've acquired your degree and certifications and are ready to join the workforce, note that entry-level salaries start at $72,000 annually, but the top 10% of supply chain managers earn upwards of $139,000. The median yearly salary is $100,414.
Supply chain managers need to have great interpersonal, communication, and time-management skills, to name a few. It's a high-pressure job that involves lots of critical thinking and problem-solving, so it's important to brush up on those soft skills if you plan on pursuing a supply chain management career.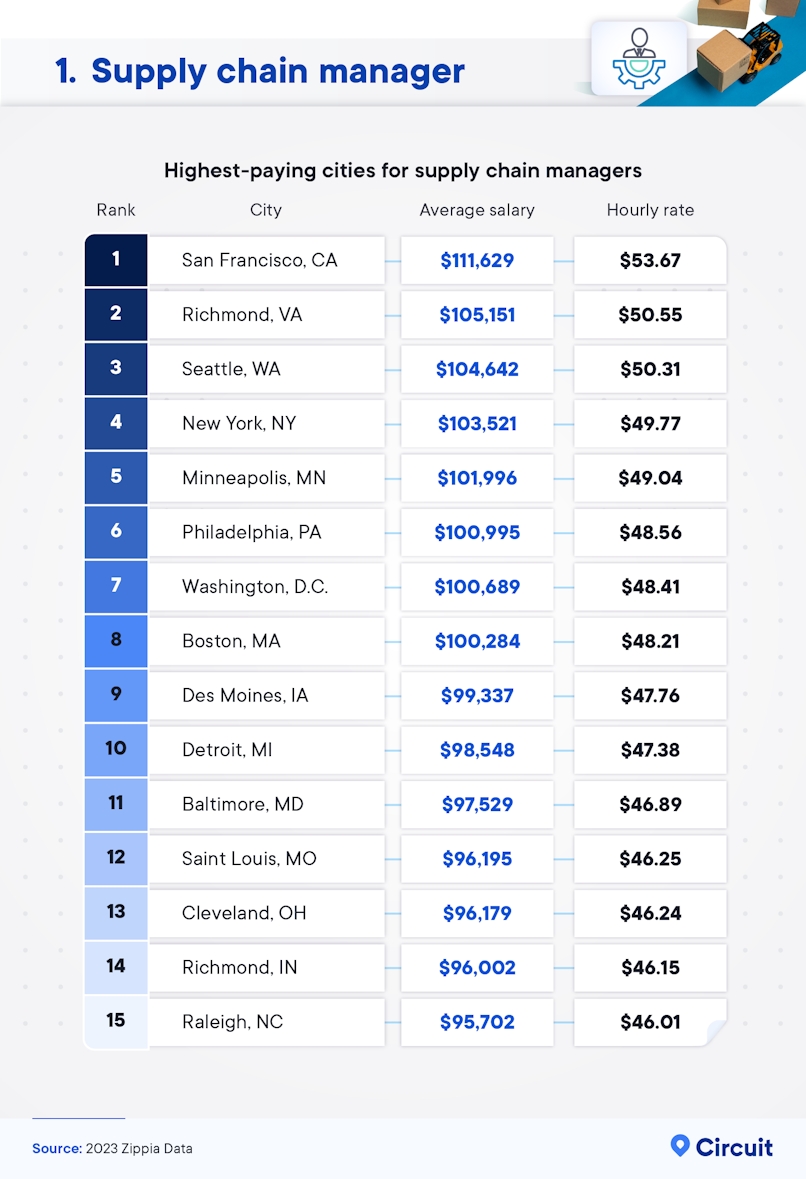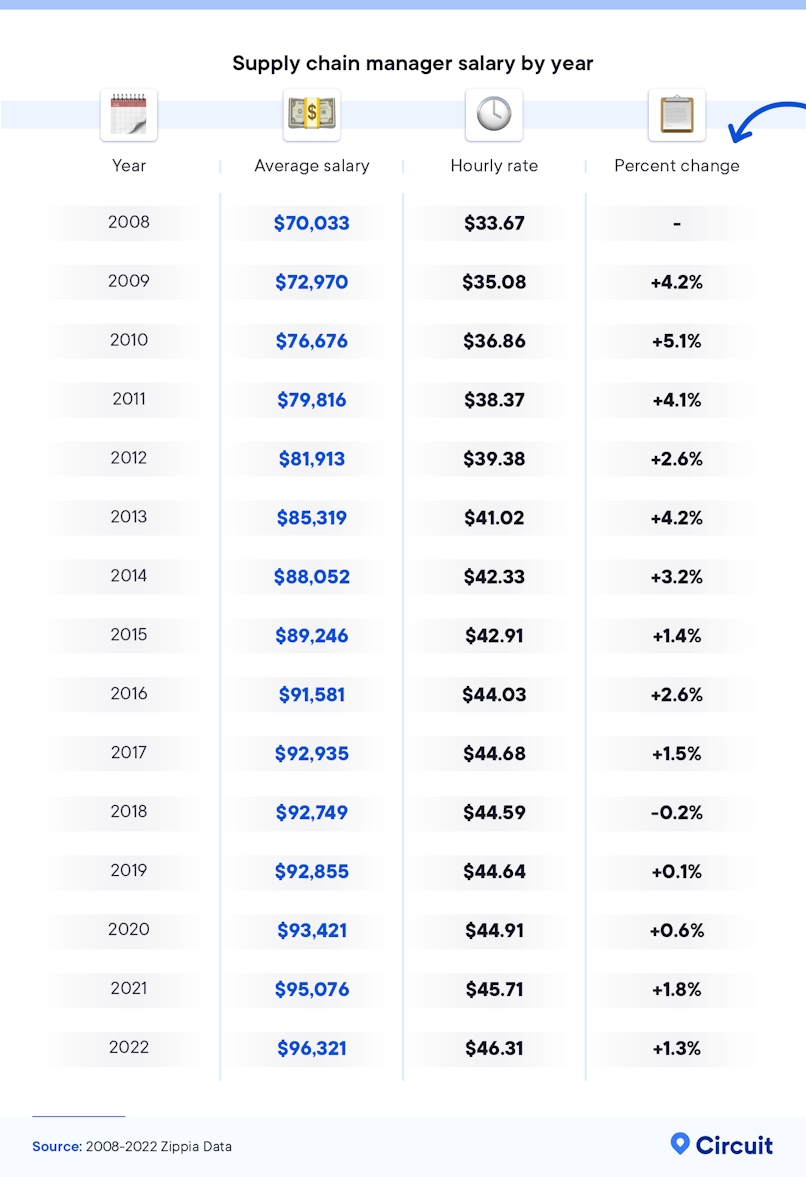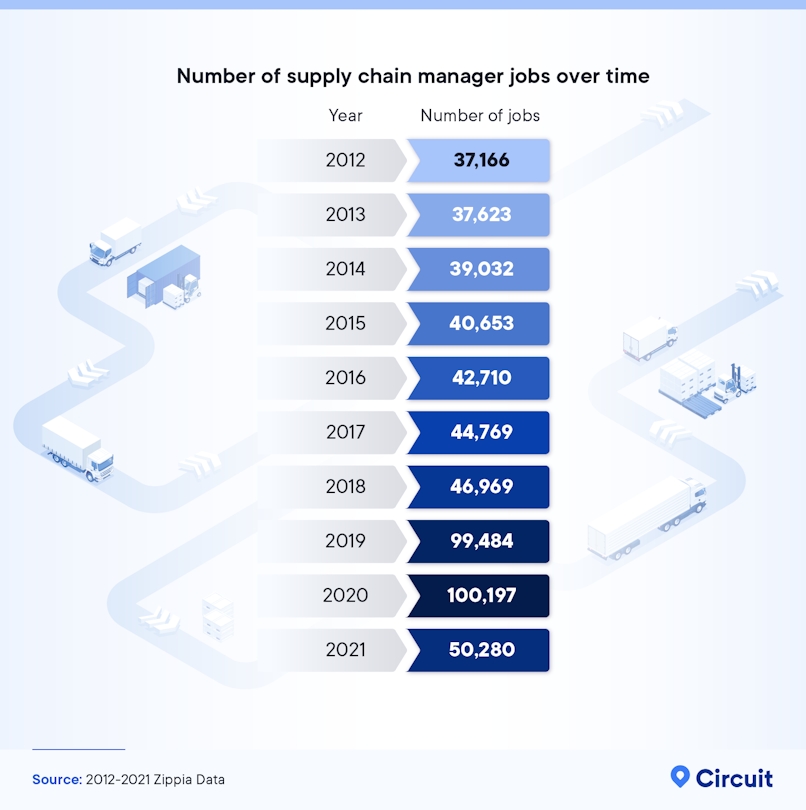 2. Warehouse logistics manager
Warehouse logistics managers handle storage procedures, overseeing the continuous improvement of storage logistics. Their duties include training staff, managing shifts, processing orders, and handling inventory management.
Like supply chain managers, warehouse logistics managers are also concerned with optimizing in-house processes, particularly whichever warehouse management systems (WMS) are already in place. If needed, they'll also spearhead the overhaul of old systems and the implementation of new ones.
Pursuing a business, supply chain management or general management degree are common paths for aspiring warehouse logistics managers. A bachelor's degree is recommended, but a small portion of students do decide to pursue a Masters as well. Again, certifications can undoubtedly boost your resume when applying for these full-time positions. Consider the OSHA Safety Certificate or the Certified Manager Certification (CM) to complement your degree.
Entry-level salaries for this position hover around $24,000 yearly, and top earners make around $70,000. Reno, Nevada, is the highest-paying city for warehouse logistics managers, paying out $88,873 on average to their workers.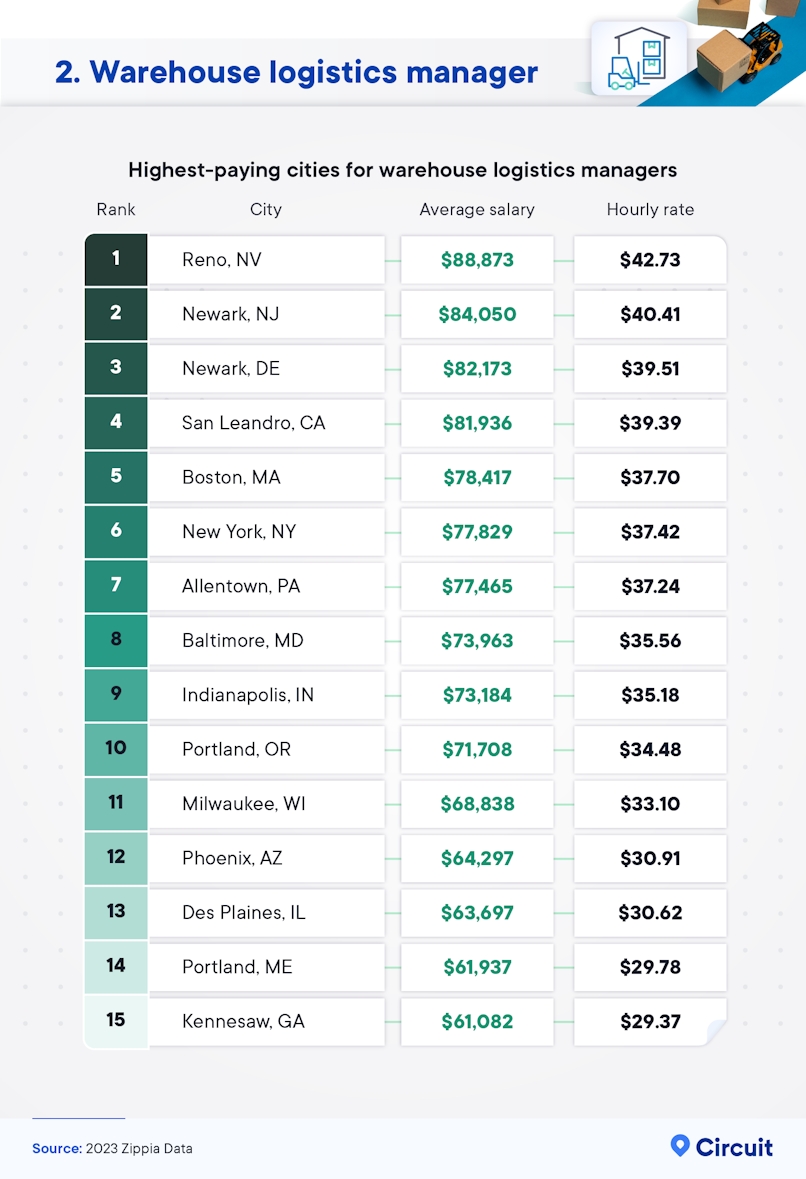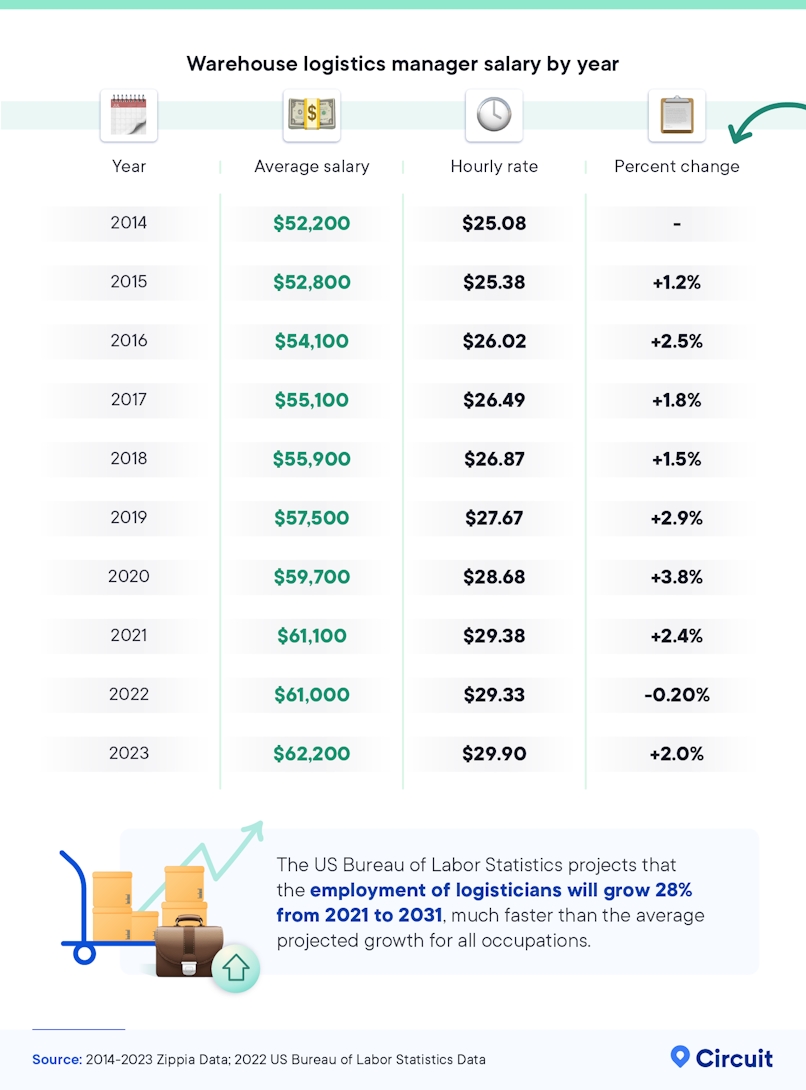 3. Dispatcher
Dispatchers communicate with customers, coordinate deliveries, and tell drivers where, when, and how to deliver things. They're the main point of contact for drivers.
Throughout their day, a dispatcher might receive emergency and non-emergency calls, monitor driver logs, address travel-related issues on the fly, and dispatch appropriate team members. Monitoring weather reports or contacting authorities when necessary is also their responsibility.
To become a dispatcher, a high school diploma is usually all that's needed. Previous experience in customer service is a plus, but formal years of experience in a particular field aren't necessary. That said, multitasking and communication skills are essential for this position. 
Dispatchers should expect to sometimes be on-call to work evenings, weekends, and even holidays due to the importance and gravity of their position. Sometimes, shifts can even last up to 12 hours, so maintaining high standards of communication and staying sharp the entire time is critical.
First-time dispatchers can expect to earn around $27,000 annually but, with experience, can make closer to $45,000. Getting your Commercial Driver License (CDL), among other certifications, is an excellent idea to improve your resume and start climbing the salary ladder as soon as possible.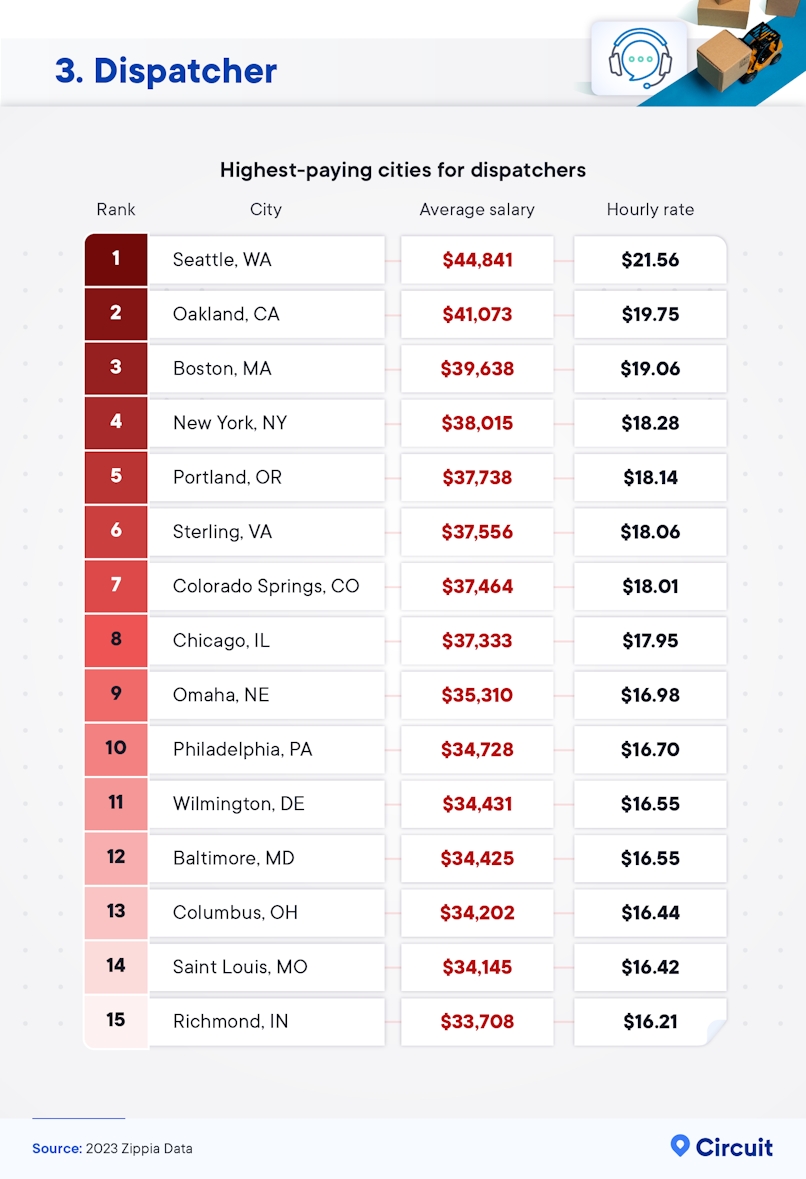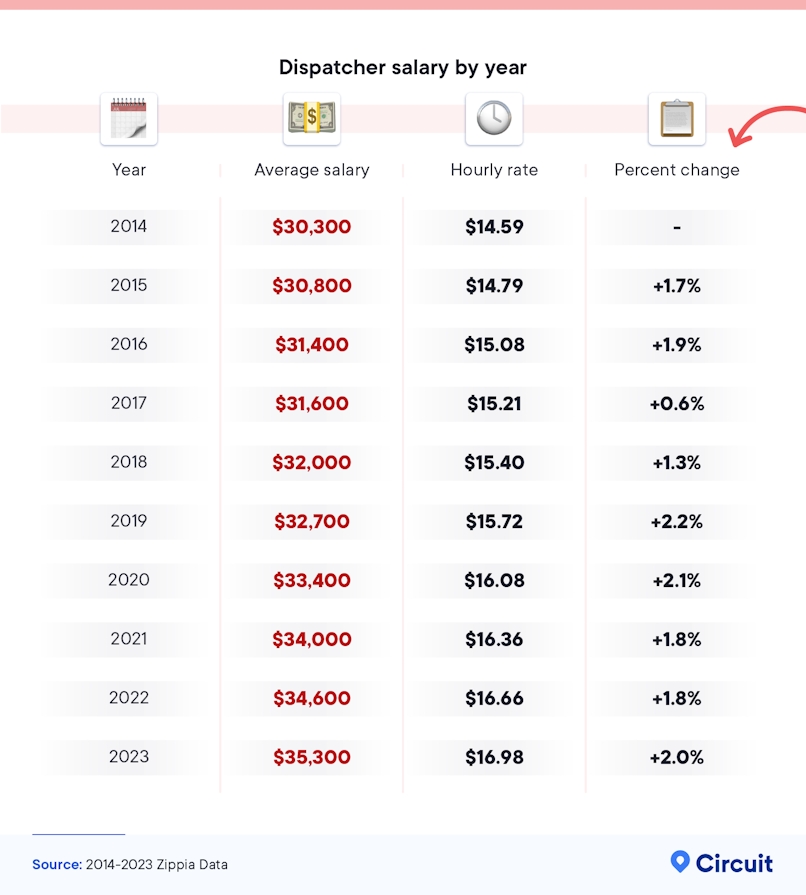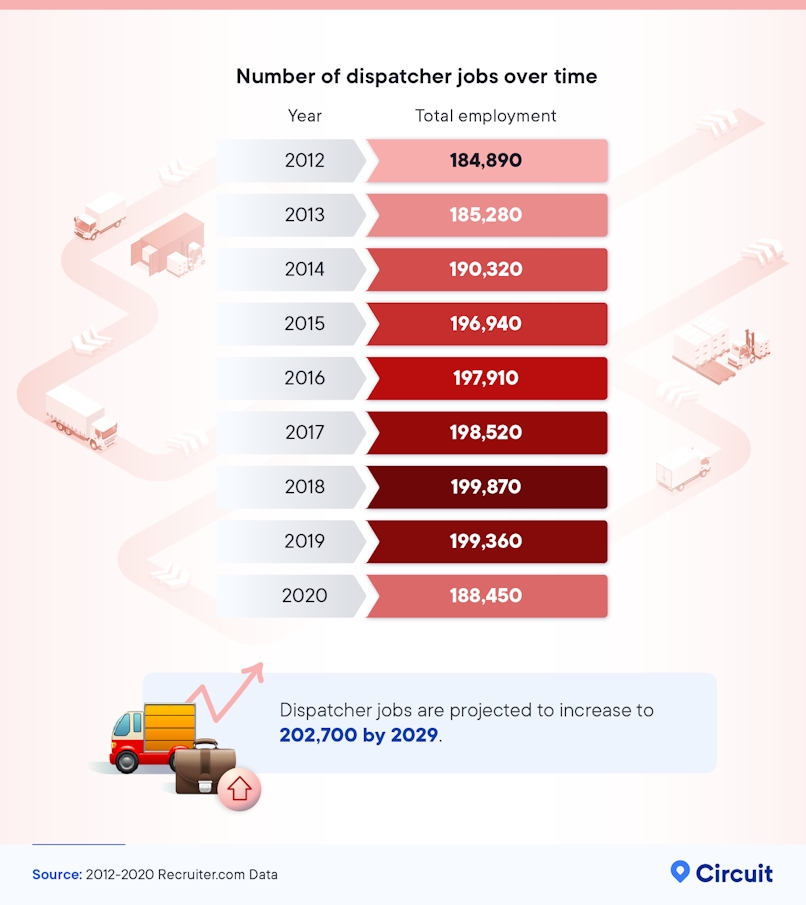 4. Operations manager
Operations managers optimize processes and procedures, including strategy formulation, performance improvement, budgeting, and forecasting. They're also the procurement managers of materials and resources.
Simply put, they oversee operational activities at every level of an organization. But it's not just the materials and resources they're concerned with; it's also the organization's employees. For example, they'll hire and train new employees, help them develop specific skillsets and master certain procedures, and then monitor them.
Operations managers tend to have studied business, management, or accounting. The most common degree to get for this job is a bachelor's degree, while a master's degree is less typical. Two to four years of experience in a lesser management position (i.e., store manager) are generally needed before becoming an operations manager. Regarding soft skills, being an excellent communicator and leader is make-or-break.
If you've received your degree of choice, compiled a few years of experience, and developed your soft skills, don't forget to check out some key certifications - like Six Sigma Green Belt - to help guide you toward your operations management career aspirations. 
Your first operation management gig will net you around $47,000 yearly, but veterans in the field make well over six figures. San Francisco, New York, and Washington are the top highest-paying cities for operations managers.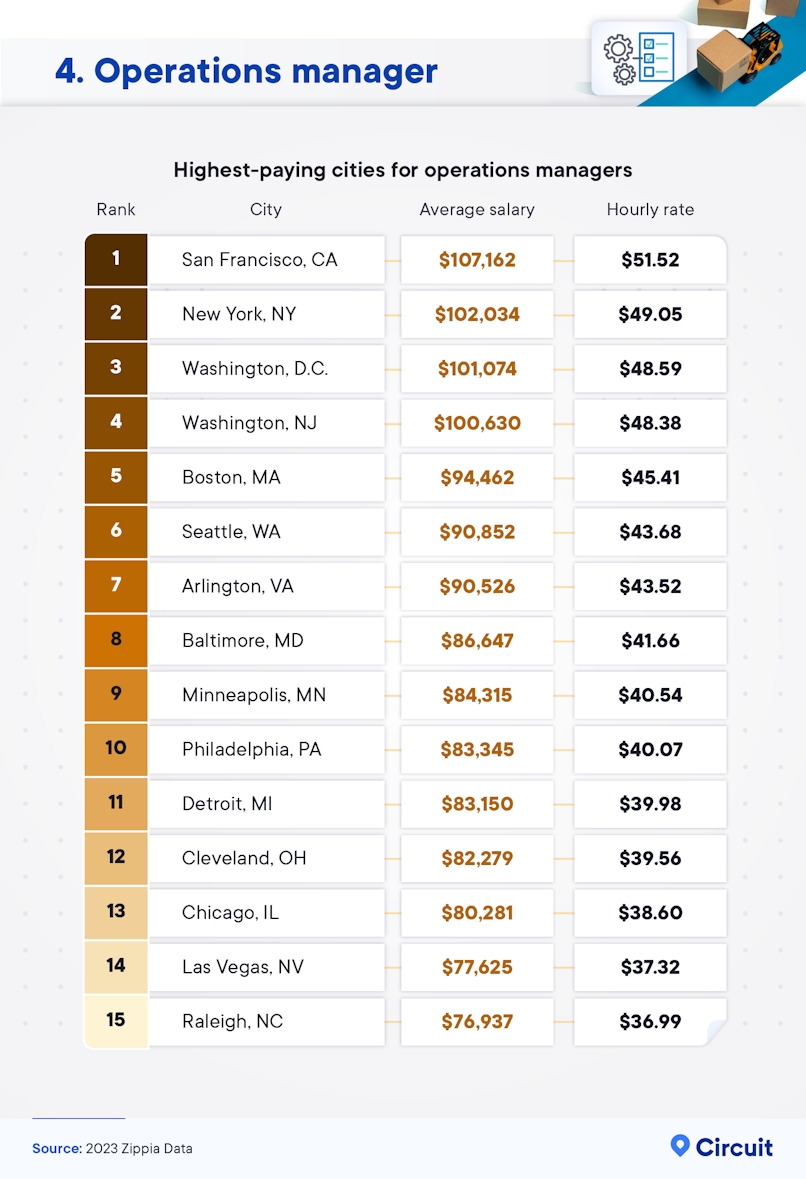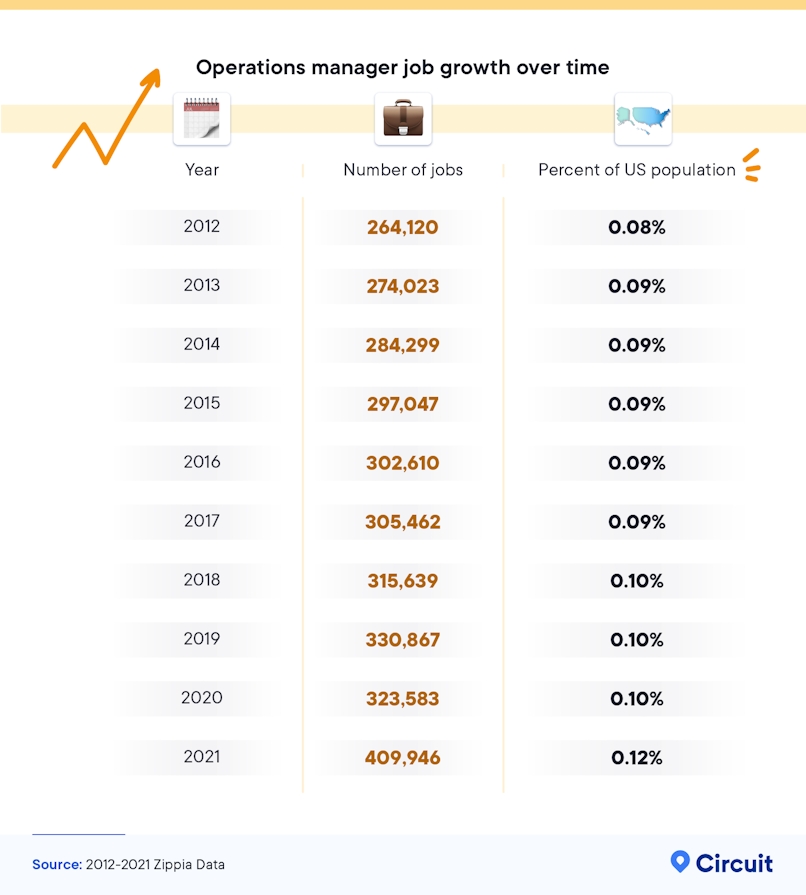 5. Truck driver
Truck drivers act as transportation managers. They're responsible for the timely and safe delivery of goods from one location to another.
Aside from their daily driving duties, truck drivers are also responsible for inspecting and maintaining their vehicles. A great truck driver will always keep a close eye on their equipment and be on the lookout for potential issues, no matter how small they seem. They also work independently, rarely interacting with other people throughout the day. While they interact with warehouse workers and communicate with dispatch occasionally, truck drivers need to be comfortable working by themselves for most of their time.
Truck drivers usually don't need a college education. A high school diploma and two to four years of experience operating large vehicles are sufficient, although truck driver license needments vary by state. Again, popular certifications, such as a Commercial Driver License (CDL) or OSHA Safety Certificate, will give you a leg up while job hunting for truck driving gigs.
Aspiring entry-level truck drivers in Wilmington, Delaware, should be pleased to know that it's the highest-paying city on average ($70,911 yearly). Truck drivers around the US make just over $60,000 per year on average.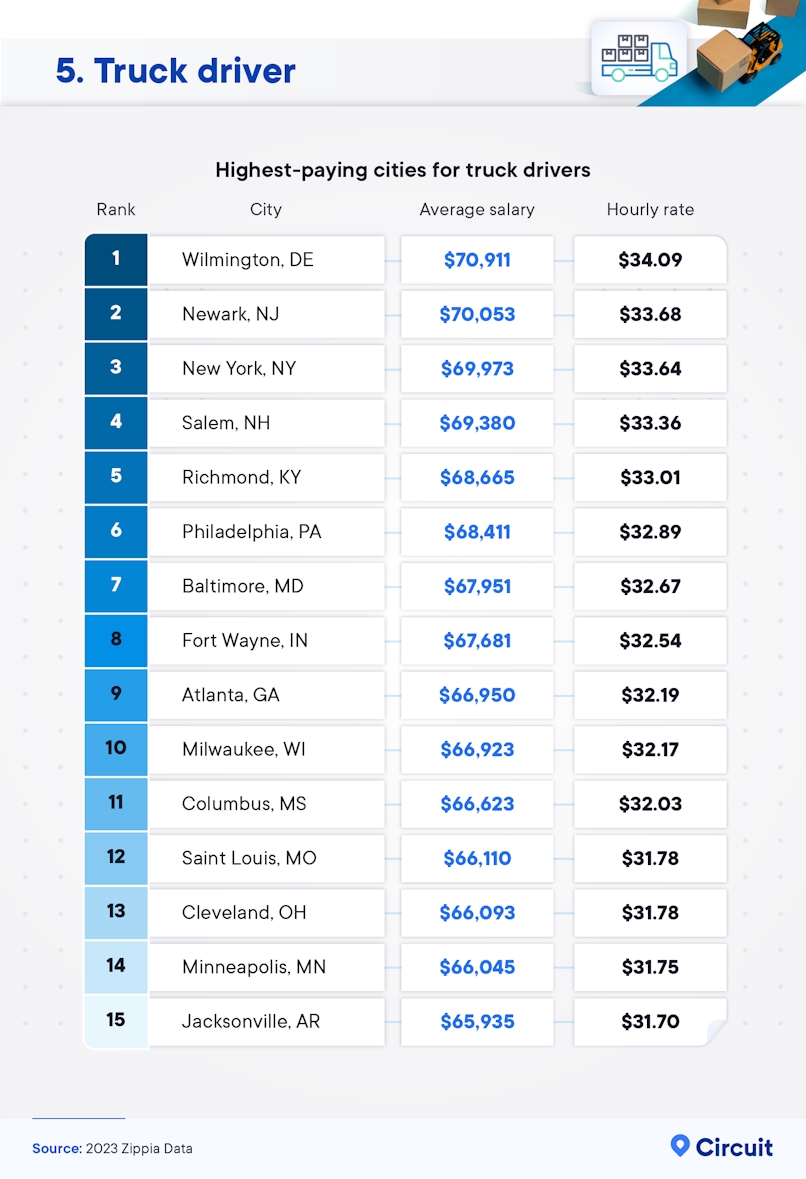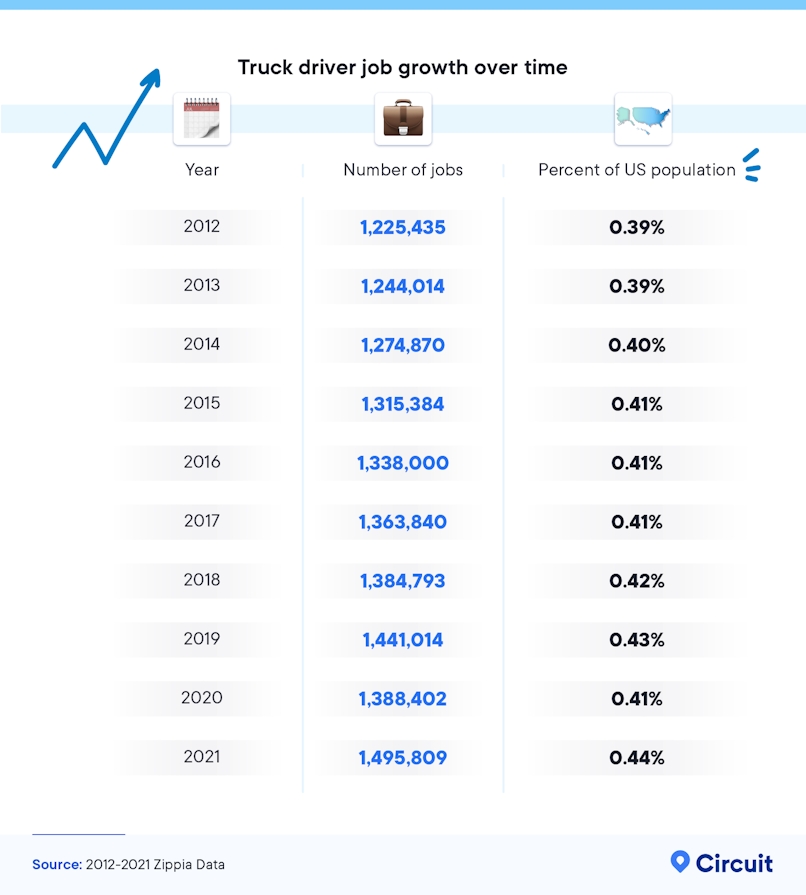 6. Inventory manager
Inventory managers oversee and manage inventory. This involves finding the right suppliers, recording deliveries, and making sure everything is included when new shipments arrive.
They rely on inventory tracking software to review stock, monitor daily shipments and deliveries, and analyze suppliers to minimize costs, among other uses. Therefore, inventory managers should be comfortable and proficient with various technical applications and software. They will also naturally need strong math skills, efficiently multitask, and pay close attention to detail. 
Apart from obtaining a bachelor's degree, aspiring inventory managers typically need four to six years of experience in a related field before making the jump. As you finish your degree and enter the workforce, pursuing a Certified in Production and Inventory Management (CPIM) or Certified Supply Chain Professional (CSCP) certification will impress your recruiter when interviewing for the inventory management position you've worked so hard to get.
As a first-time manager, expect your yearly salary to be around $43,000. Although, with experience, you can make more than double that.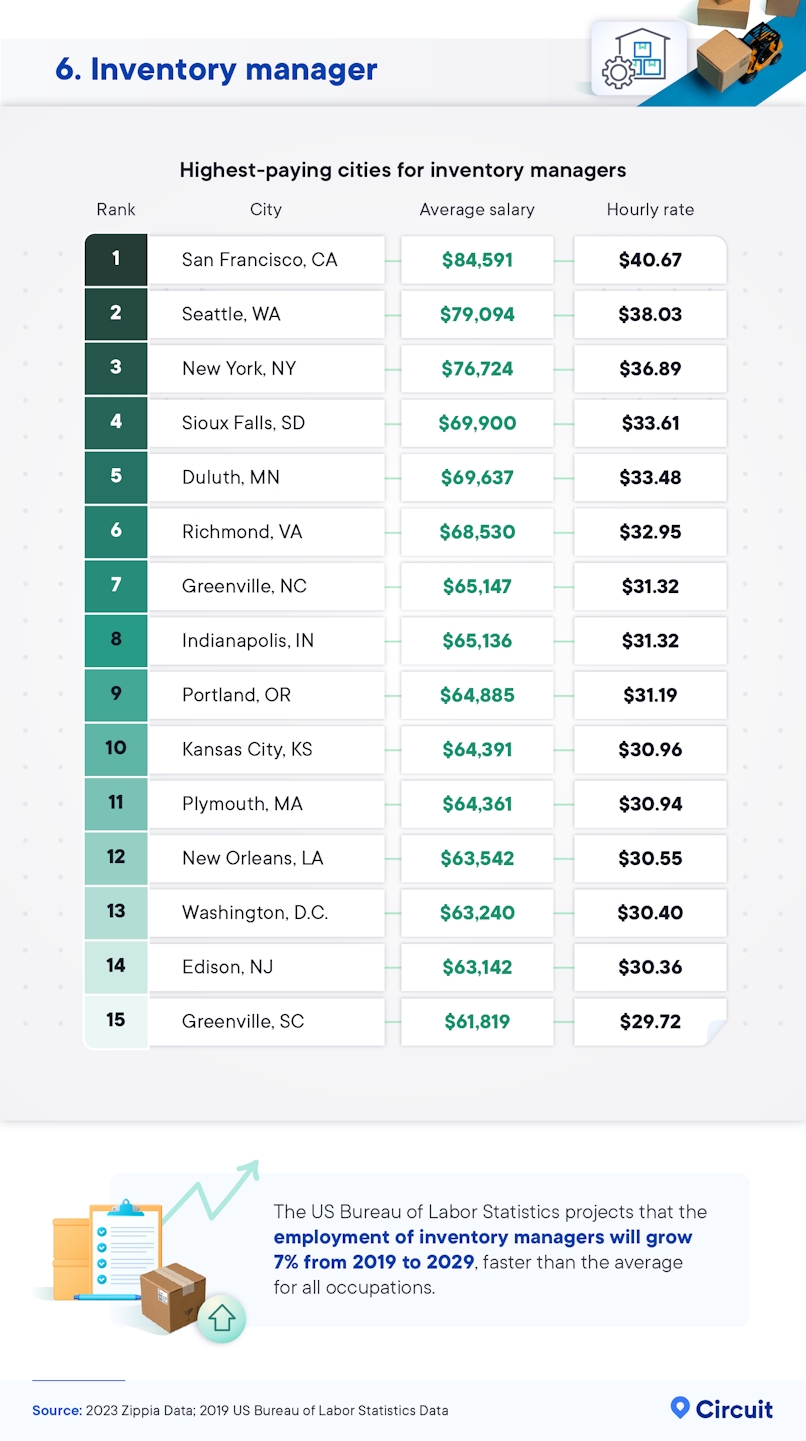 7. Logistics engineer
Logistics engineers evaluate and improve supply chain management processes to make sure of efficient distribution and shipment initiatives.
As supply chain analysts, they research and analyze data to enhance delivery techniques and identify new ways of doing things to increase profits. Logistics managers don't focus on just one department of their company but rather a variety of them. From customer service to manufacturing and transportation, they handle the design, execution, and adjustments of logistic strategies.
A bachelor's degree and four to six years working as a logistics analyst or industrial engineer should be all you need to become a full-time logistics engineer. Customer service, communication, and organization are also great skills to have. But to give yourself the best shot at landing the logistics engineer career of your dreams, solidify your resume with some familiar high-end certifications like Six Sigma Green Belt, Certified Systems Engineering Professional (CSEP), or Certified Logistics Associate (CLA).
In year one, you'll likely earn around $50,000, but as the years tick on, expect to make an annual salary closer to $90,000.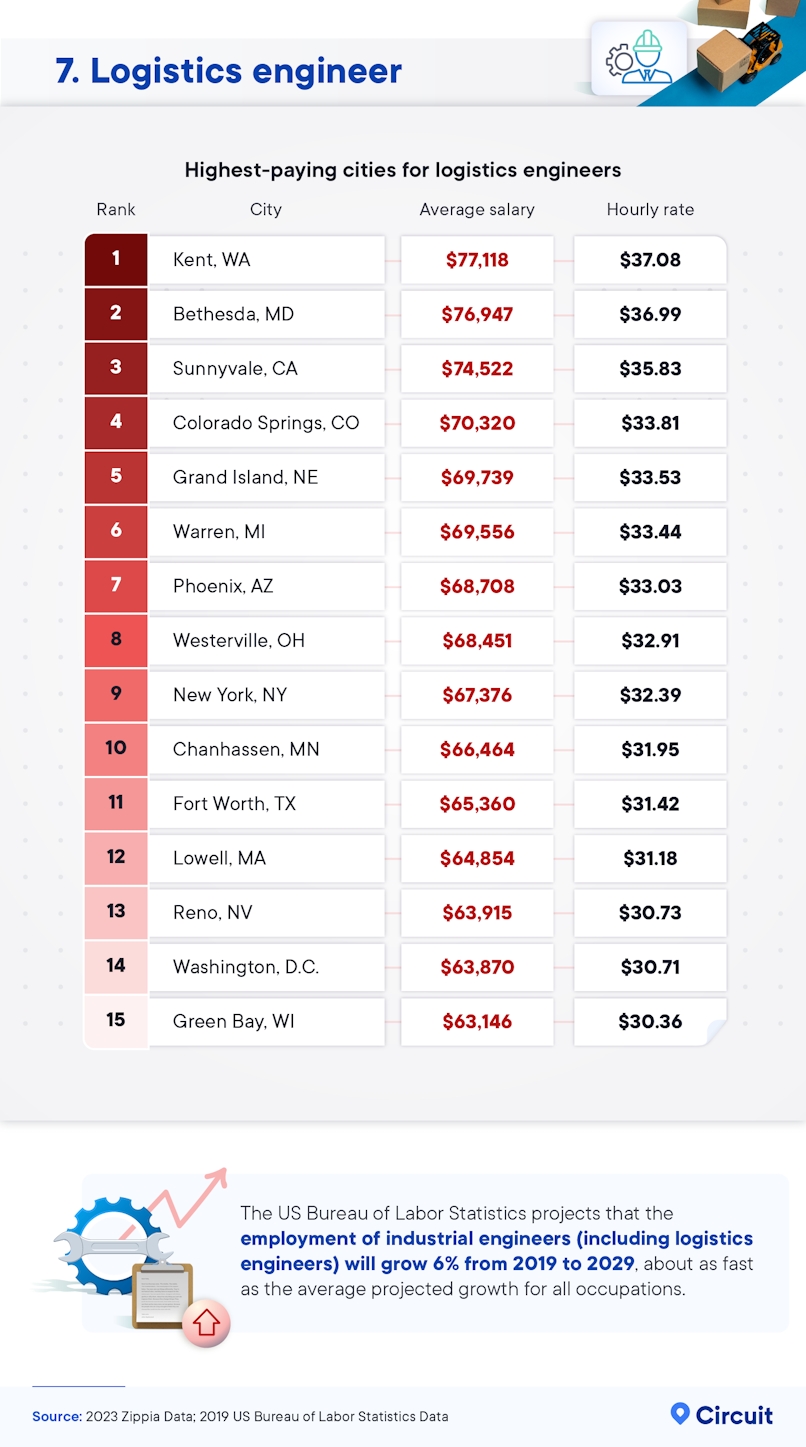 8. Transportation analyst
Transportation analysts use data to increase the efficiency and safety of their company's transportation process. They should be good at analyzing statistics and able to use software to model different transportation scenarios.
They use technological tools and software to organize data, model scenarios, and propose solutions to improve transportation efficiency. However, proficiency in data analytics isn't the only skill this profession requires you to be good at. Transportation analysts must also be excellent communicators to explain their findings and put forth recommendations in a way that everyone will understand.
A bachelor's degree and two to four years of experience as a customer service representative or logistics coordinator are essential for landing a transportation analyst job. Customer service, organizational, and problem-solving skills are also vital. Regarding certifications that can boost your profile, The Six Sigma Green Belt is once again a top choice for this position, as it is for many aspiring supply chain management, logistics, and transportation workers.
Transportation analyst salaries start at around $43,000 for entry-level positions, but experts can make north of $80,000 with enough experience and time in the field.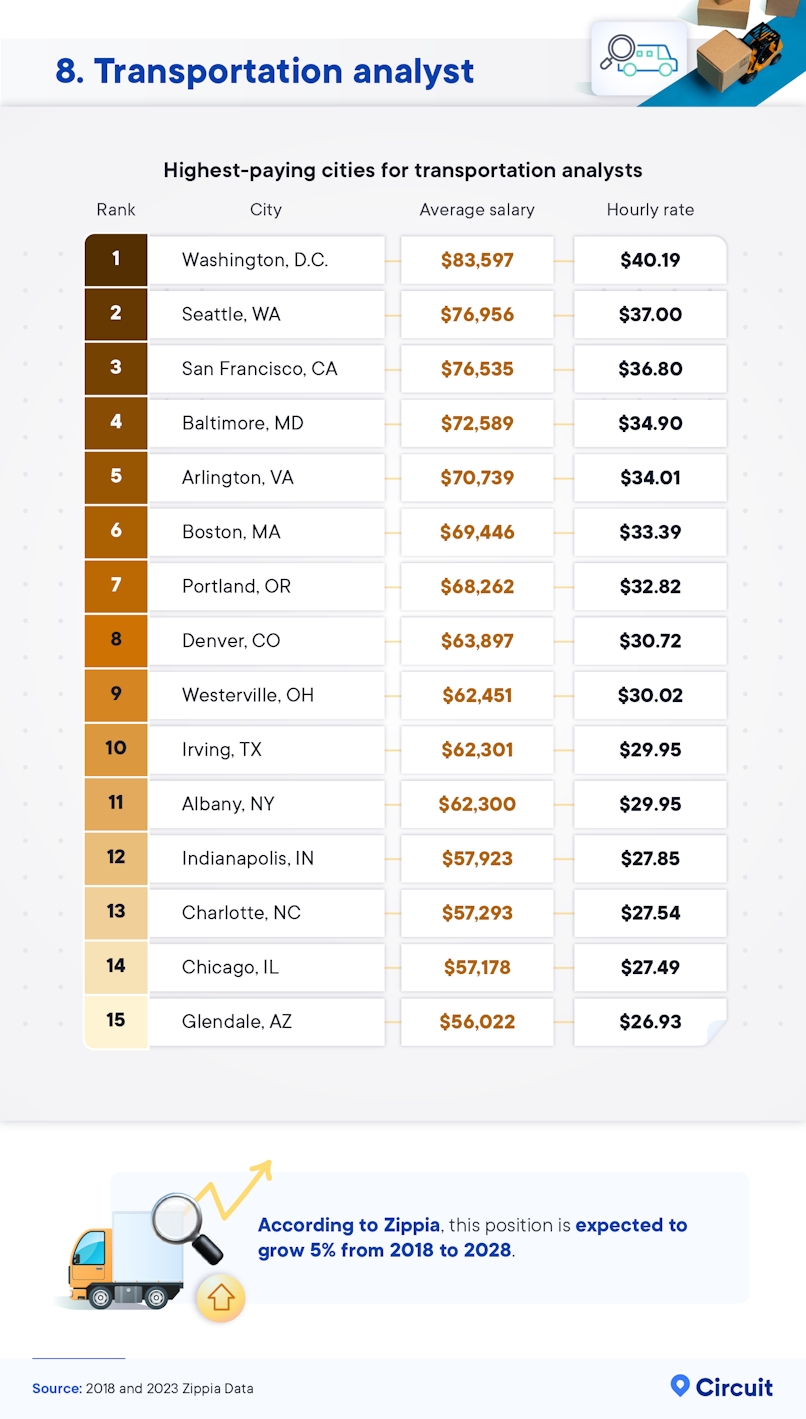 9. Fleet manager
Fleet managers are basically transportation managers who make sure that shipments get from points A to B quickly and efficiently.
Their typical daily tasks include planning driving routes, contacting and directing drivers as needed, and overseeing vehicle maintenance schedules. Organizational skills are essential for fleet managers, as they are responsible for keeping track of maintenance documentation for all vehicles in an organization.
Fleet managers need a bachelor's degree and two to four years of experience. Typical programs pursued in school are business, automotive technology, and management, and young professionals tend to work as operations managers, dispatchers, or drivers before becoming fleet managers. A Certified Transportation Professional (CTP), Certified Automotive Fleet Manager (CAFM), or Certified Management Accountant (CMA) certification can all help fast-track you to the fleet management job of your dreams.
Expect to make just north of $30,000 per year initially, but with enough time and experience, your salary can reach closer to $80,000.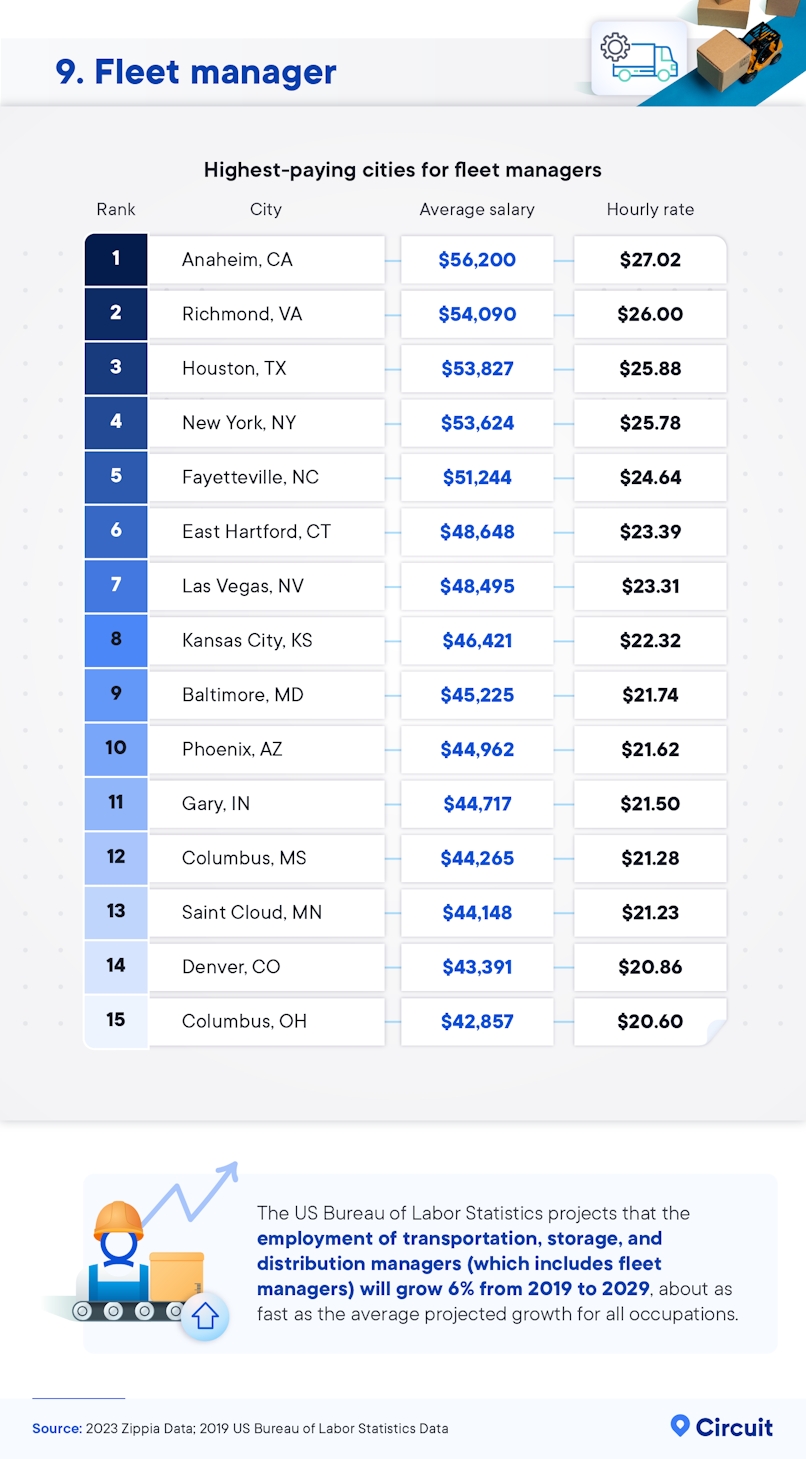 10. Demand planner
Demand planners are in charge of forecasting demand (market needs) through research and data analysis. They're responsible for inventory management and planning, especially involving supply flow.
Demand planners can also act as consultants, assessing the risks of projects and advising senior personnel on any issues. A great demand planner needs to possess excellent knowledge of statistical data modeling and sharp communication skills to help their organization understand what the future demand for their product or service looks like.
A bachelor's degree is the most common one to get for this position. Demand planners usually study business, supply chain management, or marketing to get it. Gaining experience as a professional buyer or customer service representative will prepare you for the responsibility of demand planning - as will developing your problem-solving and organizational skills.
You'll pull in about $60,000 a year in an entry-level position, but as you gain more experience in the field, expect your annual salary to eventually eclipse six figures.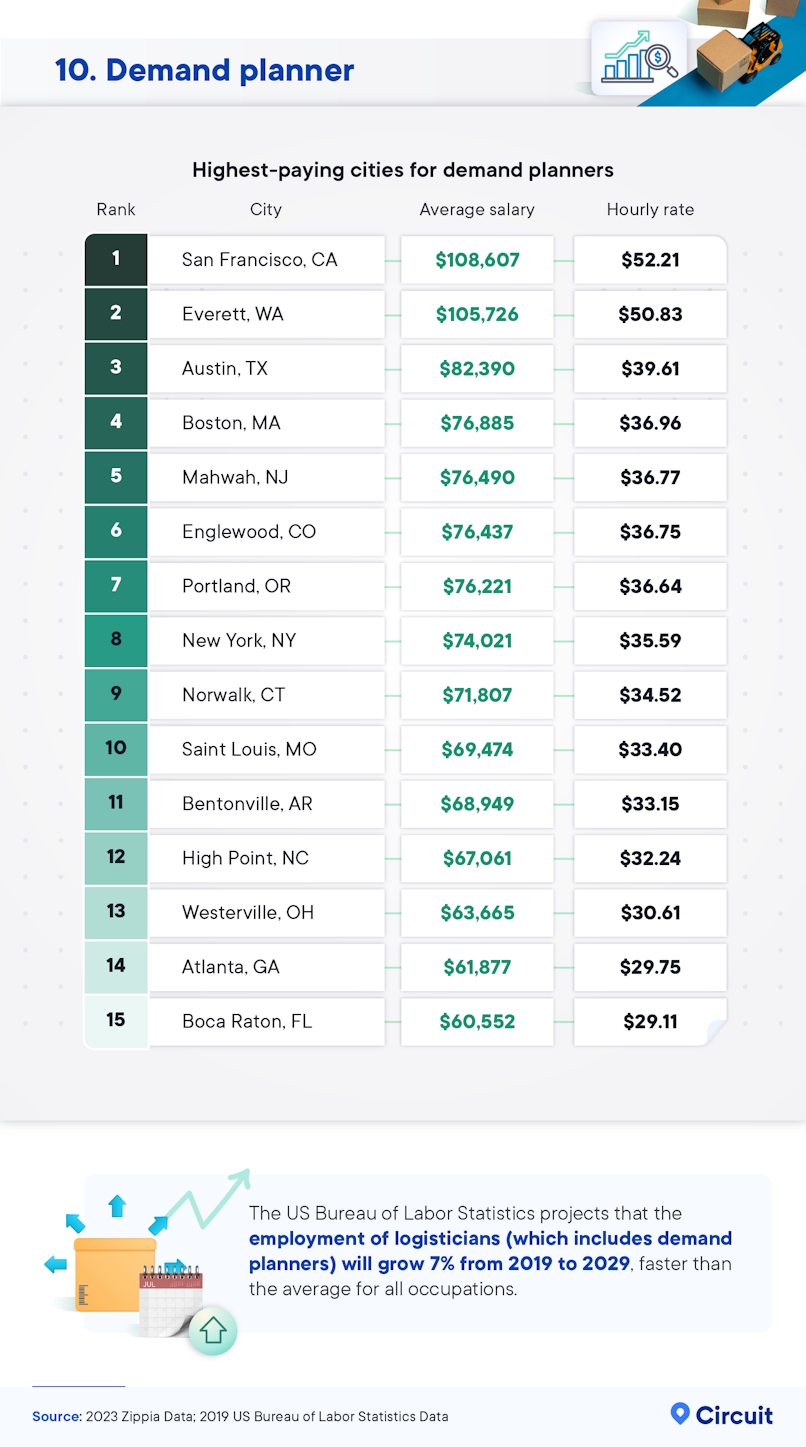 Current salary data and employment statistics
The more years of experience you have at your job, the more money you'll make. 
Operations managers, in particular, get rewarded the most for having a veteran career status. After 15 or more years of experience, they make $164,570 on average (more than any other position we've touched on).
Logistics operations management is a lucrative field with a starting salary of over $85,000.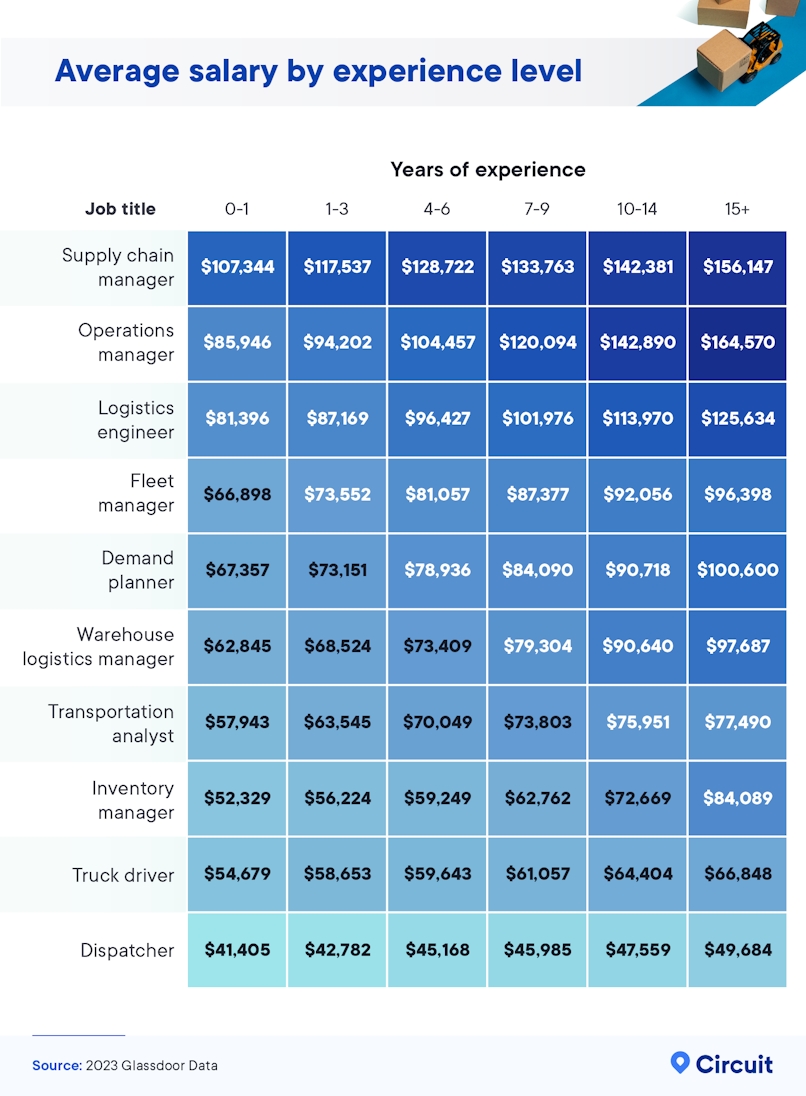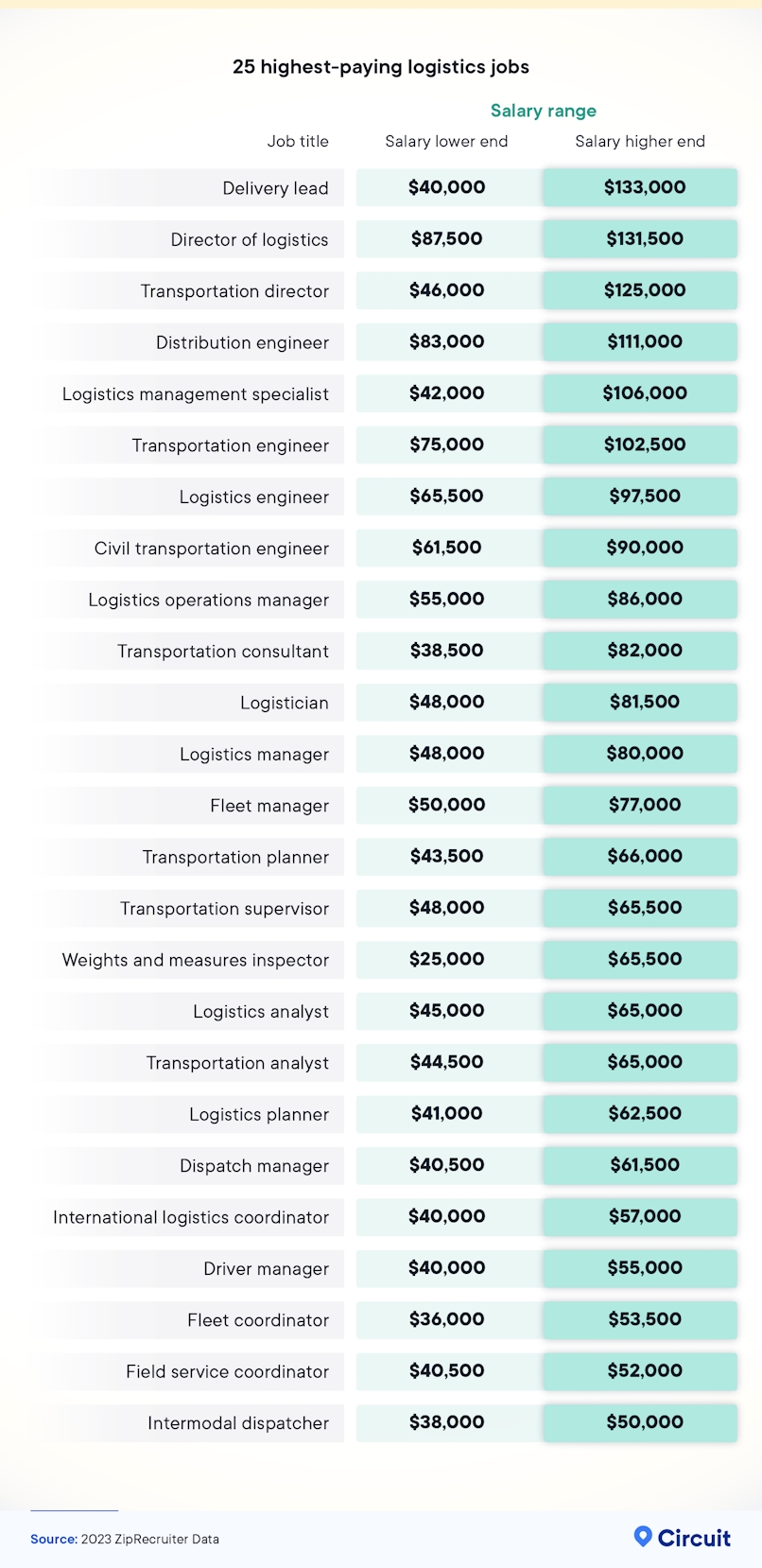 Education needments and certifications needed
As we've noted, most logistics, supply chain, and transportation-related positions need a bachelor's degree — that's why nearly 70% of workers in these fields have one.
You're not likely to need a master's degree, since it's not nearly as common in these roles.
Most graduates studied business, but some specialized in supply chain management, marketing, and industrial engineering. Just under 40% studied something else — likely a related field.
Certifications can also help you land some of the jobs we've discussed, particularly a supply chain manager job. Some good options to pursue are the Certified Supply Chain Professional (CSCP) and Certified in Production and Inventory Management (CPIM) certificates.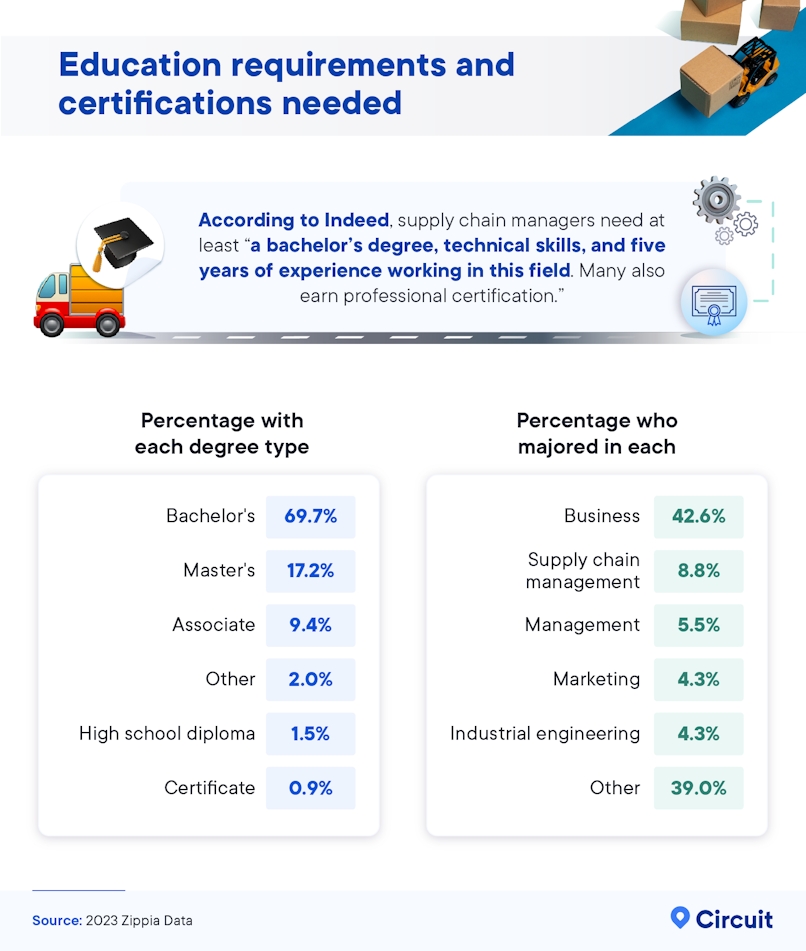 Best sectors for finding a job in supply chain, logistics, and transportation
Supply chain sales engineers and operations managers can be very high earners.
With an average annual salary of over $116,000, they make more than supply chain logistics managers, business analysts, military logistics officers, and more.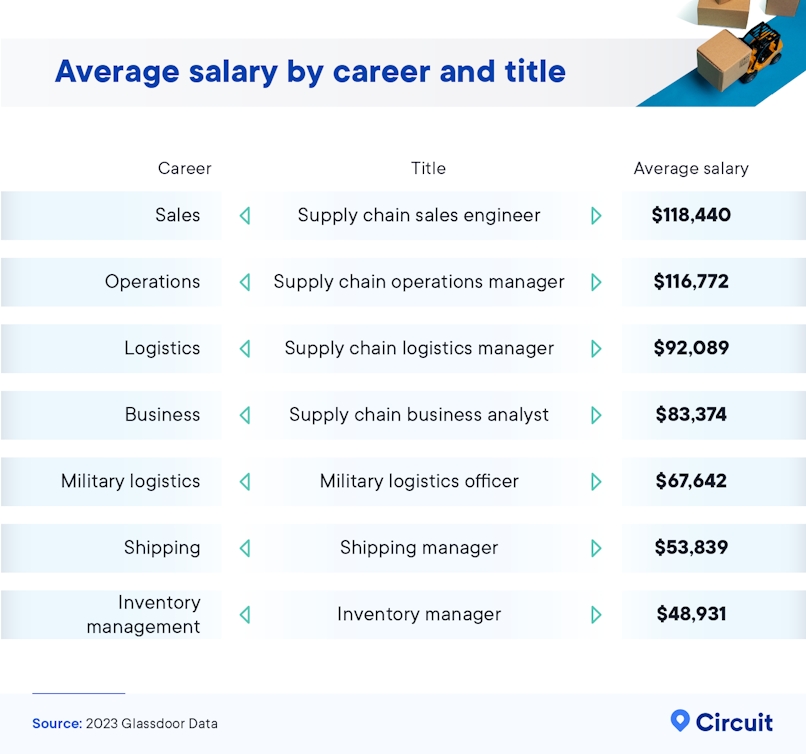 Ideal locations for supply chain management jobs
Supply chain managers make a good living in all 50 states, but some states have more positions available, and some also pay more than others.
California, Texas, and Illinois are the top three states with the most supply chain managers jobs.
Although these states rank 9th, 39th, and 29th for average supply chain manager salaries (respectively), even the lowest average annual wage among the three is more than $90,000.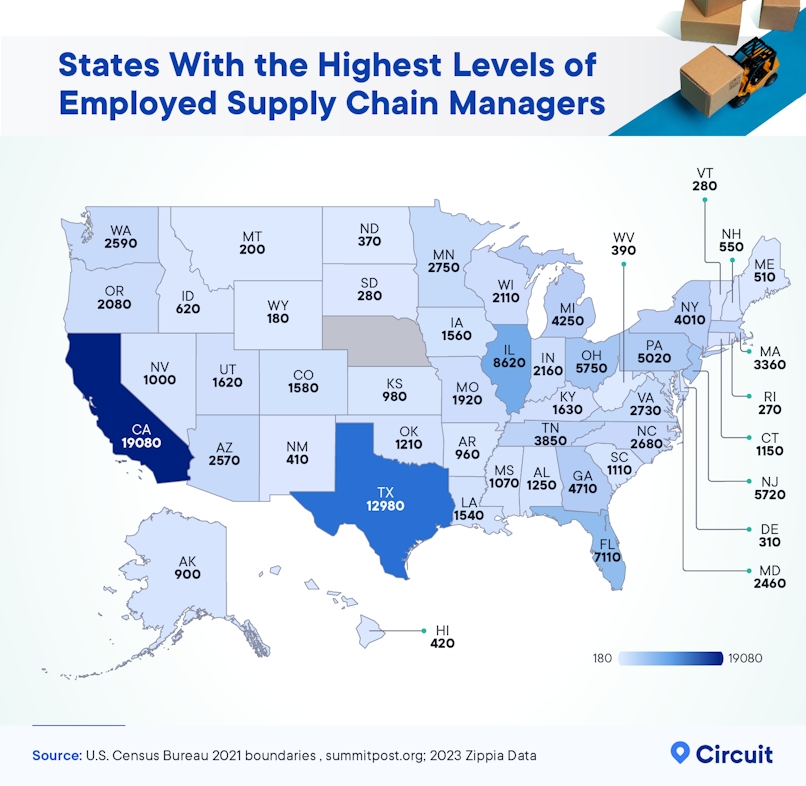 A day in the life of a dispatcher
Want to know what a day in the life of a dispatcher looks like? We spoke with Lisa Davis-Isaacs, a Delivery Manager at Evri, to learn more about how she onboards and trains new drivers.
She focused on two key points: best practices when loading a vehicle and effectively navigating routes in real time.
Properly loading deliveries on a vehicle prevents drivers from wasting time rummaging through their cargo at each stop.
Lisa recommends brand-new drivers put their first five to ten packages in the passenger seat (placing them in order of delivery) so they can focus more on navigation than finding packages.
With time, drivers will get better at organizing their loads to make packages quick and easy to find, making the whole delivery process as fast as possible.
Once drivers know how to optimize loading, they're better able to navigate properly. While navigation apps are helpful, Davis-Isaacs also stresses the importance of relying on real-life cues.
For example, a great courier understands how street addresses work. Odd house numbers tend to be on one side and even numbers on the other — new drivers can narrow down what side of the street they need to deliver to based on this tip.
Interview strategies for success
Preparing for a supply chain, logistics, or transportation management job interview means being ready for the interviewer's questions.
Here are some things to ask yourself and make sure you know the answers to:
What is the supply chain, and why is it important?
How can I add value to the supply chain team at this company?
What motivates me to work in product supply?
How would I go about finding suppliers for a multi-piece product?
What is logistics, and why is it important?
What is my area of logistics expertise?
How do I prioritize processes and tasks?
What is my experience with automated warehouse systems and databases?
What are my primary duties as a transportation manager?
How would I organize items in a storage area?
How would I handle a delay in shipments?
How would I handle several approaching deadlines at once?
Final thoughts
Within the supply chain, logistics, and transportation industries, there are all sorts of careers to pursue.
At the managerial level, you can oversee the supply chain, warehousing logistics, operations, inventory, fleet, and more. But dispatchers, truck drivers, transportation analysts, and demand planners are essential parts of the network as well. 
If you're interested in a career in optimizing business processes, all of these positions can be fulfilling in their own ways. But they all need you to focus on basically the same thing: efficiency.
That's why Circuit developed the world-class Circuit for Teams management platform. It reduces transportation costs and increases delivery efficiency for fleet managers and drivers everywhere.
Reduce your in-house delivery costs today by 20% with Circuit's highly-efficient transportation management software.
Fair use statement
If you've enjoyed learning about supply chain, logistics, and transportation jobs in America, feel free to share this article with anyone who might be interested in our findings. We only ask that you provide a link back to this page if you do.