5 minute read
The Internet's Most Beloved Delivery Services
Find out who took the top spots on Circuit Package Tracker's list of the best and worst delivery services, according to Twitter and Reddit.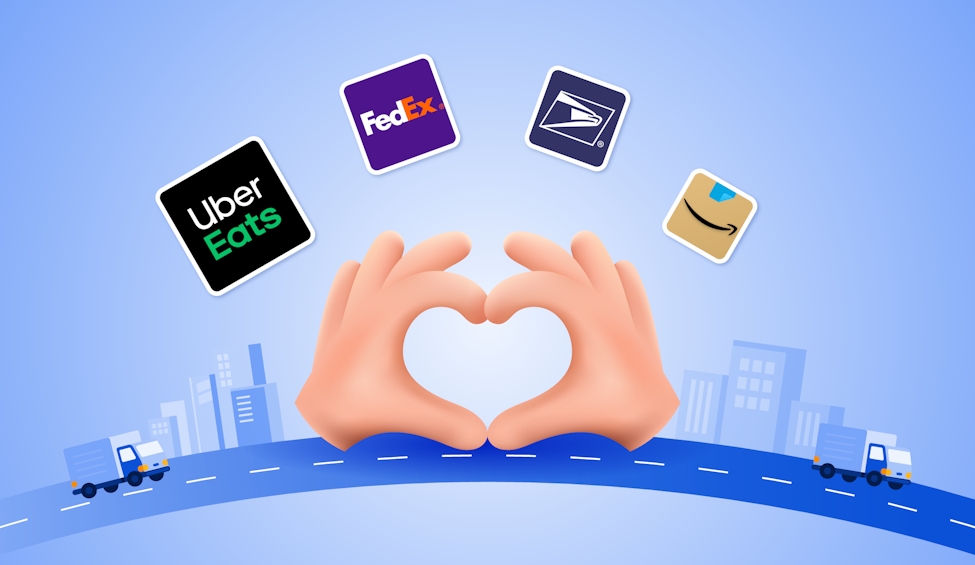 Which delivery services are most loved and loathed by Americans? We scraped millions of posts across online communities to find out.
Key takeaways
Amazon is the most loved package delivery service on Twitter.
FedEx is the most disliked package delivery service on Twitter.
USPS is considered the fastest delivery service on Reddit.
Uber Eats delivery drivers racked up the most compliments on Reddit for being early, nice, and fast.
Finding what delivery services consumers love
When you order something online, you probably have a preference for how it gets to you. Some delivery services bring timely arrivals and great communication to mind, while others recall memories of lost packages and damaged goods.
To find out which delivery services are the most liked and disliked across the country, Circuit Package Tracker researchers gathered millions of social media posts about top delivery companies. Posts were then run through a sentiment analyzer to see if they were positive or negative. Keep reading to discover the most loved and hated delivery services out there (according to Twitter and Reddit users) and why they might have made the list.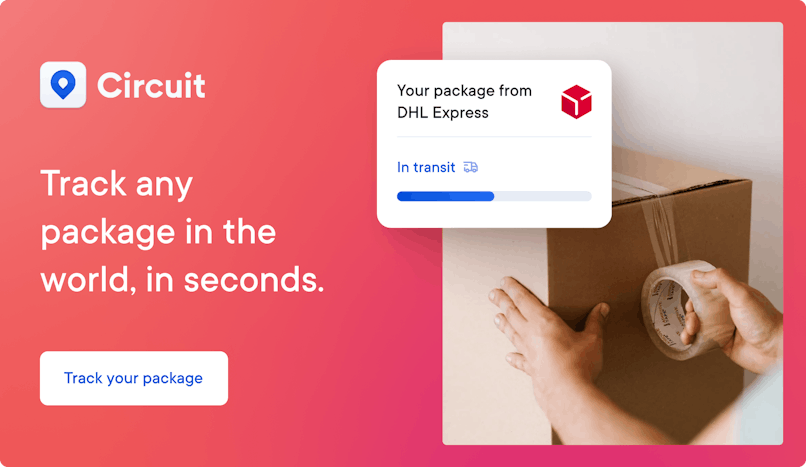 Twitter's top transporters
To start, researchers combed through over three million Twitter posts to find which delivery services were the most loved and hated on the app. These are the winners and losers.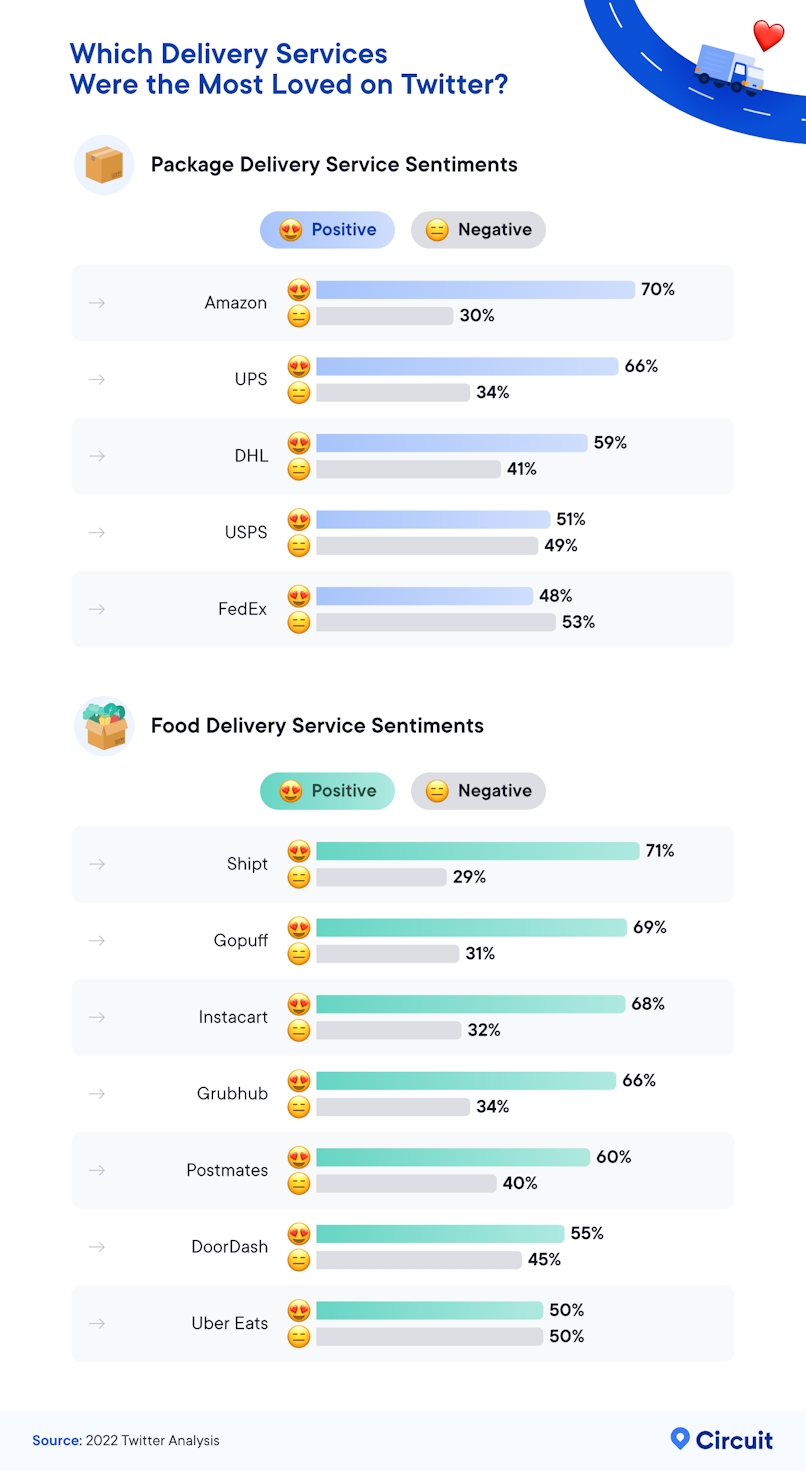 Amazon was the most liked overall, with the highest percentage of positive tweets (70%). Considering Amazon's huge fleet of vans and trucks is positioning it to be the biggest delivery service in the country, it makes sense that so many people have documented their positive experiences.
On the other end of the spectrum, FedEx — with its history of slow packages, especially during the pandemic — left a bitter taste in customers' mouths. On Twitter, FedEx had the highest proportion of negative comments and was the only delivery service to get more negative tweets (53%) than positive ones (47%).
The other shippers landed in the middle of the road: UPS with 66% positive tweets, DHL with 59%, and USPS with 51%.
As for food delivery, Shipt had the highest percentage of positive tweets (71%) while Uber Eats had the most negative ones, with its numbers of positive and negative tweets split right down the middle.
Key takeaway: Amazon is the most loved package delivery service on Twitter, while FedEx is the most disliked.
Praise and protests over packages
Now that you've seen which delivery services get the most love and hate on Twitter look next at their top complaints and compliments. Researchers examined over 59,000 Reddit posts about these companies to find people's most common reasons for sharing their experiences.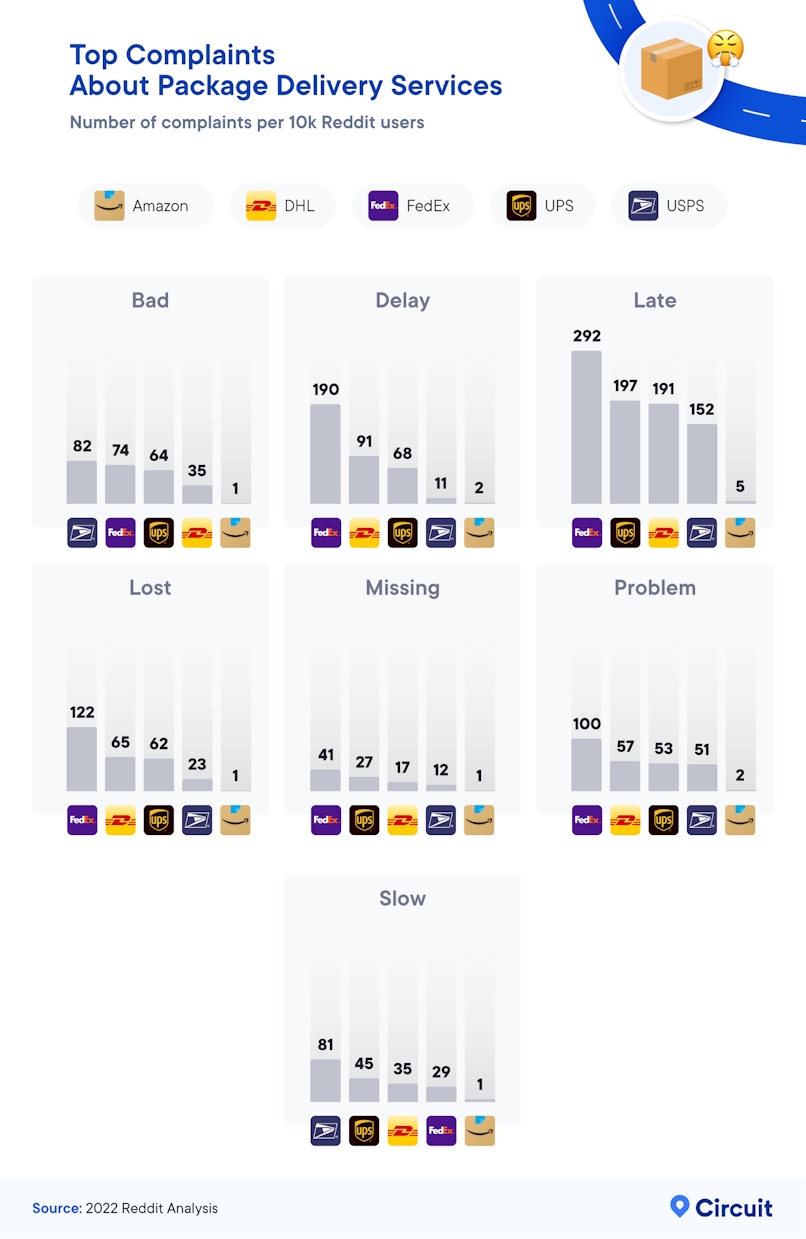 One of the most frequent complaints discussed in these Reddit posts were delays. The words "delay" and "late" showed up quite a bit for each delivery company, but none more so than (yet again) FedEx. 
For every 10,000 posts about FedEx, "delay" was mentioned an average of 190 times and "late" an average of 292 times — around 100 more times than their runners-up, DHL and UPS, respectively. Meanwhile, USPS and Amazon received far fewer complaints about delays and lateness than any of the other three. 
Another common complaint was the large number of lost or missing packages. FedEx topped the rankings for "lost," "delay," and "missing." It's worth noting that USPS and Amazon received very few of these complaints.
The only complaints in which FedEx didn't lead the pack were "bad" and "slow." Instead, USPS received the most complaints in those departments.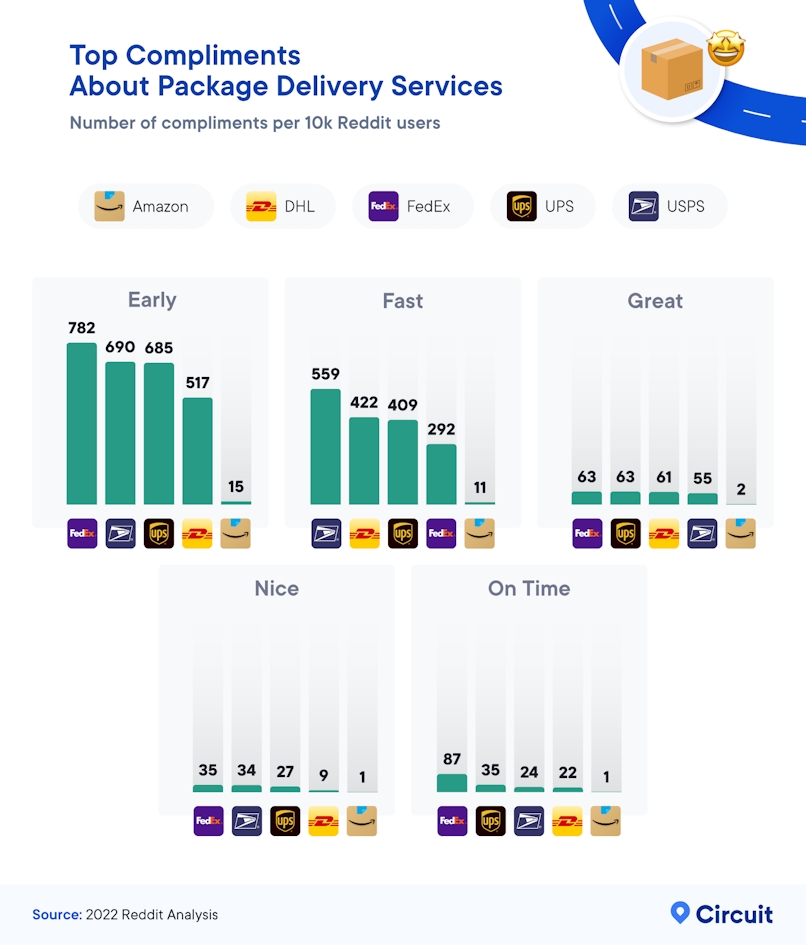 On a happier note, many Redditors also posted compliments about these delivery services. Ironically, FedEx received the most compliments containing the words "early," "great," "nice," and "on time."
Whether they love it or hate it, people had a lot to say about FedEx!
But when it came to speed, USPS took the lead again. They racked up the most mentions of the word "fast," with DHL and UPS taking second and third place.
Key takeaway: USPS is considered the fastest delivery service on Reddit.
Who ate my dinner delivery?
Delivery services are likely a key part of your life, but takeout lovers might use food delivery more than most. A Reddit analysis also revealed the top complaints and compliments about popular food delivery services.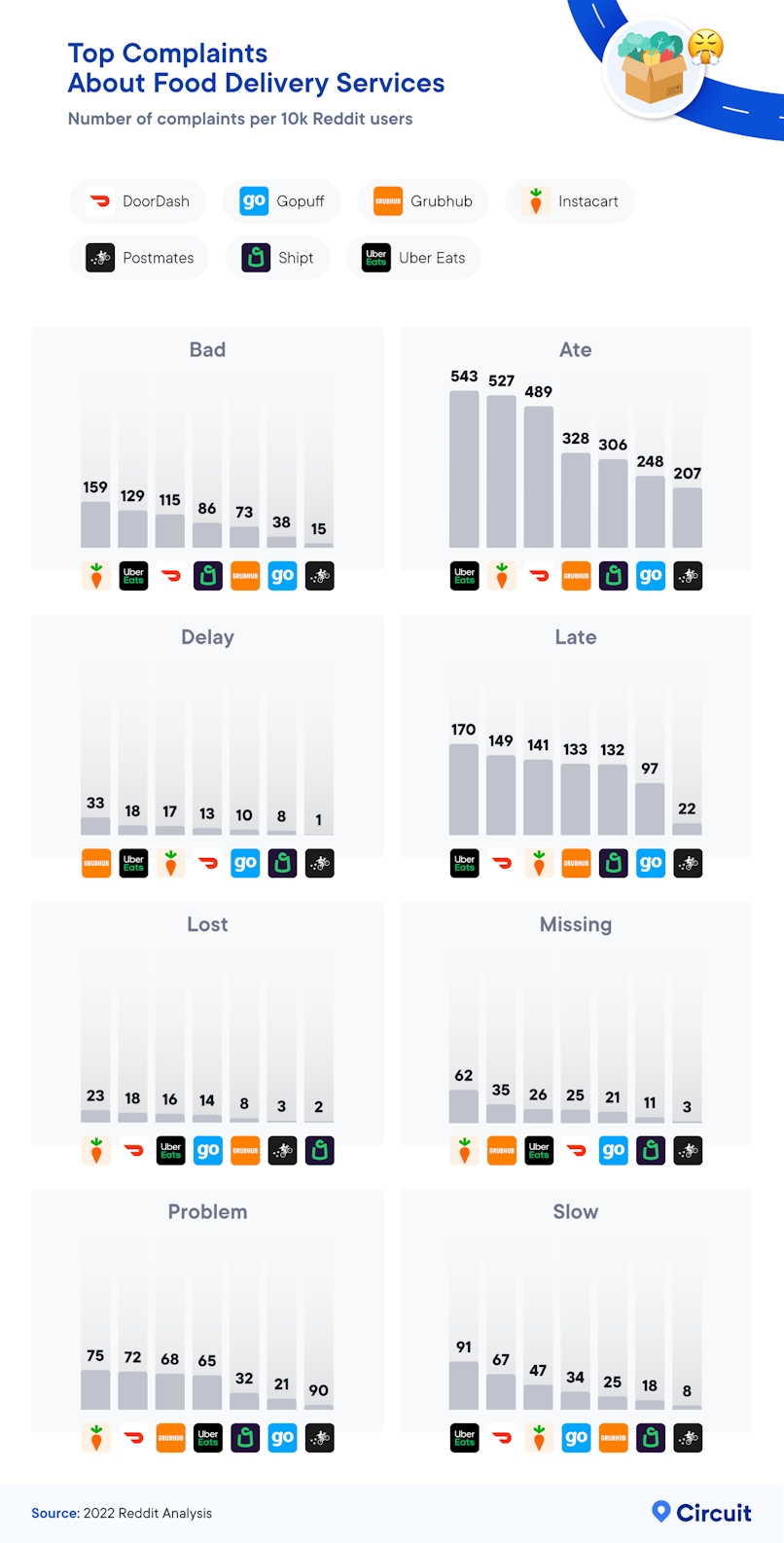 What would you do if your delivery driver ate your food order? It happens more often than you might think. And apparently, many customers in this unfortunate situation took to Reddit. 
Of the complaints we found, the ones containing the word "ate" appeared the most often in posts about Uber Eats. Instacart was a close second, and DoorDash took third place. 
Uber Eats also had the most mentions of "late" and "slow," but Instacart came in first for half of the top eight complaints overall. The words "bad," "lost," "missing," and "problem" were all used most by Instacart customers talking about them on Reddit. 
Since Instacart drivers usually pick up entire grocery orders — and at higher rates than ever lately — they might be more likely to miss an item than drivers delivering smaller takeout orders.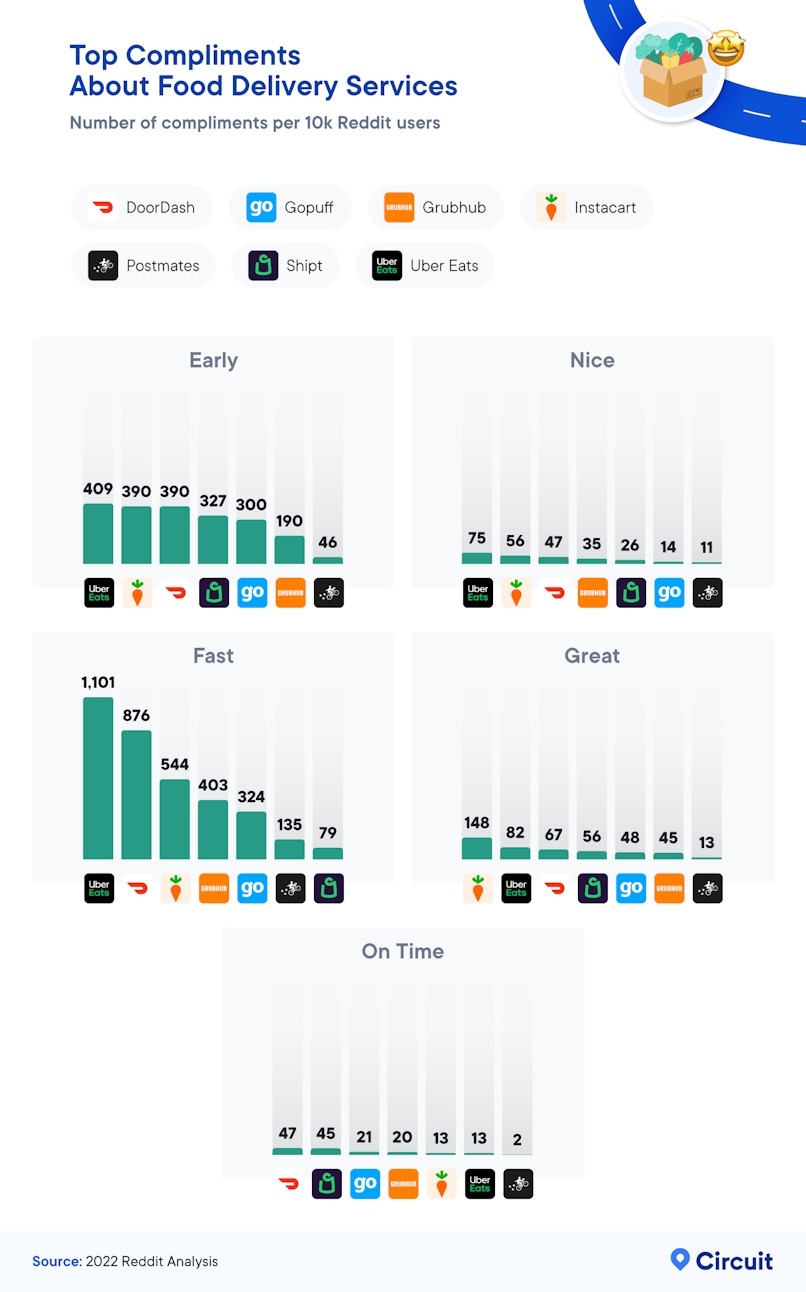 On the other hand, despite Uber Eats' many complaints, they also racked up quite a few compliments. Posts containing the word "early" were most attributed to Uber Eats, with 409 mentions per 10,000 posts. They also had the most mentions of "nice" and "fast."
As for the other two top complimentary spots, DoorDashers were the most "on time," according to Redditors, while Instacart customers used the word "great" more than those of any other service.
Key takeaway: Uber Eats delivery drivers racked up the most compliments on Reddit for being early, nice, and fast.
The last word on shipping selections
Reddit and Twitter users had lots to share about their delivery experiences. Even though FedEx had the most negative tweets and a lot of complaints on Reddit, they also received many compliments online. And while Amazon had many positive tweets, it didn't receive as much good press on Reddit. 
Receiving packages damaged, late, or even missing often frustrated customers enough to send them venting to the web. Delivery services may want to step up their games to keep customers like you happy and avoid getting a bad reputation online.
Methodology 
Researchers scraped over 3 million tweets and 59,076 Reddit posts and comments from the past two years to explore the sentiments around different package and food delivery services. Vader was used for sentiment analysis.  
About Circuit Package Tracker
Circuit Package Tracker takes the worry out of deliveries. Our app allows you to track your package from anywhere in the world, no matter the carrier, and offers push notifications, so you always know where your package is.
Fair use statement
If you enjoyed our findings on delivery services, feel free to share them. But please make sure to link back to this original post, and only do so for noncommercial purposes.