7 minute read
How to Use Kohl's Cash to Earn Free Money (2023 Guide)
Learn how to earn and use Kohl's cash in-store and online, find out the benefits of the Kohl's rewards program, and get tips to make your Kohl's offers go further.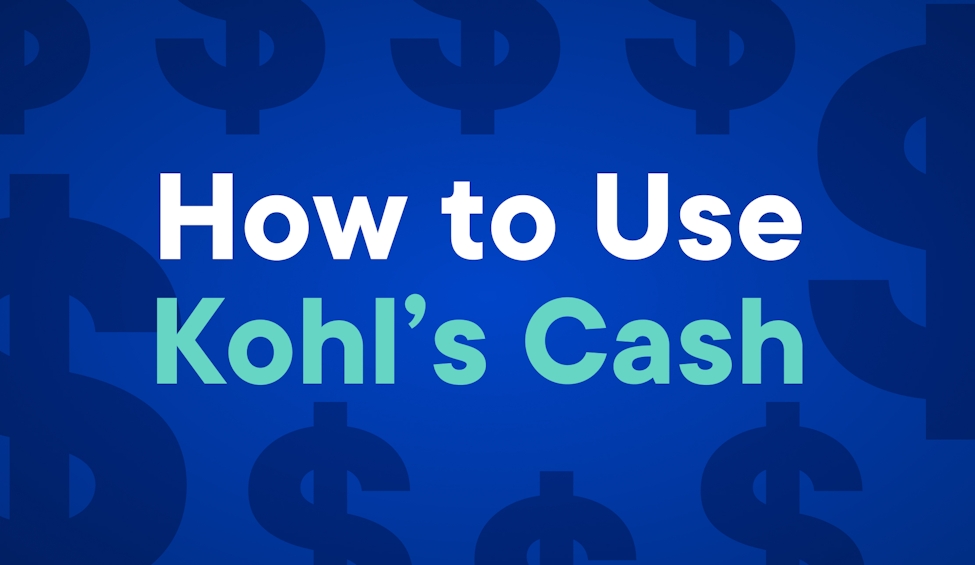 Do you like free money?
Well, (full disclosure!) Kohl's Cash isn't exactly free money, but it's kind of the next best thing.
In this guide, I'll cover everything you need to know to redeem your Kohl's Cash in-store or online. 
Plus, I'm throwing in some helpful tips to maximize your savings so you can take full advantage of your store cash. 
Then, answer some common FAQs about expired Kohl's Cash and more.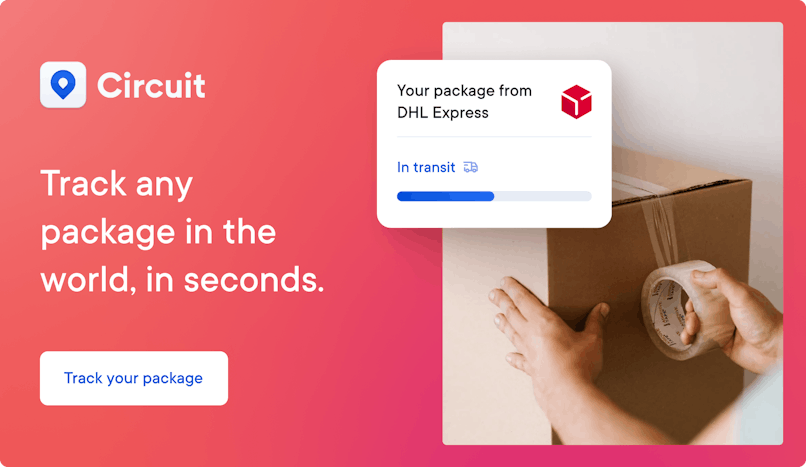 What is Kohl's Cash?
Kohl's Cash is a reward system that allows you to earn "cash" — redeemable for apparel, home goods, and other merchandise at Kohls.com, on the Kohl's app, and in-store.
During promotional earning periods, you'll earn $10 in Kohl's Cash for every $50 you spend (before taxes and shipping).
And you can keep stacking up the rewards.
If you spend $100+, you'll earn $20 in Kohl's Cash. Spend $150+, and you'll get $30 Kohl's Cash. 
You get the idea.
The best part about Kohl's Cash is that it doesn't work like a coupon, where you need to buy a specific item to get your savings. 
It's more like a gift card you can use on almost anything you want, in the store or online.
Promotional periods happen often — just keep your eye out for ads online, promotion emails, or flyers in your snail mail for upcoming dates.
You'll get your Kohl's Cash rewards when you make an eligible purchase. 
If you buy in a store, the cashier will give you a paper certificate that you can add to your Kohl's App wallet or hold onto to bring in for redemption. 
If you shop online, your Kohl's Cash will come through the email address you used to place the order.
Your rewards will have a redemption period date range printed on them. Set a reminder to use your cash during that time — it will expire if you don't!
How to redeem Kohl's Cash online
If you want to redeem your Kohl's cash online, it's a straightforward process.
Once you've gotten your Kohl's Cash back from your initial purchase and the redemption dates roll around, it's time to shop at Kohls.com.
Step 1: Add your items to the cart and head to the checkout. 
Step 2: Get your Kohl's Cash unique code. 
If you make your first Kohl's Cash-earning purchase in-store, Kohl's should give you a physical paper certificate with the code printed on the back. 
If you buy online, you'll have an email with a redemption code. 
Finally, if you added the code to your wallet in the Kohl's App, you can access the info there.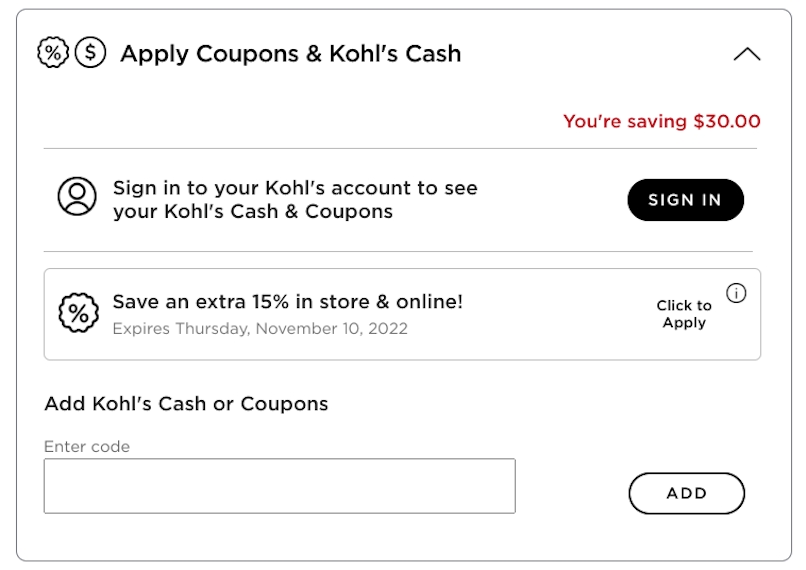 Enter the 15-digit coupon code number and the four-digit pin in the "Add Kohl's Cash or Coupons" field on the checkout page.
Be aware, there's a limit of four Kohl's Cash redemptions per single transaction.
Using Kohl's Cash with the Kohl's App
The Kohl's App is your best friend.
With its easy-to-use wallet, you can pay through the app in-store or order through the app from the convenience of literally anywhere.
Your Kohl's Cash is automatically added to your wallet when you make a purchase through the app (or use the wallet to make a payment in-store).
No worries about losing a loose piece of paper in your bag or between your car seats (speaking from experience here) and finding it a few weeks too late!
When your redemption period is active, you can:
add your Kohl's purchases to your cart on the app;
go to checkout; and
apply your rewards and active promo codes from your "wallet" during the checkout process with a simple tap.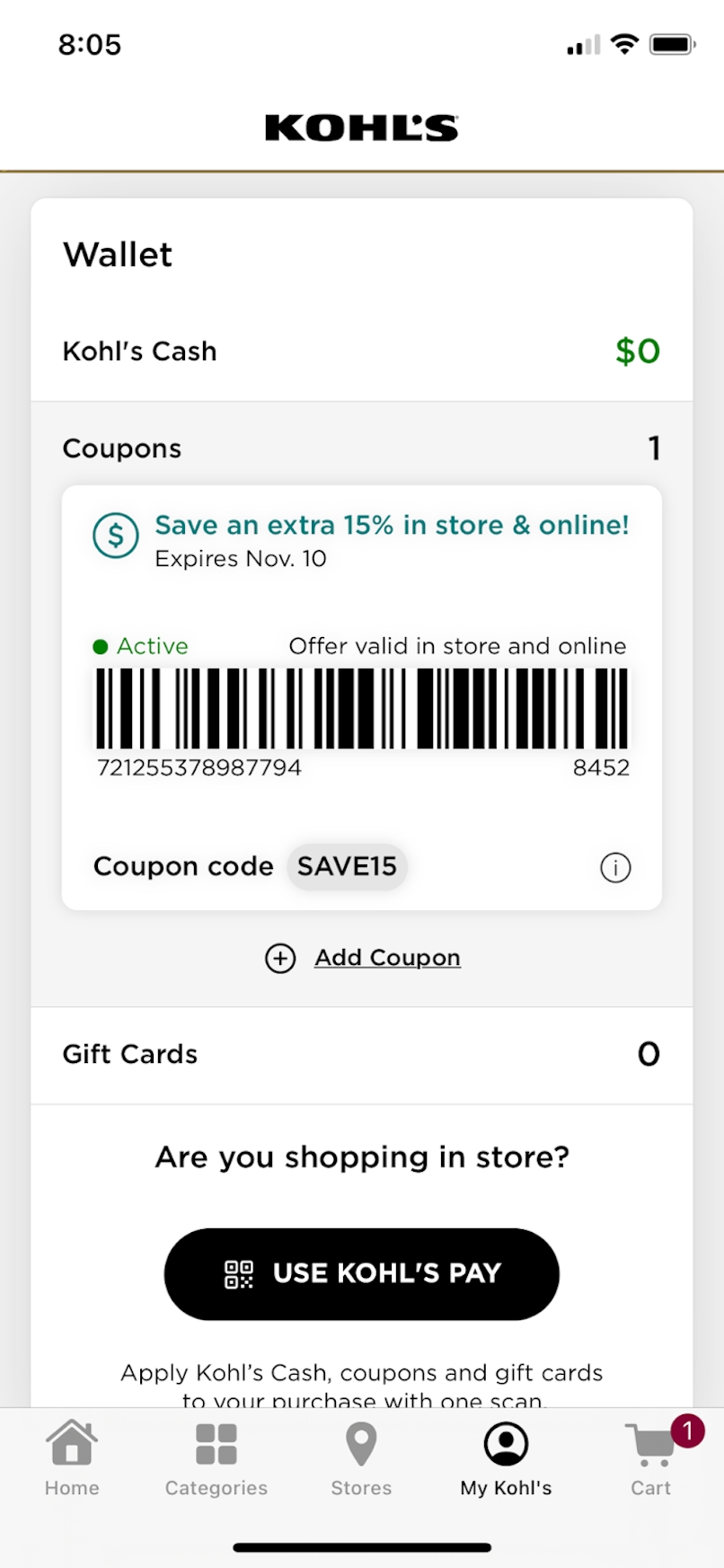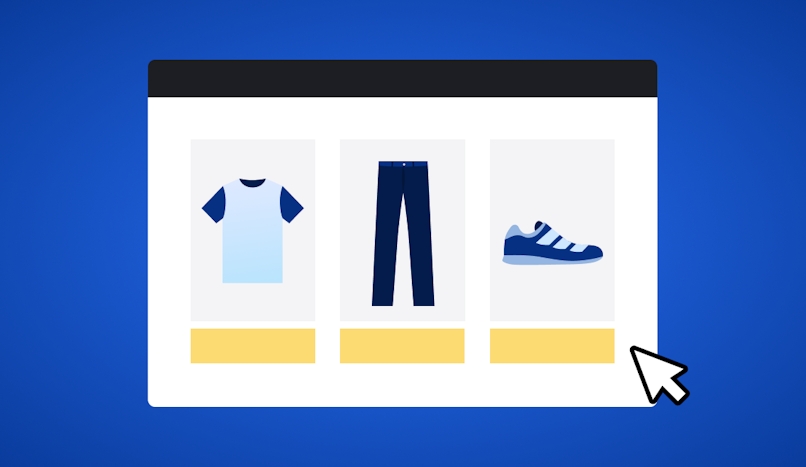 How to redeem Kohl's Cash in-store
If you're more of an in-person Kohl's shopper, no problem.
You have a few options for shopping in a brick-and-mortar Kohl's store. 
You can bring your paper Kohl's Cash certificate (the printed coupon) and hand it over to the cashier so they can scan it, or you can give them the code in the email Kohl's Cash sent you from your initial purchase. 
You can also use the Kohl's App.
When you use the wallet in the app, just keep in mind you need to have your Kohl's Cash added.
If you made the first purchase with your app, it might already be added, but if you bought in-store and used cash or your card outside the app, you'll have to add it yourself.
While it seems like an extra step, it's worth it to add your store cash to your app so you'll never lose the coupon. If you're like a lot of people, you're far less likely to lose your phone with your rewards info than you are to lose a slip of paper. 
If you add your rewards right after purchasing, you'll be ready to go when the promotional period begins.
If you have your Kohl's Cash rewards on the app and you're doing an in-store purchase, just show the cashier the barcode so they can scan it to apply your store cash.
If you shop at the kiosk in-store, enter the Kohl's Cash promotion coupon code at checkout.
How to add Kohl's Cash to your online wallet
We already touched on how important it is to add your Kohl's Cash coupon to your shopping account on the app.
Not only is the app convenient to use, but it also makes it harder to lose your rewards.
Plus, when you use the in-app wallet, you have to sign up to become a rewards member and create an account, and that has its benefits. 
Being a rewards member has perks like access to exclusive Kohl's offers and promos.
The Kohl's rewards program frequently includes additional savings like 10 percent off your purchases, dollar-off coupons, and more. 
Plus, you'll get emails and push notifications for sales, like on Black Friday, for example.
To add your coupon to your Kohl's wallet for online purchases complete these steps:
Open the app or log in to your rewards account online.
Tap or click on your "Wallet."
Enter the 15-digit unique code and four-digit pin number printed on your coupon.
Click "Add to Wallet."
Scan through your wallet and rewards portal to make sure the coupon has been added to your Kohl's Cash balance so you can use it for future purchases when the redemption dates are active.
Tips to earn Kohl's Cash
One thing we love about department store shopping is that you can find hot tips to save big bucks.
Saving at Kohl's is even better because Kohl's carries your favorite brands like Dyson, UGG, and Levi's. 
When you're saving while you shop for name brands, it's a double win.
Kohl's Cash is a top-notch rewards program because there are limited brand exclusions (and Kohl's Cares items). 
You can't use your Kohl's Cash for purchasing gift cards, Sephora purchases, or paying off your credit card, but, besides that, you're free to spend how you want.
Now, let's get into some tips to earn store cash and make the most of the cash you get:
When you get your Kohl's Cash, add the promotion dates to your calendar or set a reminder so you don't miss out.
Kohl's may round up purchases of at least $48, so you can still earn $10 in Kohl's Cash. Ask your cashier for details.
Create a rewards account so you can combine your Kohl's Cash with other discounts for more savings.
Make your rewards count by saving nonessential purchases for promotional windows. Kohl's Cash promotional periods are fairly frequent, so save your big purchases for when the department store is giving back!
If you're returning Amazon purchases, you can earn $5 Kohl's Cash for returning them at Kohl's. Learn more about Amazon returns at Kohl's.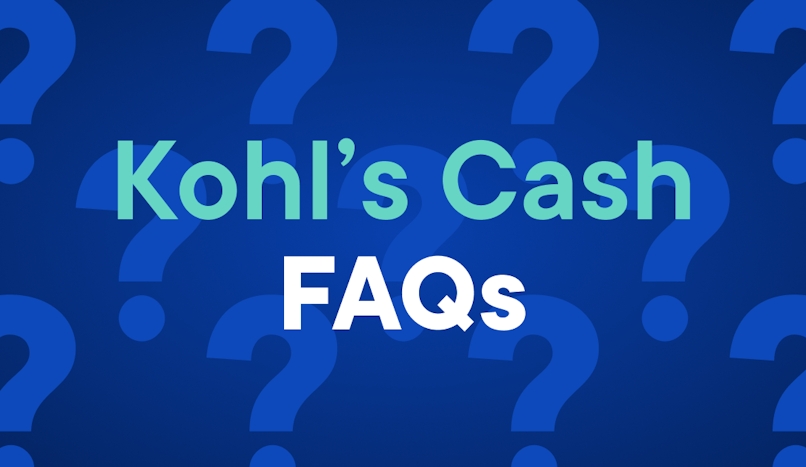 Kohl's Cash FAQs
What about expiration dates and price adjustments? Let's tackle some of the most common questions people ask about Kohl's Cash.
Does Kohl's Cash expire?
Yes, Kohl's Cash does expire. You need to use it within the printed redemption period to get your reward.
Kohl's may give a 10-day grace period after the expiration date. 
You can ask the cashier if they will honor this or — if you're making an online purchase — you can chat with support and make a request.
Does Kohl's Cash have actual cash value?
No, Kohl's Cash doesn't have actual cash value. It can't be redeemed for cash or used to purchase gift cards. 
How does Kohl's Cash work with returns?
You can return purchases made with Kohl's Cash if you need to. 
You'll be refunded, minus any discounts you received, and the refund will come in the form of a new Kohl's Cash certificate with the appropriate balance, corresponding to the amount returned.
For example, imagine you buy a coffee maker for $55 and earn $10 in Kohl's Cash, which you used to buy a pair of women's shoes. 
Later, if you go to return the coffee maker, you'll only get $45 back since you used $10 of Kohl's Cash.
How to use Kohl's Cash conclusion
Kohl's Cash is a win-win.
You buy stuff you like and earn extra store money to buy more stuff in the future.
Kohl's makes it super easy to shop online and in person, and their app has an easy-to-use interface to access your rewards.
To make the most of your rewards, use the Kohl's app to access additional promotional savings and store your Kohl's Cash in your digital wallet for quick use.
Now that you know how to use Kohl's Cash and tips to help stretch your savings even more, you only need to worry about one thing: what you're going to buy!